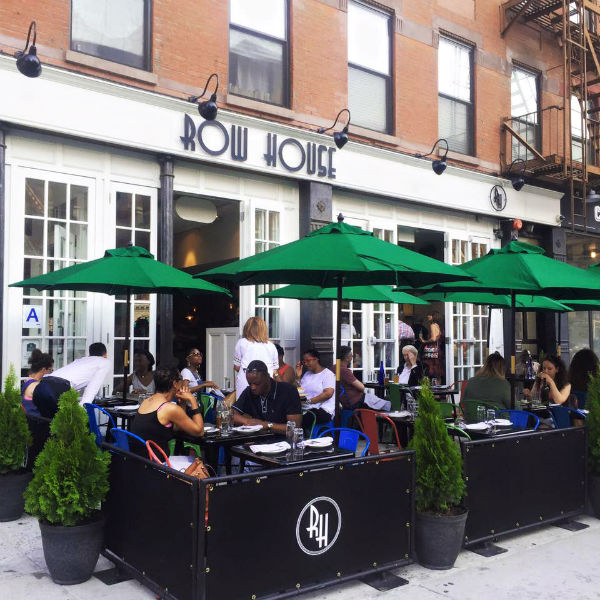 By Lil Nickelson
Row House restaurant is located along Harlem's restaurant row at 2128 Frederick Douglass Blvd, New York, N.Y. 10026 on the Southeast corner of 115th Street.  Row House is open seven days a week for lunch and dinner Monday through Friday from 12 Noon until 2am (closing at 4am on Fridays) and for brunch, lunch and dinner Saturday and Sunday from 11am until 4am on Saturday (and closing at 2am on Sundays).  The restaurant's web site is http://rowhouseharlem.com/ and their telephone number is 212 256-0019.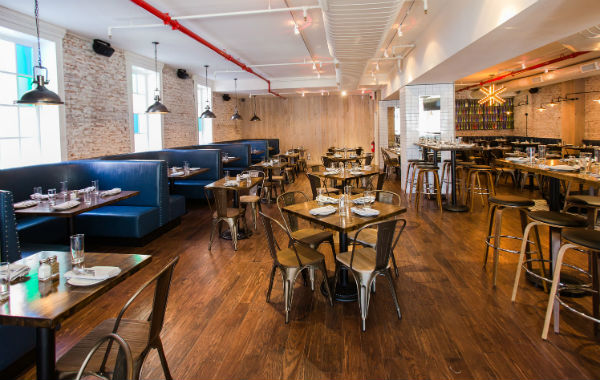 The white wood and glass front of the restaurant used many of the original design elements that is so evident in Harlem apartment buildings classic charm that the owners wisely decided to keep and restore.  The upstairs dining room is light, bright and airy showcasing the brick walls contained within the structure.  What's even more amazing is the downside event space that has a totally different vibe that can be used for private event for parties of up to 150 guests.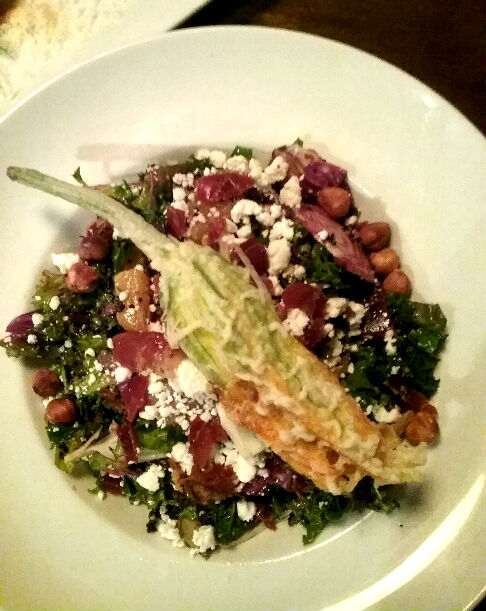 Now the food served at Row House is being billed as seasonal American food which is a great way to say the menu will change as food items ready for harvest changes with the seasons.  Their menu offers numerous small plates to encourages friends to share their plates and that is exactly what my tasting team member and cousin Laurice and I decided to do on the rainy summer evening we dined at Row House.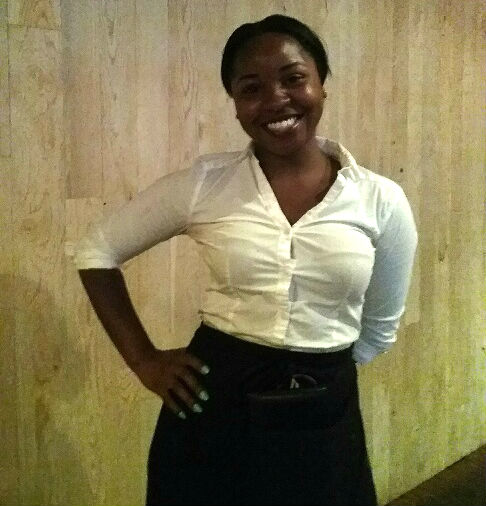 Our waiter was very knowledgeable about the menu and she steered us towards several selections.  It's always so refreshing when the wait staff knows enough about a restaurant's menu that they can offer some suggestions the first time you visit a restaurant.  We ordered two dishes each from the Harvest and Sea sections of the dinner menu plus two desserts.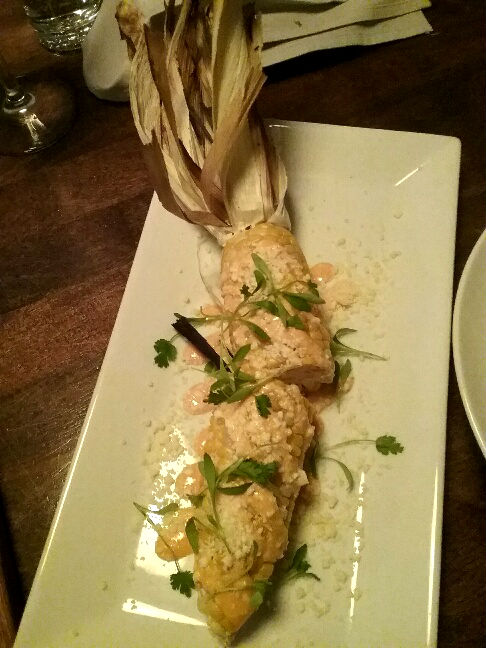 We started out with the harvest menu items: Kale & Quinoa Salad and the Mexican Style Corn on the Cob.  Laurice really likes kale salads so we ordered it and I must admit I was surprising very pleased with the salad, mainly because I felt like I was eating the rainbow of food colors with this dish.  I was initially apprehensive because quinoa (pronounced "keenwah") is becoming very popular with healthy eating establishments like it's a grain but it isn't; it's a gluten-free super seed.  This salad was delicious with the crispy quinoa, purple and golden beets, colorful radish slices, toasted hazelnuts, fennel and crispy prosciutto that was topped with a tempura battered fried squash blossom that was stuffed with goat cheese.
The Mexican Style Corn on the Cob was fresh corn with its husk pulled back was laid on top of a spicy aioli and had a generous sprinkling of cotija cheese and microgreens served on top.  Locally sourced corn on the cob served up at this time of year is so sweet and tender.  Cotija cheese is a hard cow's milk cheese that originated in the Mexican town of Cotija.  When I was a child I wouldn't think about eating corn without lots of butter.  I'm so glad my taste buds have grown up; now I rarely eat corn with butter.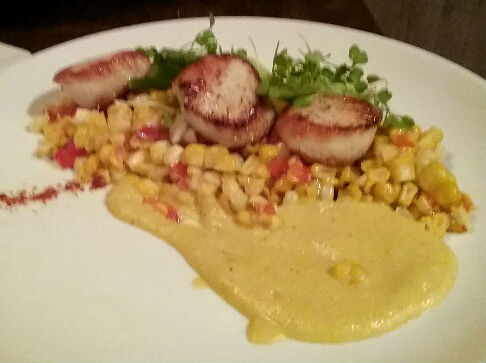 By now our sea menu items were coming to the table: Seared Sea Scallops and the New England Lobster Roll Sliders.  With each grabbed a slider wondering if the Maine lobster would be the star of the dish and it was.  The lightly toasted roll, Old Bay mayonnaise, minced celery and chopped fresh chives and tarragon complemented and didn't overpower the lobster meat.
The Seared Sea Scallops with sweet corn, red pepper and fennel was my choice because I love scallops and at this time of year I know that corn, fennel and red peppers are in season and at their peak and are abundant at the local farmer's markets here in the city.  The scallops were seared to perfection; they were moist and juicy inside with a little crunch on the outside layer.  They were laid on top of a sweet corn kernels sautéed with a medley diced red peppers and fennel which has a hint of licorice to its taste.  All of these items were on top of a wonderful puree of the sweet corn and a garnish of microgreens.  If I had been at home I know that I would have licked my plate to get every bit of the corn puree in my mouth; some things you just can't do when you're out in a restaurant.  This dish even knocked the kale salad into the number two slot for Laurice as her favorite dish.  I'm planning on recreating this dish at home for myself before the season is out.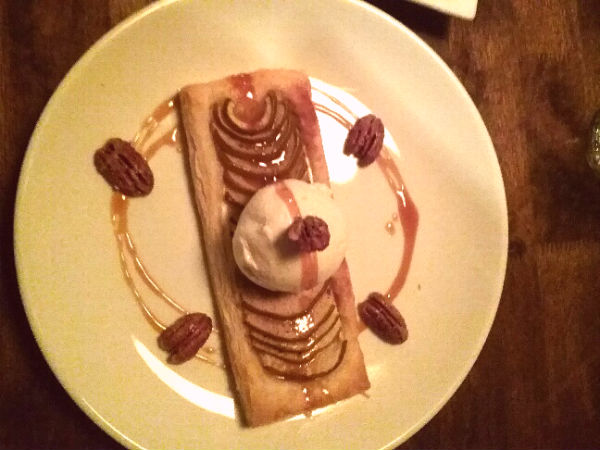 Now for dessert we sampled two dishes: Pear & Pecan Tart and the Chocolate Molten Cake, which I no longer see on their dessert menu at the present time.  It was chocolate and soft in the middle with confection sugar sprinkled on top and a caramel sauce drizzled near sectioned slices of fresh citrus fruit and fresh mint leaves on the plates; yummy.  The tart's foundation was a rectangular piece of puff pastry topped with thin slices of pear that was laid on top of and covered with a bourbon-caramel sauce with candied pecans artistically laid on the sauce with a scooped of vanilla ice cream right in the middle of the tart.  Something else I'd love to try to recreate at home.  I love to recreate this dish as is and with plums, peaches this summer or quince in the fall.
You should add Row House to your list of places to eat when you dine in Harlem.  This wasn't my first time I dined at Row House (I had lunch there in the springtime) and it definitely won't be my last.  I plan on going back to Row House before the summer is over and I also would like to visit each season to see how the menu item changes along with the seasons.  I looking forward to seeing what Executive Chef Andrew Welch has planned for the restaurant.
To read more about Lil Nickelson's Dining With Miss Lil Click HERE.
---
---
Related Articles
VIDEO
---
Harlem Cultural Archives is a donor and foundation-supported Historical Society, Its mission is to create, maintain and grow a remotely accessible, online, interactive repository of audio-visual materials documenting Harlem's remarkable and varied multicultural legacies, including its storied past as well as its continuing contributions to the City and State of New York, the nation, and the world.
Support Harlem Cultural Archives
and
click here to get more Harlem History
, Thank you.