---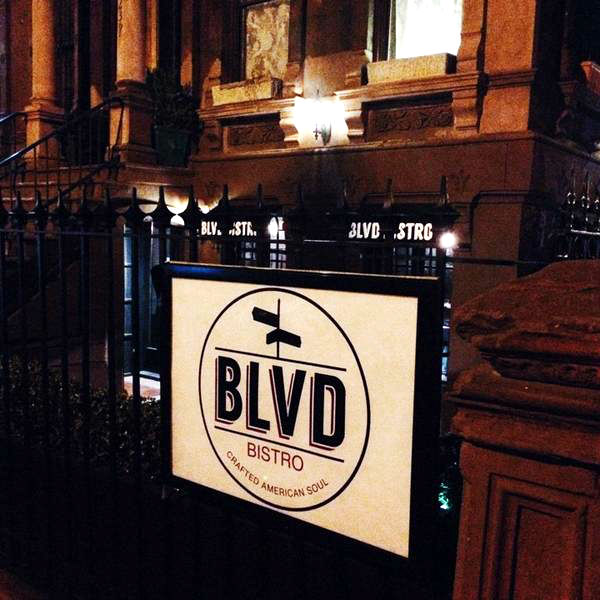 BLVD Bistro is a family owned and operated restaurant located at 239 Lenox Avenue on the Southwest corner of 122nd Street and Lenox Avenue on the ground floor of a centuries old brownstone. Executive Chef Carlos Swepson, a graduate of the Art Institute Culinary School and his sister, Front of the House Manager Joi Swepson pooled their resources and many talents to serve their guests "crafted American soul" cuisine to Harlem from their humble beginnings in Natchez. MS. Dining at BLVD Bistro is like going to visit your favorite uncle's or cousin's house; you know you're going to have a good time and leave there with a full stomach. The restaurant features outdoor seating built around the wrought iron fence that surrounds the corner wall of the brownstone that serves as the entrance of the restaurant.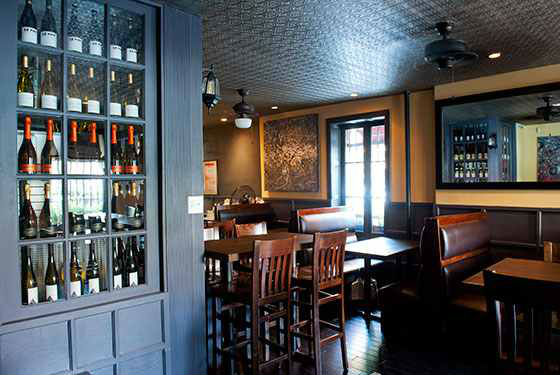 Upon entering the atmosphere inside is friendly, yet mellow with tin paneling on the roof, and soft sconce lights on the walls. Seating is at multiple levels and is tight, but it makes for having an intimate dining experience a very real possibility. As I sat in the booth facing the bar I admired the vertical glass tiles behind the bar in shades of white, grey and black. The chalk blackboard on one wall gives the restaurant to list specials as they arise and they will arise. I personally saw Chef Swepson picking up some fresh fruit at a local farmer's market recently as he was returning to the restaurant one Saturday and you can bet it would be used in the next day or two.
Chef Swepson is classically trained, but his Mississippi roots are just as equally reflected in the restaurant's menu offerings which are reasonably priced; the highest price entrée on the dinner menu was $24. Fried items are cooking in peanut oil; vegetarian and gluten free options are also available upon request. That's his Southern hospitality upbringing coming through to please his guests.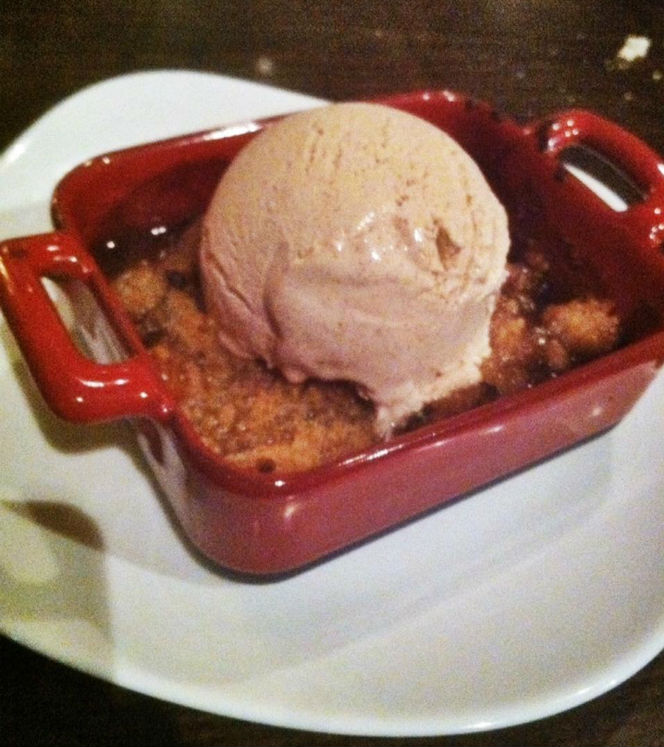 The wait staff is knowledgeable about the menu offerings and attentive to their guests. My tasting team member ordered the oven roasted free range chicken that came with dirty rice and seasonal vegetables. The roasted chicken was moist with crispy skin; the vegetables were crisp and not over cooked. I ordered the pan seared double pork chop bone-in with caramelized apples and onions that was accompanied by whipped sweet potatoes. The pork chop was thick, but it was cooked through and through. It paired perfectly with the caramelized apples and onions and the smoothness of the sweet potatoes added diversity to the textures I was eating. The health conscious me wished they had included some vegetables with this entrée item as well.
For dessert we had apple cobbler with cinnamon ice cream and Mamie's German chocolate cake with coconut ice cream. Chef Swepson freshly bakes the dessert items in house; the ice creams are made by a small upstate ice cream maker. For beverages we had a beer and a house specialty drink called Blvd Sparking iced tea; it was refreshing because it wasn't just another sweet tea drink and it wasn't overly sweet either.
Their hours of operation for dinner are Wednesdays through Sundays from 5pm to 11pm and brunch is served on Saturdays and Sundays from 11am to 4pm. Their web site (www.boulevardbistrony.com) is a work in progress so have a little patience. The restaurant is accessible to people with disabilities, but I would call (212 678-6200) first to make sure they have the ramp ready for your arrival. I hear a lot of old time Harlem residents talk about their concerns of the being priced out of Harlem with the influx of new residents and new businesses, but here's another restaurant that is black owned and operated. Let's help them stay in business and thrive by patronizing them while dining on some serious from "scratch cooking" from down home. Tell Carlos and Joi that Miss Lil sent you with love.
Have you been to BLVD yet? If so, what did you think?
Related Articles
---