---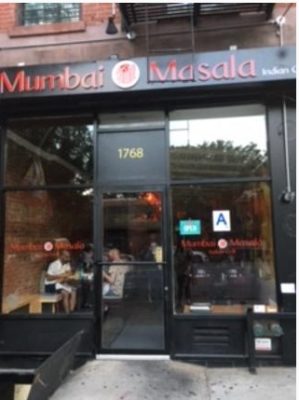 By Lil Nickelson and photographs by Rudy Collins
Mumbai Masala Indian Grill opened on June 1 st and the décor and atmosphere sets the tone for a new dining experience in the Hamilton Heights section of Harlem. I grew up four blocks uptown from their location so I know this is the !rst Indian restaurant in this section of West Harlem. Mumbai Masala is a great place to eat that's located at 1768 Amsterdam Avenue on the downtown side of tra)ic in between 148 th and 147th Streets. One of my tasting team members Brenda Martin and I arrived promptly at 5:30pm on Father's Day to sample their menu. Veteran Indian cuisine restauranteurs Amin Ruhel and Salim Rahman co—own Mumbai Masala and they brought in Bangladesh born chef Fatema Khatum in as Executive Chef to work her culinary magic in their humble 30-seat restaurant.
Co-owner Amin Ruhel served us and between the menu and his commentary of each dish he brought to the table we became more and more knowledgeable about Indian cuisine. We started with Papadm, which is roasted lentil wafers served with three di)erent condiments with varying degrees of spiciness. Brenda liked this bread like dish so much we had a second plate delivered while we waited for our appetizers to arrive.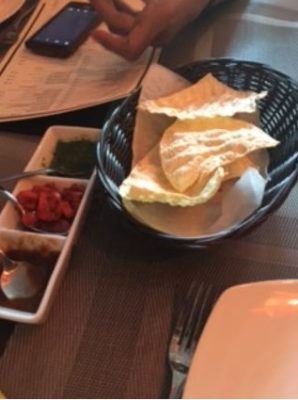 Our appetizers began with two vegetarian dishes: Samosa Chaat – spiced chickpeas, yogurt and chutneys and Chili Gobi – tossed cauli>ower, onions and bell peppers. Brenda loved both these dishes and she commented how she would come back just to eat these dishes. I knew I would enjoy the cauli>ower dish because it's become one of my favorite vegetables since I worked as a farmer's market manager in 2014, but my liking the spiced chickpeas so much quite frankly shocked me. I like hummus and I've had whole chickpeas in a salad before, but never as the main item in a cooked dish. They were delicious with the right amount of yogurt and chutneys to balance out the dish. I'm thankful I've waited to sample them in an Indian restaurant; they were cooked just right. Next, he brought us the appetizer that took the longest to !x; Smoky Chicken Wings. They were bone-in wings grilled to perfection; for wings the meat was very moist and tender unlike a great deal of places where the wings are tough or so huge that you wonder how big was the chicken the wings came from.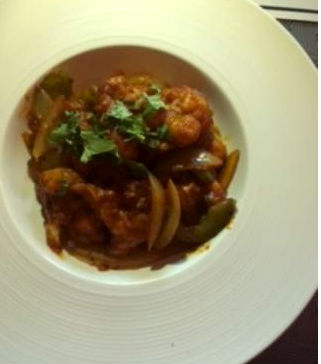 Since Amin picked up on Brenda's love of bread he recommended we sample the Naan bread; we chose onion savored. I had eaten naan bread before, but their rendition was very colorful with the onions, diced red peppers and parsley on the super thin crust. After biting into the bread Brenda commented how it reminded her of thin crusted pizza.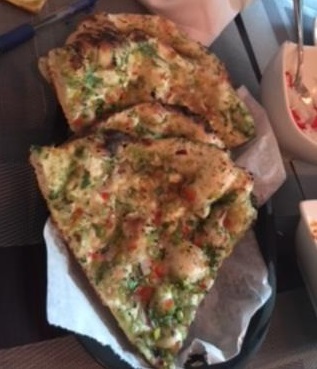 Thank heaven we were only eating a portion of each appetizer because we were wondering if we'd have any room for the entrees. Just like with the appetizers we ordered two and Amin brought us three, he did the same thing with the entrees. He brought it Jhinga Moilee, Rogan Josh, Chili Chicken and Basmati Rice. Now basmati rice is India's slender long grained>avored rice that is equivalent to America's Uncle Ben's rice.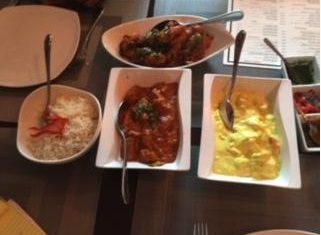 Jhinga Moilee – is shrimp dish with turmeric and infused with coconut milk. Turmeric (Curcuma longa) is a culinary spice that spans cultures – it is a major ingredient in Indian curries, and it's the ingredient that makes American mustard yellow. Evidence is accumulating that this brightly colored relative of ginger is a promising disease-preventive agent as well, probably due largely to its anti-infammatory action.
Rogan Josh – is slow cooked lamb chunks with yogurt and red chiles. This isthe second dish we sampled that contained yogurt. Yogurt is often included on healthy food lists… and for good reason. Yogurt is highly nutritious and isan excellent source of protein, calcium and potassium. It provides numerousvitamins and minerals and is relatively low in calories. The probiotics used to make yogurts can help maintain the balance of bacteria necessary for a healthy digestive system; boost the immune system, shortening the length and severity of sickness; and may reduce eczema in babies.
Chili Chicken – every culture has fried chicken and this is one for Indian cuisine; its batter fried chicken with onions, bell peppers and has a soy ginger savor.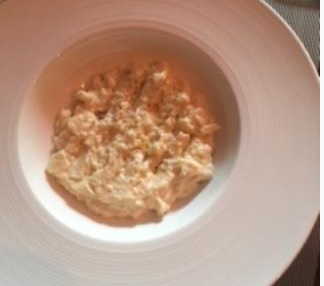 I didn't have enough room to order a separate dessert, but Brenda wanted to try Kheer – Indian rice pudding that had cardamom, golden raisins and crushed almonds in it. I tasted some and Brenda gave it her seal of approval; she likes rice pudding and she enjoyed that this one was smooth and not too sweet.
Now prices are excellent at Mumbai Masala; appetizers range from a low of $1.95 for the Papadm, average around $5.95 for vegetable dishes to a high of $7.95 for the Smoky Chicken Wings. The Naan bread was $2.95 and rice pudding was $3.95. The entrees went from a low of $11.95 for the chicken dish, $13.95 for the lamb dish to a high of $15.95 for the shrimp dish.
We were the !rst sit down customers for dinner that night, but 10 others joined us before we left. Folks were coming in for take-out and delivery business is good already. The teachers that work at the elementary school on the next block come in to eat lunch during the week. The restaurant is open seven days a week and doesn't close before 10pm on any night.
If you've never tried Indian cuisine and want the real deal may I recommend you make your way over to Mumbai Masala www.mumbaimasalanyc.com before the waiting line begins to get in.
The food is fresh and delicious.
Related Articles
---