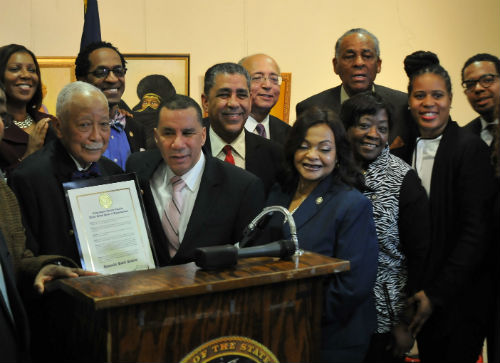 By Lil Nickelson
On Friday, January 12th, 2018 U.S. Congressman Adriano Espaillat representing NY's 13th Congressional District, held his annual Dr. Martin Luther King Jr. Annual Policy Breakfast.
The event took place from 9am to 11am in the Adam Clayton Powell Jr. State Office Building located at 163 West 125th Street.  We were greeted at the entrance of the 2nd floor art gallery by aides signing guests in and the musical notes of John Cooksy Trio Jazz Band.
Attendees walked along a buffet line and were served a breakfast of beef sausage, fried catfish bites, grits with cheese, scrambled eggs, home fries and fruit salad.  Hot coffee and tea, orange and cranberry juices were the beverage choices.  I had the pleasure of eating breakfast with Leon Eastmond and his son Freddie; their family owns Easco, the oldest black owned boiler manufacturing company in the U.S. that is in the Bronx and I sat across from Lillian Doctor, a retired 3rd school teacher.
Rev. Reginald Bachus, Associate Pastor at Abyssinian Baptist Church led those of us gathered in the invocation prayer.  The American National Anthem was singing by Ahmaye Knoelle Higginson and the Black National Anthem was sung by Elijah Ahmad Lewis and as an extra treat the two sang a gospel spiritual song as a duet.
Congressman Espaillat began his opening remarks by saying that there was no better time to meet than this morning.  Dr. Martin Luther King, Jr. practiced the "big tent" approach of inclusion throughout his life.  How his grandmother used to say, "Tell me who you walk with and it will tell folks who you are."  So, the congressman isn't surprised by recent comments attributed to President Trump however, all Americans should be traumatized by his continued racist comments.
Black people have pushed further throughout history and it's crucial that we stick together. Harlem's congressman is one of five that have signed papers for the impeachment of President Trump and to date 120 members of Congress have signed those papers for him to step down.
He then began to invite various elected officials to say a few words:
NYC Public Advocate Leticia James – we must honor Martin Luther King by not being silent and we must keep that dream alive.
NYC City Councilman Bill Perkins – too many "isms" spewing out the mouth of the current resident of the White House that seeks to divide us than reunite us as Americans and he must be put down.
NYS Assemblyman Al Taylor (Harlem) – dreams don't become reality without faith.  We must come ready for work because faith without works is death.
NYS Assemblywoman Crystal Peoples-Stokes (Buffalo) – we need to get so pissed off that we're ready to impeach.
---
---
Mt. Vernon Mayor Richard Thomas – it started with a belief, with taking a stand, with serving and representing those without a voice; much still needs to be done to fulfill the dream.
NYS Assemblywoman Inez E. Dickens – I have been a tireless fighter for basic civil and human rights, social justice, wage equity, inclusion and diversity.  I am still committed to improving the quality of life of everyone in my community.
During the event Congressman Adriano Espaillat honored two men H. Carl McCall, current Chairman, SUNY Board of Trustees and William C. Thompson, Jr. current Chairman, CUNY Board of Trustees.
Special recognition went to two other men of distinction that have long history of service to the Harlem community; his predecessor, The Honorable Charles B. Rangel who was away in Florida with his lovely wife Alma so former Gov. David Paterson accepted on his behalf and former Mayor David N. Dinkins who was in attendance.
Brief statements made by these gentlemen were as follows:
Carl McCall – despite the darkness do not despair or become bitter or violent. The most misguided can learn to respect the dignity in others. It's not easy, but doable.  Our job is to resist the unprepared and uninformed.  We are better and can do better.
William C. Thompson Jr. – thanked Congressman Espaillat who came to America with a dream as a child for recognizing his accomplishments.  He comically noting that he has followed Carl all his professional career; first at the Board of Education, then as a Comptroller and now as a chair of a university system's board of trustees.
Gov. David Paterson – who accepted the citation on behalf of Charles Rangel said how do we get our youth (who are very talented) to benefit on the mega projects taking place all around the city like LaGuardia Airport's modernization because million of dollars are being spent.
Mayor David N. Dinkins – I'm grateful to be here today at my age and humbled that folks still want to honor me so many years later.  Dr. King by his example taught us to serve and I'm pleased to say I spent most of my adult years serving all the good citizens of New York City.
Congressman Espaillat made his closing remarks by stating that at last year's breakfast he honored women and that's why he honored men in 2018.  He thanked all for making the breakfast a great day to celebrate a great servant of the people.
Photo credit: By Rudy Collins.
Related Articles
VIDEO
---
Harlem Cultural Archives is a donor and foundation-supported Historical Society, Its mission is to create, maintain and grow a remotely accessible, online, interactive repository of audio-visual materials documenting Harlem's remarkable and varied multicultural legacies, including its storied past as well as its continuing contributions to the City and State of New York, the nation, and the world.
Support Harlem Cultural Archives
and
click here to get more Harlem History
, Thank you.