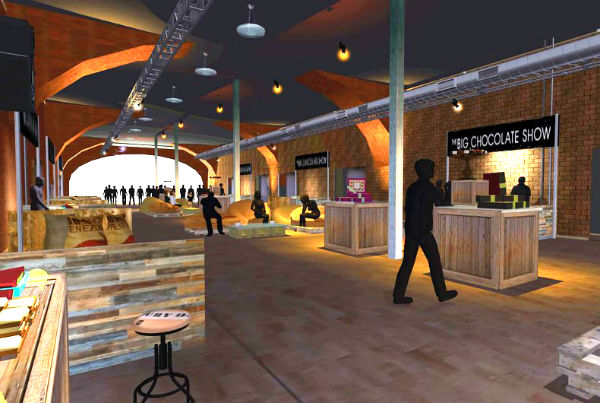 The BIG Chocolate Show came to NYC and it was a chocolicious treat; I do declare.  The BIG Chocolate Show was held the second weekend in October 2016; press preview day was on Friday, October 7th and it was open to the public on Saturday, October 8th and Sunday, October 9th.  2016.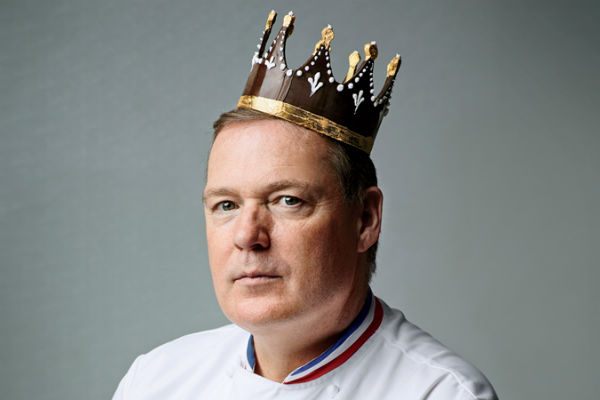 The event was located at The Terminal Stores which is at 269 11th Avenue in between 27th and 28th Streets.  The 20,000 square feet facility that was wall to wall chocolate.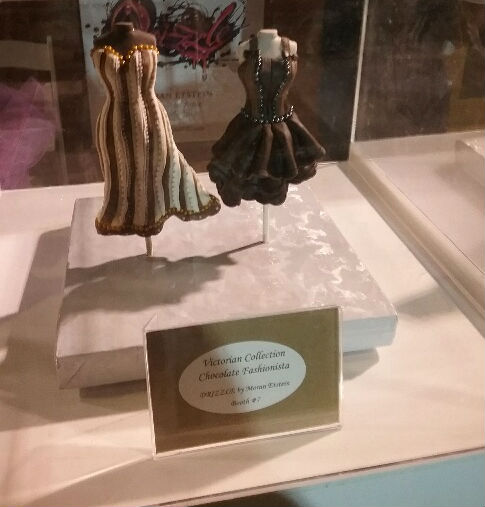 There were chocolate and/or chocolatiers from all around the world, from every continent and some tasted out of this world.  One of my tasting team members, Derek Mayes and I attended the press preview on Friday.  Another team member Cherlyn Davis joined me on Saturday; we have attended previous chocolate shows put on by others together in prior years.  I liked this format because we got a chance to speak and have extended dialogues with the chocolatiers and/or their sales representatives.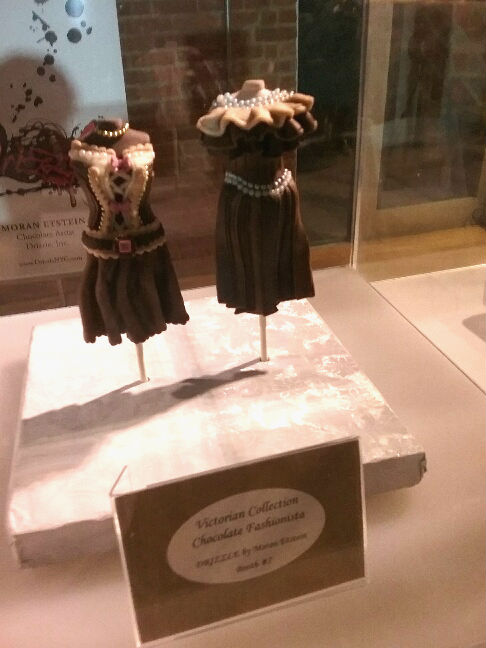 On Saturday and Sunday, the organizers held hour long demonstrations in the "main stage" area by renowned pastry chefs like Jacques Torres or from The Institute of Culinary Education (Kathryn Gordon, Jessie Riley, Sarah Chaminade, Michael Laiskonis and my friend Melanie Underwood) and select pastry chefs and cookbook authors.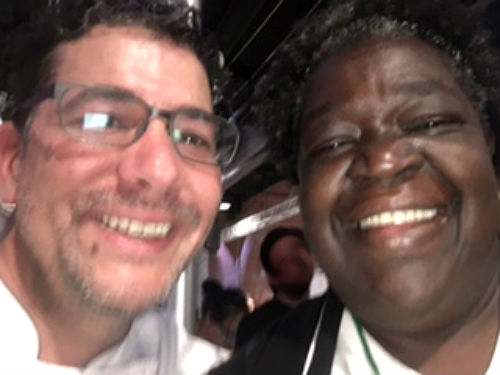 Some were stand outs like internationally known Jacque Torres, who has nine retail locations throughout NYC (www.mrchocolate.com) .  I've loved and patronize his shops whenever I'm around them and I'll always adore his chocolate covered macadamia nuts as well as popcorn.  To learn that Brooklyn has shops like Raaka Chocolate Factory in Red Hook (www.raakachoclate.com)  or Rawclates artisan chocolates that use fair trade and kosher ingredients are handmade in the borough educated me (www.rawclates.com) .  One of the top French chocolatiers, L'Ecole Valrhona has hands on pastry classes down on Water Street in the Dumbo section of Brooklyn taught by their corporate chefs and renowned NY pastry chefs (http://valrhona-chocolate.com/lecole-valrhona-brooklyn) .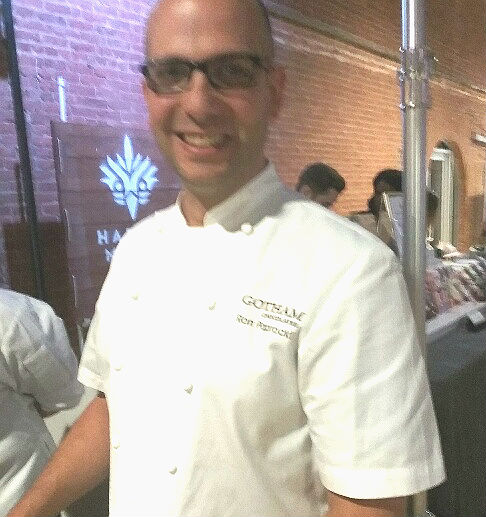 Moran Etstein, an Israeli-born chocolate artists is the founder of Drizzle, Inc. and she has developed her own line of mini chocolate mannequins dressed with handmade chocolate outfits and accessories such as her Victorian collection pictured above (www.drizzlenyc.com) .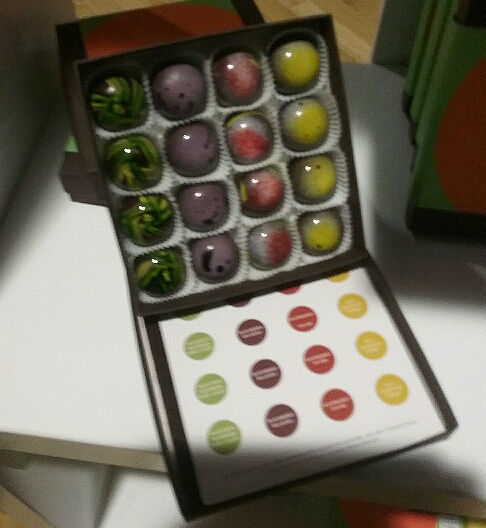 I bonded with the Chef/owner John Kraus of Rose Street Patisserie from Minneapolis, MN (www.patissiere46.com).  Their 12-piece assortment of chocolate bonbons were "da bomb" in a good way; OMG.  Chef John is a James Beard Award outstanding baker nominee; he and his wife Julie Nelson have a well-received store, Patisserie 46 (www.patissiere46.com) and he's starting to spread his wings by venturing to NYC for this show.  Folks back home know he's a multi-talented pastry chef; baking is just one of many skills he possesses.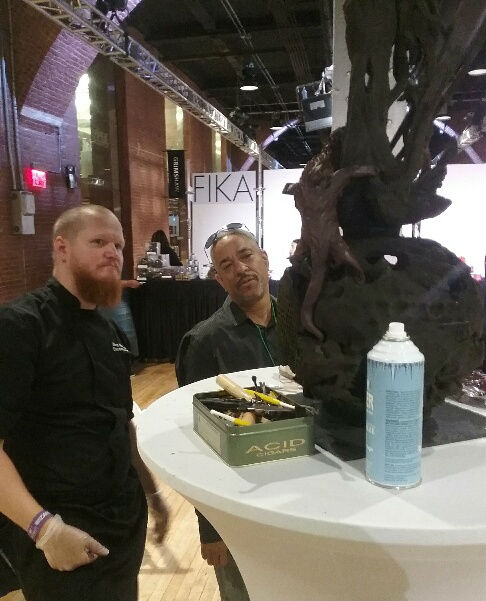 Derek and I both bonded with Gotham Pastry Chef Ron Paprocki from the legendary Gotham Bar and Grill Restaurant in NYC (http://gothambarandgrill.com/store/) and FIKA Chocolate's Master Chocolatier Harkan Martensson with sculptured pieces from their Tribeca based chocolate factory and pastry shop filled with Swedish inspired bonbons (www.fikanyc.com) .  The designs on Gotham's chocolate bonbons look like a master painter created them with a paint brush and they taste just as well as they look.  FIKA's bonbons' flavor combinations were so creative and awesome in their execution that you can select your own for their 12-piece box collection like their deconstructed key lime pie bonbon which has a layer of graham cracker crumbs inside or their goat cheese in dark chocolate with flaky salt sprinkled on top; yummy.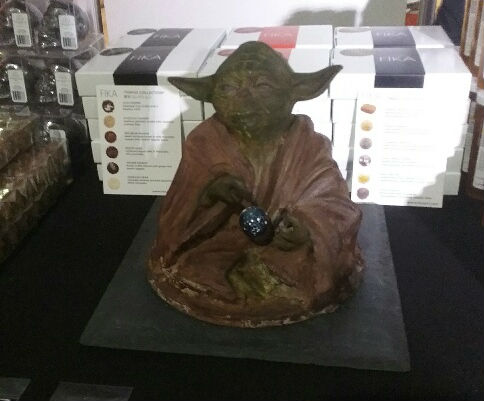 Chocolate inspired drinks and frozen desserts were also on display like Fruta Pops coffee or Sangria ice pop.  Derek took a strong liking to Connecticut based Truffle Shots which served various flavored ganache in a shot glass (www.truffleshots.com) . And Cherlyn left with a few bars of chocolate made by San Francisco based TCHO's New American Chocolates sourced from Ghana, Ecuador, Peru, Madagascar and the Dominican Republic; her husband's homeland.  Another San Francisco based company, Coole Swan (www.coolswan.com) has introduced chocolate into their superior line of Irish cream liqueur and adult cocktails like butterscotch hot chocolate and mini hot chocolate or Coole Swan chocolate pot.
The biggest non-chocolate surprise was the "luv Michael Granola" stand, a non-profit company that educates, trains and employs people with autism.  Michael's parents (both are MDs) created the food based company so that their son Michael and other people with autism could found meaningful employment opportunities.  The granola contains organic ingredients, is gluten, nut and dairy free and is hand-mixed and packed with love by granologists on the Autism spectrum (www.luvmichael.com).
So, mark your calendars all chocolate lovers in the Tristate area and start saving your money; general admission is $45.  The 2017 will be at the same space on Friday, October 6th through Sunday, October 8th, 2017.
Related Articles