---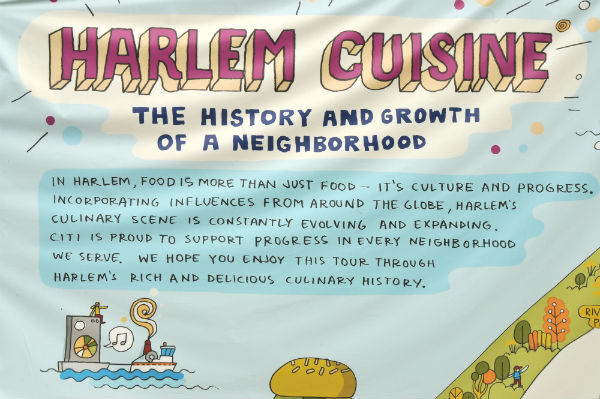 By Lil Nickelson
The 3rd annual Harlem' Festival took place from May 15th through May 21st throughout various venues in the village of Harlem. On Tuesday, May 16th Prudential Insurance sponsored a five-course meal at Ginny's Supper Club in the lower level of Red Rooster Harlem.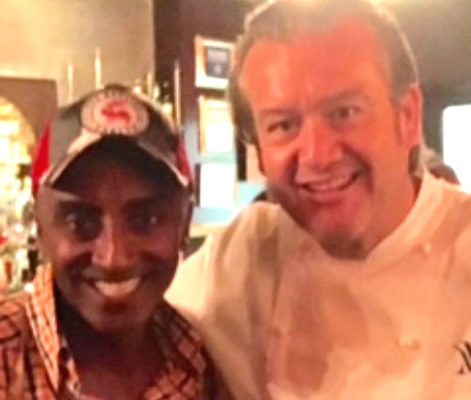 The hors d'oeuvres and meal were lovingly prepared by the festival's co-founder Chef Marcus Samuelsson and Guest Chef Michael White who owns and operates numerous Italian concept restaurants under his Altamarea Restaurant Group.
Billed as Pru "Serves" It Up we dined and sipped on signature cocktail drinks and wines selected by a female master sommelier for each course; I didn't catch her name but she knew how to pair each course with an appropriate wine. The Nate Lucas All-Stars (Nate Lucas on keyboard, John Smith on guitar and Matt Barenello on drums) played and they were joined throughout the night by saxophonist Phil Young plus two vocalists Jeff Redd (remember his hit song "You Called & Told Me") and Raine Torea. In addition, The Waffle Crew, a 4-man dance troupe I've seen on the A train performed doing their acrobatic dance routines.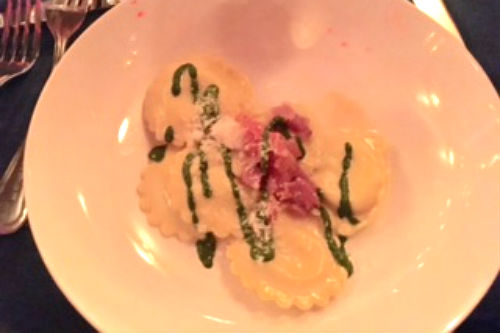 The event started at 6:30pm and the hors d'oeuvres were great and much needed so that the drinks didn't go straight to your blood stream, however, make no mistake the five-course meal was "the star" of the evening. Guest chef Michael White made:
Tortellini – fresh made round pasta stuffed with ricotta cheese that was covered with a flavorful Pomodoro sauce with fresh, halved tomatoes and robust strips of fresh basil; it was light, but filling.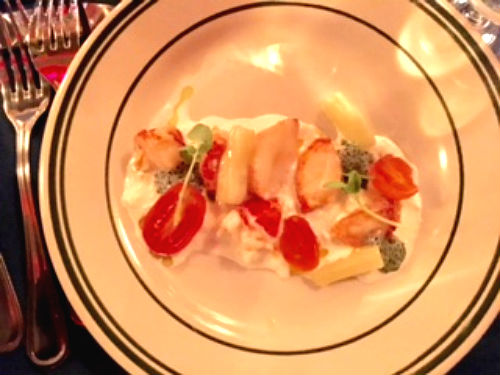 Lobster Burrata – burrata cheese (fresh Italian cheese made from mozzarella and cream) decorated with lobster tail meat sliced into ¼ inch thick pieces, mache (a European salad green that grows in small rosette shaped bunches), halved cherry tomatoes with a chiffonade of fresh basil. I went online to get his recipe for this; the next time I'm in the mood for Italian food I will visit Chef White's restaurant Marea (240 Central Park South).
Chef Marcus Samuelsson followed up with:
Firecracker Fried Chicken Thighs– Marcus was working around the room tossing the fried chicken thighs around in a large mixing bowl coating it with a wonderful sauce while the wait staff held sparklers lit up. What a sight to behold and the taste was scrumptious too.
Jerk Short Ribs of Beef – laid on top of some black-eyed peas, you touch the short rib with your fork and the meat fell off the bone without any effort of pulling it off on your part.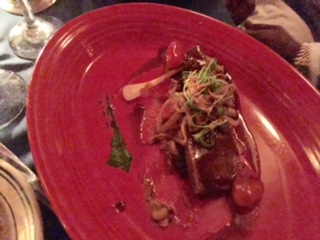 Jerk Short Ribs of Beef – laid on top of some black-eyed peas, you touch the short rib with your fork and the meat fell off the bone without any effort of pulling it off on your part.
Hey Marcus, are these recipes included in the Red Rooster Cookbook and if not how can a sister get these recipes?
I must confess I was so eager to dive in and eat the dessert that I failed to take a picture. It was coconut sorbet and a lemon grass panna cotta that totally explains why dessert is the last course. Another recipe I'd loved to have as well.
Then on Saturday and Sunday I had the opportunity to attend The Stroll and The Marketplace events at Morningside Park. Now what I found interesting was the free side of the event, The Marketplace, had better seating than the much higher price side event, The Stroll. There was also a more diverse group of vendors selling their offerings on the Marketplace side this year versus last year. I even heard that at one point there were tickets sold for The Stroll at half price online for a limited time.
Harlem World Magazine photographer Rudy Collins came by to shoot some photos on Sunday and he was supposed to leave so he could cover another event taking place in East Harlem. That night he sent me a text thanking me for getting him into the event. He had so much fun photographing the food and the festive atmosphere that he never went to the other event.
I want to publicly thank Raymond P. Lewis of RP Lewis & Associates who worked on the festival's planning committee, for providing me with access to the three dates of Harlem EatUp 2017 events I attended and for giving my photographer access to capture these amazing photos he shot of the festival on Sunday. Good looking out for us small Harlem focused media outlets. Much props and thanks to festival co-founders Marcus Samuelsson and Herb Karlitz of Karlitz & Company and all of the businesses that participated; you make Harlem shine.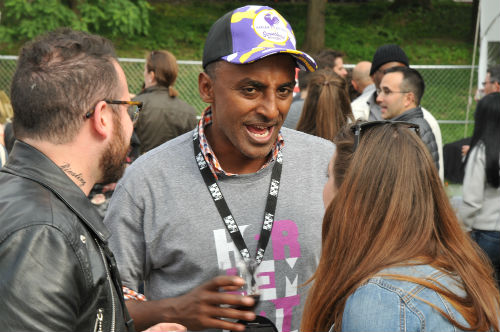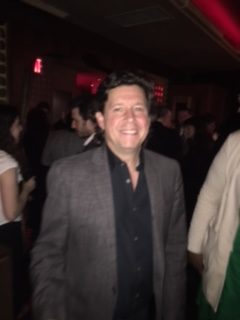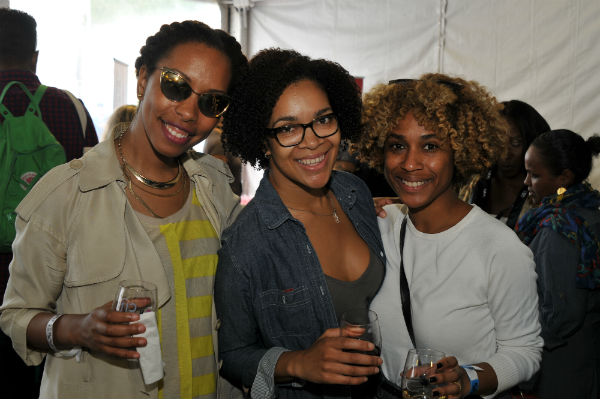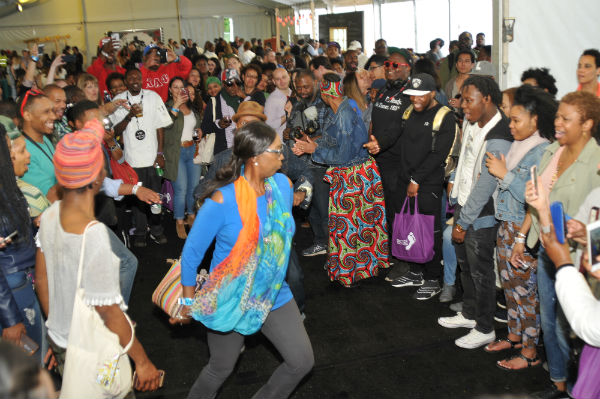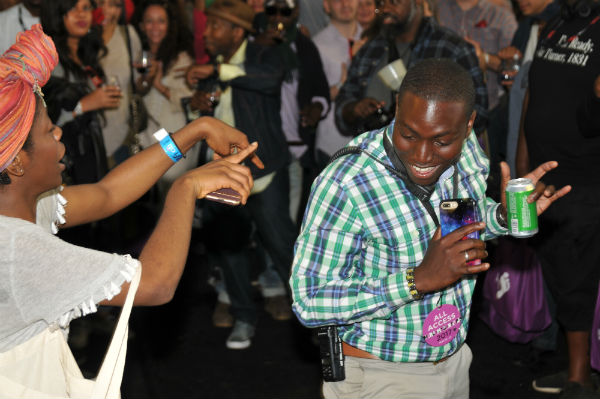 Photo credits:  Lil Nickelson for the pictures at the Prudential private dinner event at Ginny's Supper Club on Tuesday and Rudy Collins for The Stroll/Marketplace at Morningside Park on Sunday.
---