---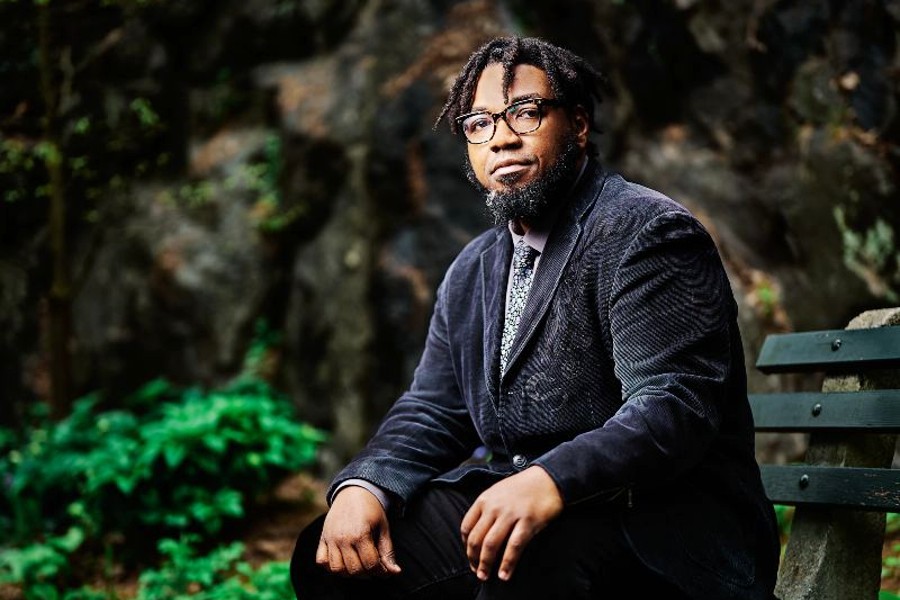 New York-based bassist, composer, bandleader, producer, and educator Dezron Douglas returns to Harlem's Miller Theatre with his acclaimed quartet.
A major force in contemporary creative music, "Dezron and his quartet embody poetry, presence, artistic, and emotional clarity in every note they play" (Bass Magazine). Don't miss this incredible performance, featuring the world premiere of an original holiday work, commissioned by Miller Theatre.
Dezron Douglas, bass
Bassist, composer, bandleader, and educator Dezron Douglas has established himself as a major force in contemporary creative music. A protégé of the great Jackie McLean, the Downbeat 2019 "Rising Star" is known for his work with Pharoah Sanders, Ravi Coltrane, Cyrus Chestnut, David Murray, Louis Hayes, Enrico Rava, and with piano legends George Cables, Eric Reed, Mulgrew Miller, and Benny Green. In 2021, he joined the Trey Anastasio Band. Douglas has recorded on more than 100 albums, contributing to the artistry of numerous bandleaders and maintaining an integral presence in the sounds of his peers, including Keyon Harrold, Jonathan Blake, Melanie Charles, and Makaya McCraven. He has released six albums as a lead artist and maintains a variety of projects that he uses as platforms for his compositions. In 2020, Force Majeure, the collaborative duo record with harpist Brandee Younger, was released on the International Anthem record label. Meditations on Faith, his solo bass improvisation, was released in 2021. In 2022, Douglas released his long-awaited quartet album Atalaya (International Anthem). He is currently on the Jazz Studies faculty at NYU Steinhardt.
George Burton, piano
Award-winning pianist, composer, and bandleader George Burton has an eclectic approach to music. It reflects his rigorous classical training followed by his experience in the Philadelphia jazz scene that earned him a place on the world stage with some of the most significant practitioners of bop, post-bop, and beyond—from James Carter to Meshell Ndegeocello to the Sun Ra Arkestra. He has performed on some of the most prestigious stages with his own groups as a leader, including the Newport Jazz Festival in 2017. Burton's debut album, The Truth Of What I Am > The Narcissist (2016), was voted #4 top debut album in the NPR Music Jazz Critics Poll that year and was featured on multiple year-end "best of" lists. His sophomore recording Rec·i·proc·i·ty (2020) was a New York Times and NPR Music Critics' Pick, and it was nominated for Outstanding Jazz Instrumental Album by the NAACP Image Awards in 2021.
Joe Dyson, drums
New Orleans native Joe Dyson started playing music in his family's church at the age of two. He went on to perform in the Louis "Satchmo" Armstrong Summer Jazz Camp where he was shadowed by the late, great clarinetist Alvin Batiste, and his longtime bandleader and mentor, alto saxophonist Donald Harrison. A graduate of the New Orleans Center for Creative Arts (NOCCA), Dyson earned a presidential scholarship to attend Berklee College of Music. Dyson has performed around the world and shared the stage with such legendaries as Dr. Lonnie Smith, Ellis Marsalis, Christian Scott aTunde Adjuah, Jon Batiste, Leo Nocentelli, Sullivan Fortner, Dirty Dozen Brass Band, Pedrito Martinez, Grammy Award-winners Nicholas Payton and Pat Metheny, among many others. He has performed on over 30 albums including Dr. Lonnie Smith's All in My Mind, Sullivan Fortner's Aria, and Christian aTunde Adjuah's Grammy-nominated Emancipation Procrastination. He appeared on the HBO series Treme, and can be seen performing in the documentary New Orleans: Been in the Storm Too Long hosted by Tavis Smiley. He can also be heard on the movie soundtrack Rachel Getting Married, by the late, Oscar-winning director Jonathan Demme. Dyson has taught throughout the U.S. and Europe, including The New School of Jazz and Contemporary Music, NOCCA Riverfront, and Södra Latin (Sweden). He is currently an adjunct professor at Tulane University.
Emilio Modeste, saxophones
Born in Virginia, New York-based tenor saxophonist and composer Emilio Modeste is lead saxophonist in the bands of Stanley Clarke N 4EVER and Cindy Blackman Santana. Modeste has performed with world-renowned musicians including Ron Carter, Jimmy Cobb, Buster Williams, Patrice Rushen, Lenny White, Gary Bartz, Steve Turre, Christian McBride, Rene McLean, Antoine Roney, Donald Harrison, and many others. In 2016, he opened for Jon Batiste at the Celebrate Brooklyn Festival with Kojo Roney. A close friend and mentee of trumpeter Wallace Roney, Modeste traveled the world with Roney's Quintet from 2017 to his passing in March 2020. He has also traveled alongside the Jazz at Lincoln Center Orchestra on the road in the U.S. Modeste can be found performing at Matthew Garrison's Shapeshifter Lab, the Jazz Standard, Ginny's Supperclub, Minton's, the Village Vanguard, Smalls, Fat Cat, Zinc Bar, The Blue Note, the Bronx Beer Hall, and many other venues in New York City. He performs occasionally on The Late Show with Stephen Colbert's house band: Jon Batiste and Stay Human. Modeste appears on Wallace Roney's final studio album Blue Dawn-Blue Nights (2019) and Music From and Inspired by The Film Birth Of The Cool (2020).
Miller Theatre
Miller Theatre at Columbia University in Harlem is an acclaimed New York City music venue and concert producer. Founded in 1988, Miller's mission is to develop new audiences; foster enthusiasm for the arts by pioneering new programming approaches; educate the public by presenting specialized programs to a broad audience; discover diverse repertoire and commission new works; and share the University's intellectual riches with the public. A four-time recipient of the ASCAP/Chamber Music America Award for Adventurous Programming, Miller Theatre produces innovative programs, supports the development of new work, and connects creative artists with enquiring audiences.
Directions and information are available online at millertheatre.com or via the Miller Theatre Box Office, at 212/854-7799.
Tickets starting at $25; Students with valid ID starting at $10 for a December 2nd, 2023, 8 pm EST show.
Photo credit: Dezron Douglas.
---