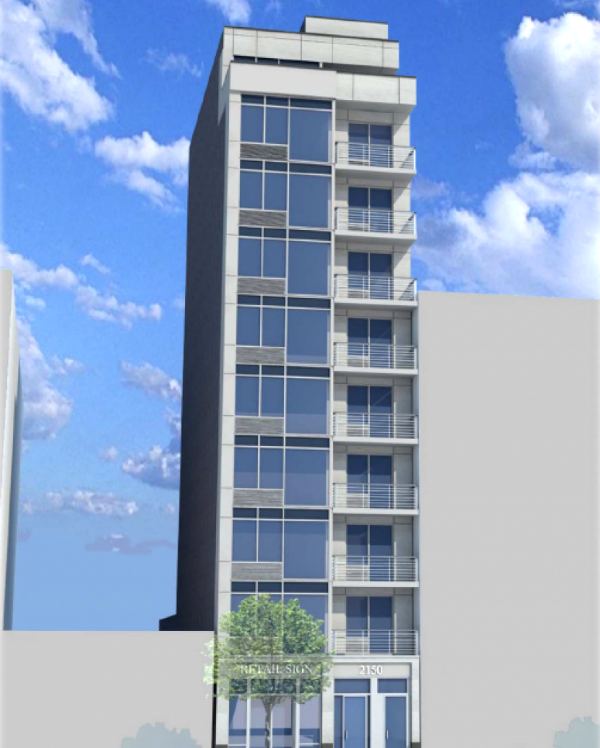 East Harlem's days of abandoned buildings and vacant lots are receding quickly into the past. Today, we have a rendering for a narrow 11-story residential building at 2150 Second Avenue, between East 110th and 111th streets, East Harlem, New York.
The project will reach 115 feet into the air on a 25-foot-wide lot, which is just large enough for an early 20th century tenement like the ones on either side. The new building would hold 17 apartments and 1,863 square feet of ground floor retail. The apartments – likely rentals – will be spread across 13,184 square feet of residential space, for average units measuring just 775 square feet.
Manhasset, N.Y.-based Chris Tao is developing the building, and T.F. Cusanelli and Filletti Architects are responsible for the rendering and design.
We don't have too much to say about the facade, but it reminds us of most small new developments we see in this neighborhood. And there will be PTACs punched through the facade, driving up energy bills for future tenants.
Tao picked up the lot for $309,000 in 2007, paying only $20 per buildable square foot.
To get a feel for what rents and prices are like in this area, take a look at 2132 Second Avenue, a condo building on the corner of 110th Street that was finished in 2006. A one-bedroom is currently on the market for $465,000, and two-bedrooms are asking $660,000 and $725,000. And asking rents for available two-bedrooms range from $2,500 to $2,650.
Via New York Yimby
Related Articles