---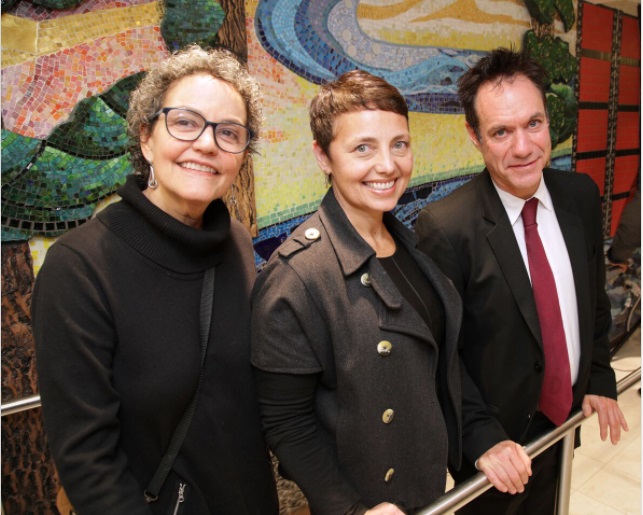 Great art in an apartment building lobby makes coming home not just a comfort but a pleasure. All too often, however, landlords and developers take advantage of artists, offering exhibition opportunities only to those artists who agree to show work for free. Parkadon Management and Development Founder and CEO Michael Greenberg, whose new condominium 70 West 139th Street (at Lenox Avenue) completes construction this month, believes artists should be paid fairly for these inspiring works that become a fixture of residents' daily lives.
A lifelong New Yorker and the child of the late pioneering SoHo artist Jane Greer, Greenberg collaborated with Art in FLUX to commission for 70 West 139th Street an original mosaic mural by Harlem-based artist Susan Stair, which the artist assembled on-site.
At an evening event held Wednesday, February 28th, 2018, at 70 West 139th Street, Greenberg hosted local civic leaders, brokers and artists to showcase the mosaic. Works by Uptown artists Leslie Jimenez, Tomo Mori and Suprina were also on display, and food was provided by Harlem's Ponty Bistro.
Said Greenberg: "I love this neighborhood—its art, architecture and strong sense of community. Every building has its own story, and with this project I wanted to prove that mixed-income housing with truly affordable condos can be high-quality and beautiful as well."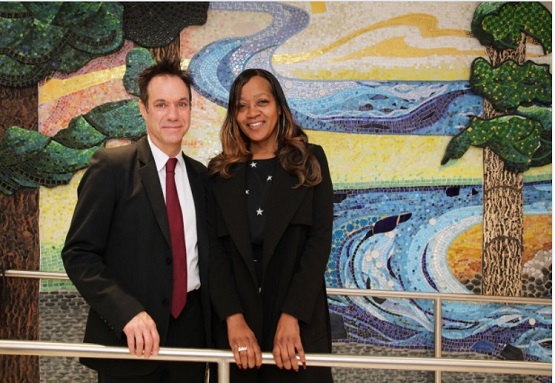 Returning to the River is a mixed media mosaic mural by artist Susan Stair. Her work has a deep connection to nature and the flora that lives in harmony with the urban environment. Stair found inspiration for this mural in historic maps that documented the ecology of Manhattan in pre-European times. The river of glimmering tile speaks to the estuary of the Harlem River that once flowed here and the diverse populations of people from the Lenape tribes to the current residents of Harlem. The building itself is depicted in a celluloid film-inspired design – an homage to the more contemporary history of Harlem as a vibrant haven for performing arts and culture. The mosaic features original hand-cut Smalti tiles and Stair has incorporated her signature clay tree impressions from trees immediately outside on 139th Street.
Since its launch in 2012, uptown arts initiative Art in FLUX has created opportunities by reclaiming underutilized spaces for art and connecting property owners with artists in Harlem. Lobby projects have included the 2014 acquisition by Artimus of three paintings by Uday K. Dhar and Danielle Seigelbaum for the lobby of One Morningside Park; Greystones's 2016 commission of Lance Johnson to create construction murals and permanent lobby art at Harlem 125; the acquisition of a painting by Uday K. Dhar for the lobby of 2280 Frederick Douglass Boulevard; and the 2018 commission of a painting by Stan Squirewell for the lobby of Circa Central Park.
Says Art in Flux director Leanne Stella, "Working with Parkadon and Michael Greenberg has been a real pleasure. He really understands the value of an artist's vision—and the hard work it takes for a creator like Susan Stair to bring a project like this intricate tile mosaic to fruition."
… the eight-story, 64-unit condominium building includes 42 affordable apartments for families with incomes between 90% and 165% of the Area Median Income (AMI), as well as 21 market-rate residences….
70 West 139th Street's facade of limestone and red brick, complements the character of the Central Harlem neighborhood. Designed by Peter Franzese and Jorges Montes De Oca, the eight-story, 64-unit condominium building includes 42 affordable apartments for families with incomes between 90% and 165% of the Area Median Income (AMI), as well as 21 market-rate residences. There are 31 one-bedroom apartments, 31 two-bedroom/two-bathroom apartments, and two three-bedroom apartments.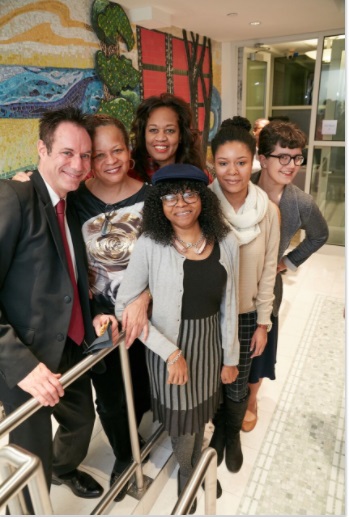 All 64 apartments—affordable and market-rate—feature quality appliances and thoughtful details such as striking glass tile backsplashes, along with wood flooring, solid-core interior doors, and high-end hardware and lighting. Additional amenities, shared by all residents, include an indoor cardio gym and fitness center, virtual doorman, onsite parking for 32 cars plus E-charging stations, secure storage for bicycles, and 54 private storage rooms. The inviting 2,500 common rooftop terrace has its own elevator landing, electric outlets and an intercom system.
Inside and out, 70 West 139th Street is a labor of love, and an example of a development vision that Michael Greenberg believes should be replicated citywide. Having for many decades managed the adjacent Section 8 buildings at 560 Lenox Avenue and 50 West 139th Street, along with other properties in Brooklyn and Jersey City, Greenberg sought to develop a deeply affordable home-ownership project to advance an affordability model that would allow smaller private developers to play a greater role in the city's future.
"I want to work with City and State officials and nonprofit partners to craft a housing model that is affordable in perpetuity," says Michael Greenberg. "I believe if we create programs that optimize the strongest components of private, government and nonprofit partnership, developers like me will be interested in building the kind of project that will ensure New York remains livable for all."
The project is a collaboration between Parkadon and the nonprofit New York Housing Partnership, which works with the NYC Department of Housing Preservation and Development and the New York State Affordable Housing Corporation to revitalize neighborhoods. NY Housing Partnership is managing the lottery for the 42 affordable condos, including determining eligibility with priority consideration for current Harlem residents.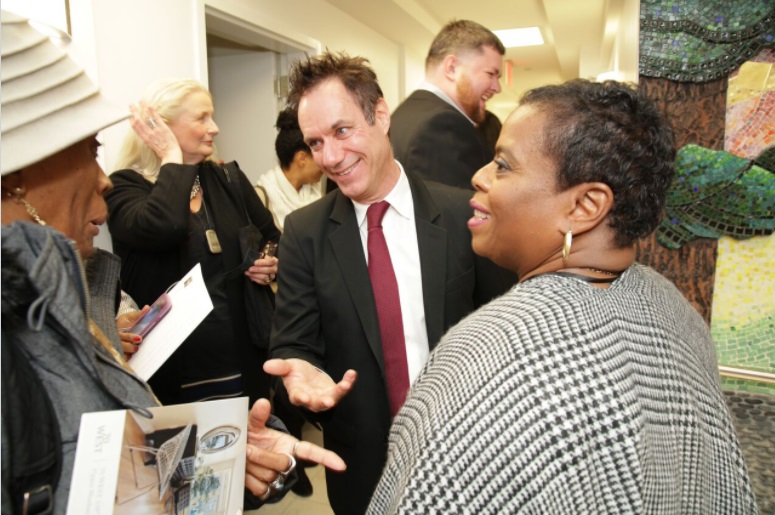 From its inception, Greenberg and Parkadon have structured 70 West 139th Street to provide for the building's capital needs and keep common charges low—for example, instituting a meaningful transfer fee component into the purchase of all apartments, requiring that a portion of any apartment sale be paid into the building's reserve fund.
The design and construction of 70 West 139th Street meets New York State Energy Research and Development Authority (NYSERDA) and the New York City Department of Housing Preservation & Development's High Efficiency and Enterprise Green Communities building specifications, empowering residents through PTAC units to control the comfort of their homes while lowering energy bills. The building also incorporates a powerful rooftop generator that will operate in Con Edison's Demand Response program and provide backup power to the building..
Photo credit: 1) Artist Susan Stair, Leanne Stella and Michael Greenberg. 2) Michael Greenberg and Lashawn Henry in front of "Returning to the River" by Susan Stair. 3) Michael Greenberg, Shelia Martin, Wendy Lyons and other members of the NYC Housing Partnership. 4) Michael Greenberg, Cheryl Wilson and guests.

Related Articles
---