---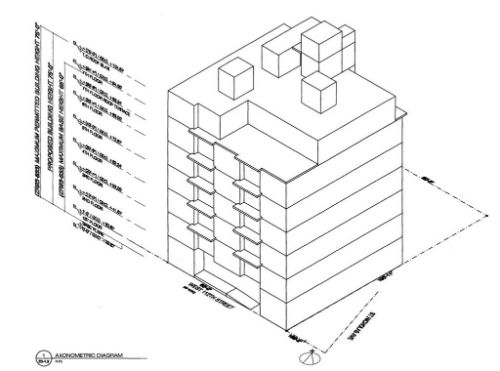 New York YIMBY reports that an imaged displayed onsite at 127 West 112th Street has provided YIMBY with a good look at the future design. The seven-story structure will include large windows and nine balconies, and what will likely be a private terrace on the top floor. The material used will probably be brick, with the possibility of metal paneling for accents. Three trees will be planted outside the building. Karl Fischer is responsible for the design.
The 75-foot tall structure will yield 20,820 square feet of residential space. 25 dwelling units will be created, averaging 833 square feet apiece, indicating rental use. Storage for 12 bicycles will be made available in the cellar, and outdoor recreational spaces will be included on the first floor and rooftop.
Effie Dilmanian will be responsible for the development. They anticipate completion by the Spring of 2019.
Photo: Elevation of 127 West 112th Street, by Karl Fischer Architects.
Related Articles
---