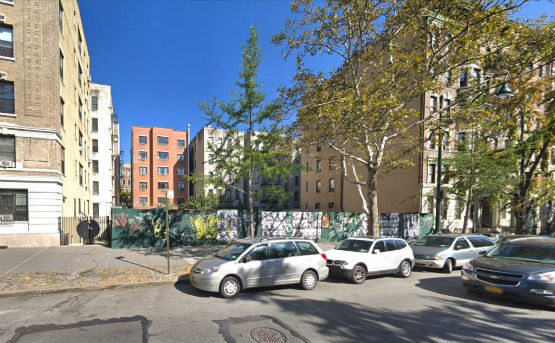 Yimby reports that with so much focus on the rising developments along Central Park South, there hasn't been much discussion of new penthouses rising on the other end of the greenery, mostly because they are very few and far between. One of those rarities is 145 Central Park North, a 14-story residential building near the center of Central Park North in Harlem, between 7th Avenue and Malcolm X Boulevard. Today, YIMBY has the first rendering of the project, which is being developed by Einhorn Development Group.
With some progress on construction, a tipster from the area has brought YIMBY the first look at the design, by Gluck+. The rendering reveals a bold steel façade that rises up nine stories, two floors above its neighbors, with the remaining floors setback and covered by a reflective curtain-wall of glass, clearly done to blend in with the sky.
The 156-foot tall structure will yield 62,270 square feet within, with 51,060 square feet dedicated to residential use. 24 apartments will be created, averaging a spacious 2,127 square feet apiece, indicating particularly opulent condominiums.
Nine parking spaces will be included on site. Tenants will have access to a recreational room, exercise center, and a rooftop terrace. Several apartments above the ninth floor will have access to private terraces.
Einhorn purchased the site in early 2013 for $16.5 million, coming in at $323 per livable square foot.
The two most notable projects nearby include the curved 2040 Frederick Douglass Boulevard and 111 Central Park North. Neither rise up particularly high, meaning the skyline of the neighborhood is unlikely to change significantly with current trends.
The permits were approved March 1st, 2018, suggesting imminent construction. Completion is expected by Spring 2020.
Related Articles