---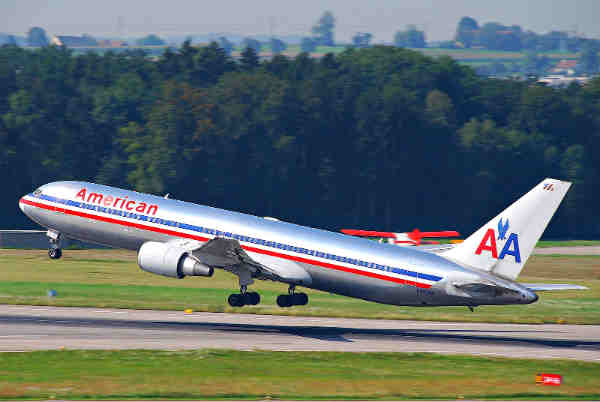 Mayor Bill de Blasio and Department of Consumer and Worker Protection (DCWP) Commissioner Peter A. Hatch today announced a settlement agreement with American Airlines.
The settlement agreement to resolve violations of the NYC Paid Safe and Sick Leave Law. As part of the settlement, American Airlines' federal lawsuit arguing that the NYC Paid Safe and Sick Leave Law does not apply to airport workers will be dropped. The settlement also requires American Airlines to pay $220,000 to 598 ground crew workers whose rights had been violated, including its management and support staff, fleet service and mechanical employees, and passenger service employees, and to comply with the law going forward by updating their safe and sick policy which will improve access to leave for thousands of ground crew workers.
DCWP's workplace-wide investigation found that American Airlines illegally assigned disciplinary points for each sick day used by ground crew workers and therefore illegally retaliated against employees for using sick leave. The airline also failed to pay employees for sick leave at the required rate, failed to allow employees to use accrued sick leave, illegally required advance notice of the unforeseeable need to use sick leave, illegally required medical documentation for sick leave absences of three or fewer days, and failed to provide employees with the Notice of Employee Rights.
"American Airlines denying its workers sick leave and putting their health at risk is just inhumane," said Mayor Bill de Blasio. "Paid safe and sick leave is critical for the safety and well-being of employees and we will continue to hold corporations accountable if they choose to violate the law. I applaud DCWP for getting these workers the money they deserve."
"Today's settlement is a clear statement that NYC airport workers are entitled to the protections of our Paid Safe and Sick Leave Law," said DCWP Commissioner Peter A. Hatch. "These employees work in major transportation hubs where tens of thousands of people are passing through daily. Forcing them to choose between going into work sick or getting in trouble for taking a sick day is not only illegal but a risk to public health. Paid sick leave is especially critical right now during this pandemic and no worker should face retaliation for exercising their right to sick leave. We thank the brave workers who came forward and urge any worker facing these problems at work to file a complaint with us."
The settlement requires American Airlines to:
Pay $220,000 in restitution to 598 workers;
Implement a safe and sick leave policy that is compliant with the Law and corrects the violations in the company's prior policy;
Post and distribute the Notice of Employee Rights to all staff;
Train all human resources personnel with direct oversight of the employees on the NYC Paid Safe and Sick Leave Law; and
Appoint a compliance officer to monitor and report on compliance with the Law.
Under the NYC Paid Safe and Sick Leave Law, employers with five or more employees and employers of domestic workers in New York City must provide paid safe and sick leave to employees. Employers with fewer than five employees and a net income of $ 1 million or more, and employers with between five and 99 employees must provide 40 hours of paid leave. Employers with 100 or more employees must provide up to 56 hours of paid leave. Employers with fewer than five employees and a net income of less than $1 million must provide unpaid safe and sick leave. Safe and sick leave is accrued at a rate of one hour of leave for every 30 hours worked, and begins on the employee's first day of employment. Employers of five or more employees who do not front-load safe and sick leave on the first day of a new calendar year must allow employees to carry over up to 40 or 56 hours of unused safe and sick leave from one calendar year to the new calendar year, depending on the size of the employer.
If the need to use leave is foreseeable, employers can require up to seven days advance notice to use accrued leave. If the need is unforeseeable, employers may require notice as soon as practicable. Employers can require documentation for more than three consecutive workdays of leave, but it is illegal to require that documentation specify the reason for using it. Employers may not engage in or threaten retaliation against employees, which includes the firing and any act that punishes an employee for or is likely to deter an employee from exercising their rights under the Law.
Since the Law went into effect, DCWP has received more than 2,470 complaints about Paid Safe and Sick Leave, closed more than 2,175 investigations, and obtained resolutions requiring more than $13.9 million in combined fines and restitution for more than 37,515 workers.
DCWP's case was handled by Supervising Investigator Juana Abreu, Senior Enforcement Counsel Emily Hoffman under the supervision of Litigation Director Claudia Henriquez of DCWP's Office of Labor Policy & Standards, which is led by Deputy Commissioner Benjamin Holt, and Law Department Senior Counsel Annette Lalic.
Employers and employees can visit nyc.gov/workers or call 311 (212-NEW-YORK outside NYC) for more information about the NYC Paid Safe and Sick Leave Law, including the required new Notice of Employee of Rights, which is available in 26 languages, one-page overviews for employers and employees, and the complaint form.
---