---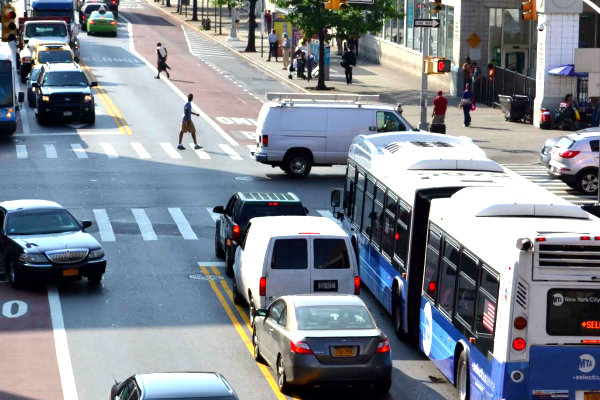 NYC Department of Consumer and Worker Protection (DCWP) Commissioner Lorelei Salas and staff, in partnership with local BIDs,
are visiting businesses in neighborhoods hardest hit by COVID-19, as well as busy retail corridors, to educate them and their workers about their rights and responsibilities during NYC's reopening. Last week, during Phase 1, DCWP visited more than 200 businesses in Hunts Point and Morrisania in the Bronx to distribute guidelines and resources to businesses and workers. This week, DCWP will be in Jamaica in Queens and Sunset Park and Bed-Stuy in Brooklyn. Additional events are also being scheduled. In addition to being disproportionately impacted by COVID-19, these communities have a high percentage of residents—many of whom are frontline service workers—living in poverty, as well as who are unemployed and rent burdened.
"Education is vital to ensure everyone's safety as our city reopens and, as we recover, we must focus our energies on ensuring that the communities hardest hit, have the resources they need to move forward and grow stronger," said DCWP Commissioner Lorelei Salas. "The businesses I've visited are eager to open and serve their neighbors. I encourage all of us—businesses, workers, consumers—to join together, stay safe by following the regulations, and rebuild our amazing city."
In addition to Business Education Days, DCWP has attended more than 30 virtual outreach events with more than 1,200 attendees in the last two weeks and shared information on Phase 1 guidelines and resources—with many more planned. DCWP is partnering with Small Business Services (SBS) on virtual resource fairs on Phase 1 and Phase 2 guidelines. DCWP has distributed resources to more than 1,500 worker organizations, faith-based organizations, consulates, community boards, and libraries. DCWP is also coordinating direct mailings of the NYC Means Business: Reopen & Stay Safe at Work outreach flyer to partner organizations.
DCWP recently launched a Worker Protection Hotline to help New York City workers navigate the return to work, including information about health and safety practices are required for businesses, protective equipment that must be made available, their right to sick leave, and more. DCWP's Worker Protection Hotline is available Monday through Friday, 9 a.m. to 5 p.m. by calling 311 or 212-436-0381. Workers are also encouraged to call the hotline to report employers that are not following the reopening requirements, which can be done anonymously.
DCWP also has new educational resources for workers at nyc.gov/workers, including an overview of their rights as they return to work in Phase 1 (Reopening NYC: What Workers Need to Know) and Phase 2 (PHASE 2 of Reopening NYC: What Workers Need to Know) and frequently asked questions about reopening (Reopening NYC: Frequently Asked Questions for NYC Workers). DCWP also has a summary of City labor laws for employers and employees during the crisis (Update about Workplace Laws as NYC Seeks to Stop the Spread of the New Coronavirus (COVID-19)), also provides an overview of local, state and federal sick leave laws. Many materials are available or will soon be available in multiple languages. Employers with questions can call 888-SBS4NYC (727-4692) or visit nyc.gov/business.
NYC Department of Consumer and Worker Protection (DCWP) protects and enhances the daily economic lives of New Yorkers to create thriving communities. DCWP licenses more than 75,000 businesses in more than 50 industries and enforces key consumer protection, licensing, and workplace laws that apply to countless more. By supporting businesses through equitable enforcement and access to resources and, by helping to resolve complaints, DCWP protects the marketplace from predatory practices and strives to create a culture of compliance. Through its community outreach and the work of its offices of Financial Empowerment and Labor Policy & Standards, DCWP empowers consumers and working families by providing the tools and resources they need to be educated consumers and to achieve financial health and work-life balance. DCWP also conducts research and advocates for public policy that furthers its work to support New York City's communities. For more information about DCWP at nyc.gov/dcwp
---