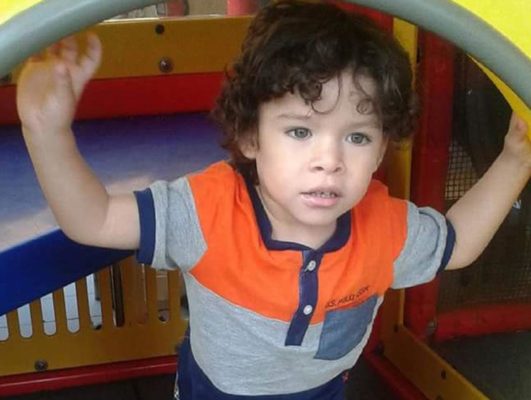 A 3-year-old East Harlem boy who died in August was beaten to death, officials said Friday.
Little Caleb Rivera was found unconscious and covered with bruises in his family's apartment in the Jefferson Houses on First Ave. near E. 114th St.
Witnesses told the Daily News at the time that he was so skinny "you could see his bones and his ribs."
The boy's mother and boyfriend later gave conflicting accounts of how the boy suffered the injuries, sources said.
After a 911 call about 3:40 p.m. on Aug. 3, paramedics rushed the child in cardiac arrest to Metropolitan Hospital Center, where doctors intubated him.
About six hours later, he was moved to New York-Presbyterian/Weill Cornell Medical Center, where he died after two days.
Neighbor Nikki Whatley, 38, who performed CPR on Caleb, said his head was swollen and he had a large bruise on his head and a fresh bruise on his face.
Doctors found bleeding on the brain and around the heart, sources said. He was also suffering from brain and lung injuries.
On Friday, police said the death has been ruled a homicide.
The boy died from multiple blows to his head and neck, according to a spokeswoman for the city Medical Examiner.
No one has been charged or is in custody for the death, officials said.
"There were three people inside the apartment, two males and a female," NYPD Chief of Detectives Robert Boyce said.

"The mother of the child and two other males that are not biological fathers. Right now it's an open investigation."
Caleb's mom on Friday claimed "nobody" murdered her little boy, despite police ruling his death a homicide.
"I am not talking to anybody about anything. I am not giving up anything. Why are you harassing me?" she said from behind her door at 2215 1st Ave.
"Nobody (killed him)," she said when pressed. "It was — " she added before cutting herself off. "Have a good day. Nobody. That is the only answer that you'll get from me."
"I've honored him many times. I'm hurt," she said, her voice breaking.
"Do you guys understand that? I've been going through a lot. Respect my wishes and have a good day because I'm suffering."
A second woman threatened to sue reporters.
"If you don't leave we will sue you," she said from behind the door.
"Leave or else the cops are coming."
A crudely-drawn "I'm not home" sign written in pencil on the back of a manila envelope was posted on the door.
The boy's mother, Alexandra Gonzalez, told police he fell off a bench and started choking, but she was initially uncooperative in providing specifics to detectives, sources said.
Later, she told police she left Caleb with her boyfriend of three months, Justin Ortiz, so she could buy cigarettes, sources said.
Two minutes after she left he called her and asked her to return home because her son was choking.
She rushed home and grabbed the child out of her boyfriend's arms and ran out of the building and into a courtyard, where Whatley did CPR until paramedics got there, sources said.
Gonzalez told staffers at the hospital that her son had fallen off a bed earlier that morning and hit his face, sources said. She insisted no one else was home when that happened.
Sources said Gonzalez's boyfriend denied anyone hurt Caleb and claimed the marks and bruises on the boy's chin were the result of his head getting stuck in a high chair. The bruises on the toddler's face, Ortiz told police, came from him falling off the high chair.
He said he didn't know how the internal injuries happened, sources said.
He tried to pin the blame on a friend who was also in the apartment at the time, sources said.
Related Articles
---
VIDEO
---
"We re-imagine, recreate, and redeem cultural omissions and misrepresentations of Blackness, for the culture. ...." This post is made in partnership with British Pathé.