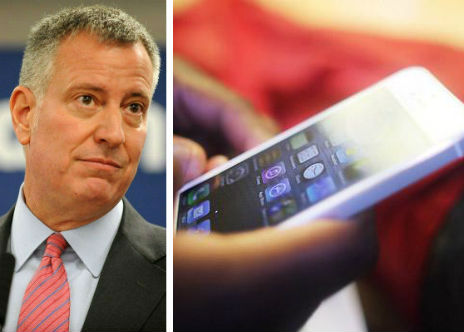 The de Blasio Administration today celebrated the 5-year anniversary of the Open Data Law by launching a new homepage for the NYC Open Data web portal. To date, the City has published more than 1,600 free municipal data sets, ranging from 311 complaints to crime incidents by neighborhood to the location of every street tree in the city. The new home for the Open Data Portal provides more support to data novices on how to get started with City data, empowering more New Yorkers to understand how their city works through the information it produces.
"Open Data is a window into what's happening in every neighborhood in our city, bringing our dedication to transparency and accountability to life," said Mayor Bill de Blasio. "This is information that belongs to New Yorkers, and through the new homepage, it's easier than ever to find, understand, and use it. We're proud to be doing our part putting this information up – now, we want even more New Yorkers to discover, benefit and build from it."
"Over the past five years, a whole culture of Open Data has blossomed in New York City, and all New Yorkers are better off for it," said Anne Roest, Commissioner of the Department of Information Technology and Telecommunications. "Our task now is to make sure everyone knows that 'data' isn't just something for tech experts. Democracy thrives when data is accessible and available to all."
"Open Data in New York City owes to a century-long local tradition of pioneering civil society protections. It's clearer than ever that protocols for how digital information is shared with the public underpin a tradition of participatory public life in New York City," said Chief Analytics Officer Dr. Amen Ra Mashariki. "As we look back on the work the community made to turn Open Data from a good policy into a law, we also look forward to advancing our vision for Open Data for All through a suite of new tools, including a new website, feedback tool, and data literacy effort."
The launch of the new homepage comes 5 years to the day after Local Law 11 of 2012— commonly known as "the Open Data Law"— was added to the administrative code. The law, which Mayor de Blasio sponsored in his then-role as Public Advocate, mandates that all public City data be made available online by the end of 2018. Since then, the number of individual data records accessed on the Open Data Portal has grown from 3.2 billion in its first year to more than 258 billion in the last twelve months, with a total of 1.7 million dataset downloads over the duration of the initiative.
In July of 2015, the de Blasio administration laid out its vision for a more inclusive Open Data program with Open Data for All. In this document, Department of Information Technology and Telecommunications Commissioner Anne Roest and Chief Analytics Officer Amen Ra Mashariki laid out a strategy that treated Open Data as an opportunity for civic engagement. They declared that the success of the Open Data in New York City would not be in the number of datasets published, but in the number of New Yorkers who use City data in their everyday lives. Since the July 2016 update to the Open Data plan, NYC Open Data has welcomed more than 135,000 average monthly users and 250,000 page hits per month.
While the future of Open Data at the federal level is uncertain – the Trump administration recently removed all datasets on the White House Open Data portal and has given no indication, unlike the previous administration, that it is committed to government transparency – New York City Open Data is here to stay.
The new website makes it easier than ever for all New Yorkers to discover and use City data with:
How-to guides for getting started with NYC datasets and analysis tools
A public calendar of civic tech and data events across the cityA new customer support application for asking questions, requesting new data from agencies, and tracking status of known issues
Information on NYC's open data policy and administration's Open Data for All vision
This website was developed by the Open Data team in partnership with the DoITT NYC Gov Lab & Studio UX Team, leveraging human-centered design (HCD) methodology and engaging the community in design research and user testing sessions. Users can share their thoughts and feedback about the website, which is being tested in beta, by taking this survey.
The City of New York also invites New Yorkers to join in a week of celebrations of the 5 year anniversary of the NYC Open Data Law, presented in partnership with the civic tech community. "Open Data Week" will culminate with a pilot Open Data for All workshop, in partnership NYC Parks, connecting the City's government transparency to data literacy efforts by teaching New Yorkers data analysis skills using City data. A full list of events happening throughout the week is here: www.open-data.nyc
"Data is key to driving better and smarter outcomes," says Miguel Gamino, Chief Technology Officer of the City of New York. "We're excited to support these new initiatives making Open Data more accessible to all New Yorkers. It will now be easier than ever before for New Yorkers to engage with more than a thousand datasets to learn more about where they live, work and play."
"I passed the Open Data Law because government works for everyone, and unless there's a good reason not to, datasets built by government agencies should be available for everyone to analyze, use for research, or build new apps and businesses around," said Manhattan Borough President Gale A. Brewer. "This new website will make it easier for New Yorkers and people across the entire world to find city datasets and use them in ways that will benefit all of us."
"Transparent government is more important than ever before and New York City has made incredible strides towards greater transparency because of the resources and hard work put into Open Data during the past five years," said Council Member James Vacca, Chair of the Committee on Technology. "I look forward to seeing the City's Open Data program become even more accessible and continue down its path of success."
""New York City's improved Open Data website is a big step in the right direction. The new user-friendly site will allow even novice computer users to find and use the information they are looking for," said Council Member Ben Kallos."Thank you to Mayor Bill de Blasio for his commitment to improving the Open Data website and to Anne Roest, Commissioner at DoITT and Amen Ra Mashariki, Chief Analytics Officer, for their continued work and consistent efforts to make progress on Open Data."
"I am thrilled that the City of New York has released over 1,600 municipal datasets to the public. This is a major step forward in making government more transparent to its constituents. And I applaud the City for making more and more of an effort to help the public to understand and effectively use the information that has been released. The fundamental goal is not only to make City data available, but also truly accessible, to the public," said Council Member Helen Rosenthal.
"Open data ensures that all New York City residents can access and easily comprehend our City agencies' flow of information. We continue to take strides to support a more knowledgeable, more involved public, and in doing so, create a stronger City," said Council Member Vincent Gentile.
"The fifth anniversary of the world's first and best Open Data Law is a reminder that innovation, hard work, commitment, optimism and common effort can make any government more open, responsive and effective," said John Kaehny, Co-Chair of the NYC Transparency Working Group and part of the stakeholder group that crafted the original New York City Open Data Law. "Government is the public's business, and we greatly appreciate Mayor de Blasio's efforts to fund and empower his open data team to make the New York City Open Data initiative a powerful tool for good. We look forward to working with City Hall, City Council — especially Technology Chair Jimmy Vacca — on renewing and updating the dynamic and inspirational Open Data Law so that it works for all New Yorkers."
"NYC's open data program stared into the unknown, a superstorm, and a Mayoral transition, and excelled," said Noel Hidalgo, BetaNYC Executive Director. "The past five years are a testament to an era where government, civic organizations, and the public can collaborate to identify challenges and work to solve them. While it is unlikely that we'll ever see perfect municipal data, we do see a more perfect union where data and professionalism are united to ensure transparency, enable equity, and serve justice. It is an honor to be part of NYC's inaugural open data week!"
"While the work of open government is never done, the commitment that New York City has shown to learning from its own experiences, from the evolution of the BigApps contest to upgrades of its open data platform and the data on it, provide a global example for a metropolis in the 21st century, said Alex Howard, Deputy Director at Sunlight Foundation. "Over the last decade, New York City has shown that improving public access to public information using modern technologies is not a Republican or Democratic idea: it's an American one, based upon shared democratic principles. In the year ahead, we will look to New York to continue to demonstrate the importance of evidence-based policies in good governance, based upon shared facts grounded in trustworthy open data disclosed directly to the public online."
"Increasingly, cities are realizing that technical access on its own is not enough when it comes to open data," said Stephen Larrick, Open Data Lead at Sunlight Foundation. "To meet resident needs and ensure impact on the ground, addressing the issue of "data poverty" that the city has rightly prioritized, open data releases must connect to community dialogue, civic engagement and user feedback. 5 years ago, New York City set a precedent for cities everywhere with Local Law 11. Today, we continue to see New York at the leading edge of civic technology through connecting open data to people using human-centered design."
"To care for New York City's urban forest, we rely on close collaboration with thousands of volunteer tree stewards – and we have discovered that Open Data is rocket fuel for volunteer engagement," said Parks Commissioner Mitchell J. Silver, FAICP. "Now, our Computer Resource Centers are partnering with the Mayor's Office of Data Analytics and tech partner Carto to help communities create user-generated maps and graphs built on data from the TreesCount! 2015 street tree census. This engagement is revealing new insights about our city's trees, and it's helping us to grow a new generation of green New Yorkers."
"Data has become central to any organization, providing richer and more powerful insights that result in more informed decision-making. At CARTO, we believe wholeheartedly in making that data accessible to everyone, and in its potential to create more engaged communities." Javier de la Torre at CARTO. "We are happy to be working with the New York City Government, especially NYC Parks and the Mayors Office, to utilize Open Data sets to explore, analyze and visualize data in a way that catalyzes positive change for the city and its citizens."
Related Articles
---