---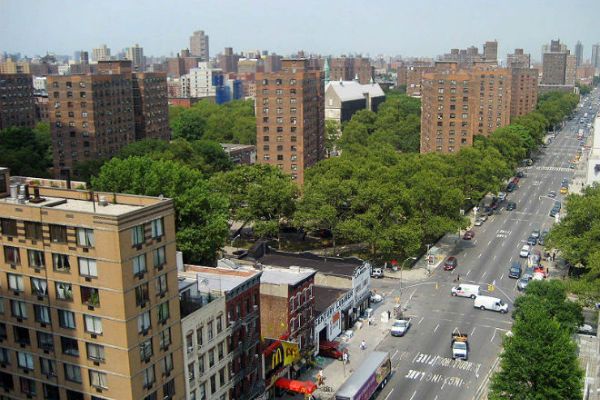 Mayor Bill de Blasio, Deputy Mayor Alicia Glen and Chief Technology Officer Miguel Gamiño, Jr. today announced that the City is launching a program that invites local and global entrepreneurs, startups, industry and community to use tech for change.
The goal is to make the City a proving ground for groundbreaking ideas and new technologies that have the potential to positively transform cities.
As a program in the Mayor's Office of the Chief Technology Officer, Miguel Gamiño, Jr., NYCx will be led by Jeremy M. Goldberg, Deputy Chief Technology Officer for NYCx.
"Technology is an inescapable, critical part of our lives and the future of our communities," said Mayor Bill de Blasio. "Now, more than ever New York must take a leadership role in shaping a future that protects our values, strengthens inclusiveness and equity of our communities and presents a model of leadership for other cities around the world."
"NYCx will transform the relationship between city government, community and the tech industry to be more collaborative and inclusive," said Miguel Gamiño, Jr., New York City Chief Technology Officer. "If we can test and solve critical challenges together in NYC and achieve our City's goals, we can offer these solutions for other cities facing similar issues."
NYCx will open urban spaces as test beds for new technologies as a core part of the program. The City will also launch challenges that engage the tech industry to solve real-world problems and call on the tech vanguard to help the City advance its goals to be the most fair, equitable and sustainable city in the world.
Co-Lab Challenges will invite startups and entrepreneurs to work directly with community residents to solve neighborhood challenges while aiming to scale solutions for common issues across the five boroughs.
Moonshot Challenges will be citywide challenges that encourage global entrepreneurs to think big about NYC's most ambitious problems, propose bold solutions and deliver groundbreaking business models that transform and improve the lives of New Yorkers.
As part of the today's NYCx program launch, Mayor de Blasio and Mr. Gamiño announced the first NYCx Moonshot Challenge:
The Connectivity Challenge will transform Governors Island into a research and development hub for testing and deploying the next generation of broadband connectivity technologies at the fastest speeds and lowest costs. Through the Challenge, the City expects to acquire new insights to advance broadband, Wi-Fi and "5G" cellular access in public spaces and in public housing. The Challenge looks to further the Mayor's goal to ensure every resident and business will have access to affordable, reliable, high-speed broadband service everywhere by 2025.
Three winners will be selected for the Connectivity Challenge and each will receive $25,000 to build and test their technologies in collaboration with the City and the Trust for Governor's Island with the potential for a contract to work with the City on further expansion of the solution across the City.
"As a beloved, popular destination with the vision of being a year-round hub of innovation and creativity, Governors Island offers an exciting and visible testing ground for entrepreneurs to enhance the experience of the hundreds of thousands of New Yorkers who visit each year," said Trust for Governors Island President Michael Samuelian. "The Connectivity Challenge is an important step toward this vision, ensuring the fastest, full range of broadband internet reaches our visitors, art and cultural partners and future tenants."
NYCx will also establish a Technology Leadership Council comprised of a diverse group of technology and community luminaries who will increase program engagement and visibility and help to inform the future of the program. Beth Comstock, Vice Chair at General Electric and Tim Armstrong, Chairman and CEO, Oath will co-chair the Council. In addition to industry pioneers, the Council members will include community representation through members such as Clayton Banks, co-Founder & CEO, Silicon Harlem, Jukay Hsu, Founder & CEO, C4Q and Russell Simmons, Chairman and CEO, Rush Communications.
The program announcement today builds on the announcement in June of the City's "New York Works" plan that will create 100,000 new, good paying jobs with 30,000 of those projected to be in tech. According to the recent New York State Tech Jobs report, tech companies are already contributing more quickly to the NYC employment opportunities than other industries, supporting over 350,000 jobs and $30 billion in wages.
"New York City's tech ecosystem is constantly evolving to successfully meet new economic and urban challenges," said NYCEDC President and CEO James Patchett. We are thrilled to collaborate on NYCx, which will continue to strengthen our urban tech sector, create good jobs for New Yorkers, and improve the quality of life in neighborhoods across the city."
"We are tremendously excited and applaud the NYCx team for creating this new platform for innovation, paving the way towards a more efficient, collaborative, and technologically friendly NYC," said Anne Roest, Commissioner of the Department of Information Technology and Telecommunications. "NYCx builds on earlier public engagement efforts such as the Reinvent Payphone Challenge launched in 2012 that turned to the public to help envision the future of New York City's public pay telephones, influencing what would become LinkNYC. Today, nearly 3 million subscribers avail themselves of free, superfast Wi-Fi and I am certain NYCx will foster great ideas."
"Our borough is teeming with a diverse array of visionary minds that are developing the technological answers to seemingly intractable civic challenges," said Brooklyn Borough President Eric Adams. "Local government needs to tap into the potential of their ideas and pilot them in Brooklyn and across New York City. My administration has worked closely with local entrepreneurs focused on a wide range of neighborhood problems, and we are excited to champion efforts to test these IoT solutions in the real world. It is my hope that NYCx will further these efforts, helping to proactively connect all of our innovators in a spirit of collaboration that produces a more forward-thinking, cutting-edge city."
"New York City, with our diverse neighborhoods, sheer scale, and local tech talent, is the ultimate testing ground for new technologies, especially civic tech," said Manhattan Borough President Gale A. Brewer. "I'm pleased that this new program will build on and leverage this natural strength."
"We welcome initiatives meant to encourage the tech industry to build greater roots in our city," said Staten Island Borough President James Oddo. "New York City — and Staten Island — is open for business."
"As we seek answers to challenging questions, we must pursue new and unique solutions." said Assembly Member Michael Blake. "Facilitating partnerships directly between community stakeholders and the entrepreneurs in our communities is exactly what is necessary to address widespread challenges across The Bronx and in our city. Urban communities, like The Bronx, hold unseen brilliance. We simply need to be connected to equitable opportunities. The ideas and solutions that will come out of the NYCx program will undoubtedly be groundbreaking and transformational. From the American Entrepreneurship Award to Workshops in Business Opportunities to increasing Minority and Women Entrepreneurs access to opportunities, we know that entrepreneurs must be at the table for us to transform The Bronx and our city. We look forward to seeing the progress that NYCx makes and the stronger, more inclusive New York it produces."
"NYCx is fantastic program that can produce economic growth and create a better living for New Yorkers," said Assembly Member Clyde Vanel. "The merging of global entrepreneurs, locals, startups groups and companies in the industry will make a big impact on the city and set the foundation for greater economic opportunity. NYCx will bring about endless possibilities and bridge the gap between the city and the government sector, while advancing in the area of technology."
"I'm truly excited for the launch of the program NYCx," said Assembly Member Latrice Walker. "New York City has always been the 'City of Dreams' and NYCx helps us continue that legacy by creating 100,000 new jobs in addition to supporting local entrepreneurs and startups. I commend Mayor Bill de Blasio for the NYCx program and the chance to help our local innovators transform our city."
"The NYCx program provides an opportunity to tap into the innovation and creativity that already exists in our communities, connect tech leaders with city government and unite change makers to solve our City's biggest problems," said Council Member Margaret S. Chin. "Thank you to Mayor De Blasio and New York City Chief Technology Officer Miguel Gamiño for their work to bring diverse voices to the table to build a better, more equitable New York City."
"Technology promises to help solve New York City's biggest problems thanks to NYCx," said Council Member Ben Kallos. "For far too long we've asked the technology community to help solves city problems without paying for it but NYCx will provide funding in the form of challenge grants and space to pay for the technology we need for a better city. Thank you to Mayor Bill de Blasio and Chief Technology Officer Miguel Gamiño for their leadership and creating NYCx, I look forward to what it will bring."
"There are certainly a number of emerging technologies that could help address residents' needs and improve our City," said Council Member James Vacca, Chair of the New York City Council Committee on Technology. "I'm excited for NYCx to get underway and to see what kind of innovative solutions members of the tech industry propose."
"New York City is the place in the world where the most diversity meets the future of technology," said Tim Armstrong, CEO, Oath and NYCx Technology Leadership Council co-Chair. "Technology is the fastest growing job sector in NYC and the government of New York City has consistently invested in building the city's technological future and today's announcement of NYCx is another big step toward the future. The brightest entrepreneurial stars from the boroughs of New York will come together and have a chance to compete in the global technology frontier."
"New York's concentration of companies across industries spurs tech innovation in every sector, touching every facet of life," said Beth Comstock, Vice Chair, GE and NYCx Technology Leadership Council co-Chair. "NYCx unites the versatility of the tech community and the public sector to address citizens' needs."
"By unlocking the potential of New York City's preeminence, Mayor De Blasio and Miguel Gamiño will not only accelerate the attainment of the OneNYC objectives," said Keith Krach, Chairman of the Board, DocuSign and NYCx Technology Leadership Council Member," but they will serve as a role model for cities around the world, inspiring private-public sector collaboration that drives innovation at massive scale – all to the benefit of city residents, employees and visitors."
"The NYCx Technology Leadership Council is bringing together entrepreneurs, community leaders and industry CEOs in a way that no other City tech program in the world does," said Russell Simmons, Chairman & CEO of Rush Communications and NYCx Technology Leadership Council Member. "I'm thrilled to be part of this Council and being a part of making sure NYC is bringing new technologies that help New Yorkers and even the world."
As a Harlem business, I'm proud to work with Mayor Bill de Blasio to launch NYCx," said Clayton Banks, co-Founder and CEO, Silicon Harlem and NYCx Technology Leadership Council Member. "At Silicon Harlem, we've been working with our city's youth to develop new skills and job opportunities, while driving deeper broadband access at more affordable prices for local families. Growing tech skills and entrepreneurship can help urban corridors like Harlem transform into innovation hubs, where everyone has access, exposure and opportunity to grow."
"NYCx is an opportunity to develop a pipeline and continue to diversify and strengthen the tech workforce in NYC, said Jukay Hsu, Founder and CEO, C4Q and NYCx Technology Leadership Council Member. "This is about bringing the opportunities and benefits that technology offers to communities who need it most."
"NYC is a great sandbox for entrepreneurs, technologists, scientists, designers, and innovators of all kinds to work on their ideas," said Fred Wilson, Partner, Union Square Ventures and NYCx Technology Leadership Council Member. I am excited about NYCx and its ability to attract and support these innovators to work on the city's biggest opportunities and challenges."
"The City is taking an important step in boosting the tech ecosystem in NYC," said Andrew Raseij, Founder and CEO, Civic Hall, Chairman, NY Tech Alliance, and NYCx Technology Leadership Council Member. "NYCx will empower communities and technologists to work together to engineer new technologies for the benefit of New Yorkers."
"The Yard has a long history as an ecosystem for new ideas – serving as a 300-acre innovation district, first for the Navy, and now for 21st Century manufacturing," said David Ehrenberg, President and CEO of the Brooklyn Navy Yard Development Corporation and NYCx Technology Leadership Council Member. "NYCx is an extraordinary opportunity for entrepreneurs at the Yard and across the City to make a better, stronger, urban environment. And we hope New Yorkers from across the city will come to the Yard to share, test, and grow their own ideas."
"Now in our fourth year of operation, Grand Central Tech has been privileged to work with the City in a variety of contexts to help ensure the tech sector has the broadest and most positive influence possible on the New York City economy at large," said Matthew Harrigan, Co-founder & Managing Director, Grand Central Tech. We strongly believe that NYCx will prove to be an invaluable asset for years to come by unlocking the potential of pairing transformational technology with a visionary citizen engagement platform."
http://www.nyc.gov/nycx
No related posts found...
---