---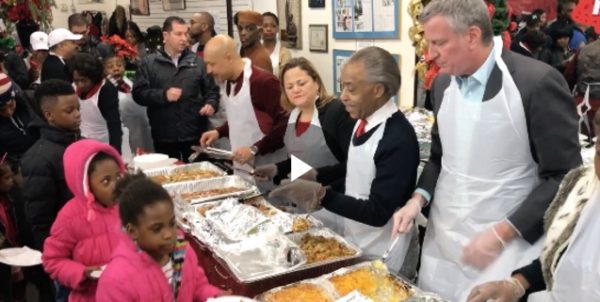 New York City Mayor Bill de Blasio dished out food and a message on Christmas Eve, likening the political left's struggle against President-elect Donald Trump to the resistance faced by early Christians in the time of Jesus.
Addressing hundreds about to be served a meal of fried fish, turkey meatloaf, stuffing, an assortment of sweets and more at the Rev. Al Sharpton's annual Christmastime buffet in Harlem, with Harlem City Council Speaker Melissa Mark-Viverito, de Blasio said the struggle takes on a special poignance on the holidays.
"The early Christians didn't exactly have it easy," de Blasio told the crowd, which snaked through Sharpton's storefront headquarters and out the door down 145th Street. "They were surrounded by hostile powers. They were shunned. They were oppressed. But they believed in something. They found a way to spread their message. I'm sure 2,000 years ago, they never thought they could go as far as they have."
The mayor has promised to resist the implementation of some of Trump's campaign promises, including rounding up and deporting illegal immigrants, creating a Muslim registry and resuscitating and nationalizing the NYPD's controversial stop-and-frisk program.
"I don't feel belittled and small because of a single election," de Blasio said.
"That's right!" a man in the audience said.
Both Sharpton and de Blasio, who backed Trump's opponent, Hillary Clinton, have held discussions with Trump since the election.
"We can lose an election, but we can't be Trumped!" Sharpton said.
Click on image or HERE to see video.
Related Articles
---