---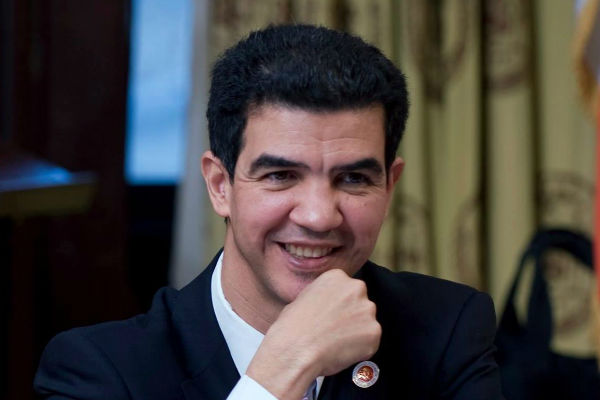 The New York City Economic Development Corporation (NYCEDC), the Mayor's Office of the Chief Technology Officer (MOCTO), and Council Member Ydanis Rodriguez (pictured) today announced the next site for NYCx Co-Labs programming will be located in the neighborhood of Inwood, located in Northern Manhattan.
Led by the MOCTO, NYCx Co-Labs combines technology piloting and education in high-need, high-opportunity neighborhoods by connecting local residents, government, academia, and tech entrepreneurs to identify, co-develop, and test innovative solutions that address the neighborhood's most pressing needs.
Later this year, MOCTO staff will collaborate with Inwood-based community organizations to assemble a local advisory board and a cohort of youth leaders to guide program activities in the neighborhood. A series of in-depth workshops will occur to help the community define local priorities and understand the potential for new technologies to address the self-identified neighborhood needs. The workshops will also convene an intergenerational group of civic entrepreneurs to help advance the opportunities for their neighborhood to benefit from the introduction of new technologies.
"Bringing NYCx Co-Lab program to Inwood will enhance the great work of our community organizations and existing STEM programs. It will make the importance of STEM education much more tangible by finding ways to apply technology and innovative solutions to some areas where our community needs the most investment. I look forward to the great partnerships with leading organizations and institutions that will come from making Inwood a NYCx Co-Lab site," said Council Member Ydanis Rodriguez.
"The future of our communities depends on all New Yorkers having fair and equal access to the benefits of technology, said Jeremy M. Goldberg, Deputy CTO, NYCx, MOCTO. "We are thrilled to expand NYCx Co-Labs in Inwood, an important and exciting next step in understanding the needs of our communities and making sure tech in delivered in a way that addresses those needs."
"NYCx Co-labs merge innovation and collaboration to solve new economic and urban challenges. Launching the Inwood Co-lab represents an important step in strengthening our urban tech sector, connecting local residents with technology, and sourcing real input from the community on how to improve the quality of life in their neighborhood," said NYCEDC President and CEO James Patchett.
In early 2019, the program aims to launch the first NYCx Co-Lab Challenge in Inwood. NYCx Co-Lab Challenges engage the tech industry to partner with City agencies and neighborhood leaders to solve urban problems in real-world settings. NYCx Co-Lab Challenges awards winning proposals with City funding and access to municipal infrastructure and neighborhood spaces to test and build solutions developed to respond to community needs.
Following the successful rollout of the NYCx Co-Labs program in Brownsville, Brooklyn last year, today's announcement represents the next step in the Administration's efforts to fulfill a commitment to expand the program within the five boroughs.
Launching the second NYCx Co-Lab in Inwood will help advance several goals outlined in the Inwood NYC neighborhood planning initiative. The initiative includes three years of engagement with over 2,500 residents, community stakeholders, and elected officials to explore solutions to issues such as affordability, infrastructure and workforce development to ensure that Inwood remains an affordable, attractive neighborhood for working and immigrant families. The Inwood NYCx Co-Lab will help incorporate new technologies into an existing framework that ensures that modernization of neighborhood infrastructure is steered by local input and generates economic opportunities.
Learn more at NYC.gov/cto
New York City Economic Development Corporation is the City's primary vehicle for promoting economic growth in each of the five boroughs.
Related Articles
---