---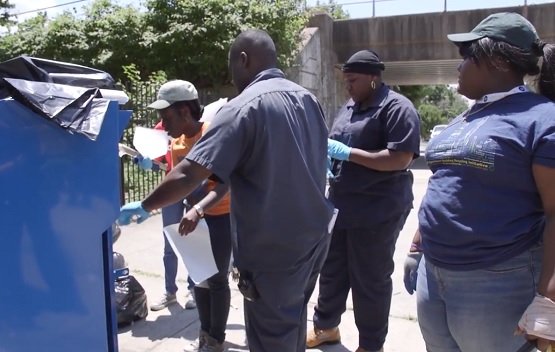 Today, NYC Service announced the launch of the NYC National Service Support Center, which provides training, technical assistance, capacity building resources, and consultations to nearly 40 service year programs across the City. The National Service Support Center is also working with the NYC National Service Leadership Council to support the goals of the NYC National Service Growth (+Sustainability) Plan. The plan aims to double the number of service year members in NYC from 4,000 to 8,000, serving one million New Yorkers by 2020.
This announcement comes as communities across the country celebrated the Corporation for National and Community Service's (CNCS) National Service Recognition Day. Yesterday, NYC Service and the NYC National Service Leadership Council partnered with the New York Mets to host a "National Service Night" at Citi Field to celebrate the work of over 7,000 AmeriCorps and Senior Corps members in NYC.
"Yesterday we celebrated the thousands of NYC AmeriCorps and Senior Corps members across the five boroughs who dedicate their time to serving others," said Mayor Bill de Blasio. "Their contributions are helping us work towards a stronger, more sustainable, and more equitable New York City and I hope more will join their ranks."
"NYC Service is thrilled to partner with the Mets and formally recognize the thousands of AmeriCorps and Senior Members in our City who deliver measurable change on critical priorities like education, economic opportunity, health, and the environment," said NYC Chief Service Officer Paula Gavin. "One year after announcing our plan to double the number of service year members in NYC by 2020, we are excited to launch the NYC National Service Support Center to sustain and expand the impact of service year programs in our City and remain committed to this effort. I want to thank the New York Mets for celebrating with us yesterday and the NYC National Service Leadership Council for their ongoing partnership to strengthen national service in NYC."
"The Mets are honored to participate in National Service Recognition Night," said New York Mets COO Jeff Wilpon. "We've partnered with the NYC Service Leadership Council to help recognize and reward over 7,000 AmeriCorps and Senior Corps members for their service to our great city. Tonight also provides a chance for others to learn about national service programming opportunities available in New York."
"The impact of the NYC VISTA program is in the communities we serve and in the life of every VISTA," said Bryan Jackson, NYC VISTA Member. "Organizations that host VISTAs are able to expand to serve the needs of their community with the fresh perspective and high energy that the VISTAs bring. And for those who have felt the call to serve, it provides not only valuable experience, but insight into what is possible with commitment and dedication. At the core, that's what VISTA is all about: making our country and our world a better place by serving others."
"My NYC Service experience has allowed me to serve in the realm of public policy and government administration," said Sarah Alshawish, NYC VISTA Member. "In the Commissioner's office of ACS, I project manage the monitoring of new corrective action plans to close practice gaps in the child welfare system. Working alongside child welfare experts and partners from the NYPD, housing, public benefits and healthcare sectors has provided me great insight into the collaboration of city agencies to address challenges faced by families in vulnerable circumstances."
"AmeriCorps programs such as Public Allies have given New Yorkers the platform to create the change they want to see in the world by directly serving in their own communities," said Uthman Olowa, Public Allies NY AmeriCorps Member.
"The volunteers of the Community Service Society's RSVP program devote hundreds of thousands of hours a year in improving the lives of their communities by providing vital services such as mentoring, benefits counseling, financial advocacy, alleviating food insecurity and many other essential services that would otherwise not be provided to vulnerable populations throughout the five boroughs," said David R. Jones, President and CEO of the Community Service Society. "They demonstrate that national service is a lifelong commitment."
"Loneliness and isolation affects many seniors, especially low-income seniors who lack support systems," said David Garza, Executive Director of Henry Street Settlement. "The Senior Corps Senior Companion program alleviates loneliness for vulnerable seniors by connecting them to a caring individual and provides the Companions with an important purpose, allowing them to make a difference.
"Public Allies New York recruits young people from diverse backgrounds to serve communities across the city," said James Bernard, Executive Director of Public Allies New York. "We are a member of a 26-city national movement committed to advancing social justice and equity by engaging and activating the leadership of all young people. We're about inclusion, we're about collaboration, and we're about integrity. Since 1992, we have helped thousands of underrepresented young leaders serve our country, get on successful pathways to higher education and careers, and bring communities together to work for the common good."
"Up2Us Sports believes in the service year movement in NYC," said Paula Caccamo, Founder and CEO of Up2Us Sports. "In the past 5 years, we have supported more than 400 young adults to be coaches and mentors for youth in all five boroughs. Our AmeriCorps coaches have helped grow youth sports throughout our city and have used the power of sports to mentor youth in life skills, academic goal setting, and conflict resolution."
"We have had a lot of success as a collective, with so much diversity in our service year program types, to create solutions to programmatic challenges," said Jumpstart NY Regional Vice President Kerri Osborne. "We utilize the NYC National Service Support Center to broaden our reach, with staff developing citywide campaigns, supporting advocacy initiatives, and providing technical assistance for service year programming."
To learn more about NYC Service and connect, visit nyc.gov/service.
Related Articles
---