---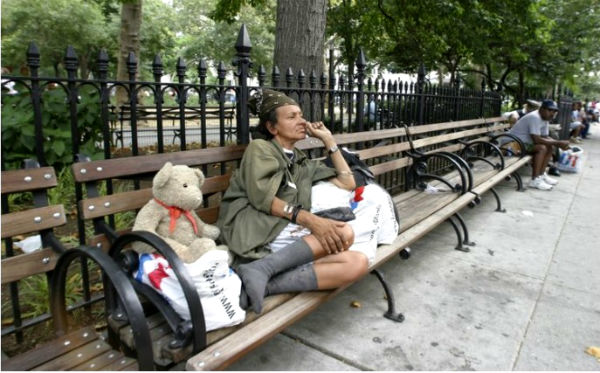 The de Blasio Administration today announced a series of enhancements to the City's HOME-STAT outreach efforts in the subways, designed to encourage more unsheltered New Yorkers to accept services and transition out of the subways. Building on the Subway Diversion Pilot announced last month, which is diverting unsheltered New Yorkers from unnecessary criminal justice involvement towards shelter and services, the NYPD and Department of Homeless Services are implementing a series of interventions and enhancements to more effectively target underground outreach efforts to high-activity areas and high-need cases, including launching:
an interagency command center involving City Agency partners focused on helping individuals with the most challenging cases to come out of the subways and accept services;
increased joint outreach operations by the NYPD and DHS; and
live camera feeds to more precisely and quickly identify and respond to quality-of-life and public safety concerns, enhancing the NYPD's Neighborhood Policing philosophy underground
"All New Yorkers should feel safe and comfortable on public transit," said Mayor Bill de Blasio. "With this collaborative partnership, we're striking the right balance, and meeting New Yorkers in need where they are to ensure they're connected with services to help them back on their feet."
"This collaborative, interagency approach leverages the NYPD's intelligence and expertise to help those in need of assistance, not punishment. Our committed officers, who know the subway system and the people in it, truly help to define the NYPD's Neighborhood Policing philosophy," said Chief Edward Delatorre, NYPD Chief of Transit.
"Thanks to our investments and enhancements, our HOME-STAT subway outreach teams are engaging more people to determine if they are homeless, placing more homeless New Yorkers into shelter and permanent housing, and leading the implementation of innovative interventions that bring the power of citywide collaboration to bear in service of our most vulnerable neighbors who have fallen through every social safety net," said Department of Social Services Commissioner Steven Banks. "Since the launch of the HOME-STAT initiative, we've already brought more than 2,200 New Yorkers in off the streets and subways and into transitional and permanent housing programs, including more than 600 out of the subways specifically, who've remained off the streets—and by strengthening engagement, building trust, and providing more pathways off the streets, we're squarely focused on taking that progress further."
Joint Crisis Coordination Center – To address the most challenging cases of unsheltered homelessness involving high-needs clients, who often face the most significant, often overlapping challenges, including mental health and substance misuse, the City is launching an interagency command center, bringing relevant Agency experts to the table to develop tailored approaches to engaging each individual based on their unique needs. While the vast majority of individuals encountered by HOME-STAT outreach teams in the subway are transient, a specific subset of individuals confirmed to be experiencing unsheltered homelessness and known to outreach teams by name are considered 'entrenched,' having been engaged 50 or more times throughout a one-year period, indicating greater need requiring more interagency expertise. Through close collaboration with partners including the Department of Health and Mental Hygiene (DOHMH) and Health + Hospitals (H+H), HOME-STAT outreach teams and TD-PD will develop targeted interventions to make the breakthrough that encourages these individuals to finally accept services and transition off the subways.
Expansion of the Subway Diversion Initiative – Last month, working in partnership with DHS and BRC, the NYPD launched a pilot initiative in Manhattan reforming officers' approach to engaging and offering services to unsheltered New Yorkers underground, with a focus on diverting individuals from the criminal justice system towards outreach services and supportive programs. This pilot initiative will now be expanded to all five boroughs. Through this Subway Diversion Project, individuals experiencing unsheltered homelessness (i.e. having no active legal address at the time of engagement and not residing in shelter) encountered by the NYPD in the transit system (i.e. subway cars and subway stations) in Manhattan and observed to be in violation of New York City Transit Code of Conduct rules, such as fare evasion and lying outstretched, are being offered referrals to services in lieu of civil summonses. Participants who opt into the program complete an assessment with an outreach team, receive a referral to shelter and/or other services, and have their summonses cleared in coordination with the Metropolitan Transportation Authority, ultimately diverting them towards shelter away from unnecessary formal court processes and helping more people come inside and out of the subways. Any incidents of violent crime will still result in arrest and strong enforcement.
Enhanced Outreach Operations – Working in close partnership with the MTA and New York City Transit, the NYPD and Department of Homeless Services are expanding joint canvassing and outreach operations underground, bringing a coordinated approach to outreach to end-of-line subway stations. During joint outreach operations, NYPD officers accompany HOME-STAT outreach teams as they canvass and jointly offer services to unsheltered homeless individuals, with the goal of providing the unique combination of services that will ultimately help them come indoors. Currently, NYPD and DHS conduct joint outreach operations above ground in Midtown, Manhattan, seven days a week, between 30th Street and 60th Street. At the same time, currently, HOME-STAT outreach teams on the subways typically focus on high-activity subway stations, including terminals and end-of-line stations, while Transit District PD (TD-PD) primarily focus on subway cars. These enhancements will expand underground joint outreach operations in end-of-the-line stations, with NYPD managing dedicated spaces for engagement and offering respite, resources, and refreshments in service of building trust and relationships with each unsheltered individual on a person-by-person basis.
System-wide Live CCTV Feed for Eye-in-the-Sky Rapid Deployment of Outreach– Through the City's new Joint Crisis Coordination Center, the NYPD will work with partners to provide access to live Transit Bureau CCTV feeds. Once built, this will give all Agencies in the command center the ability to comprehensively monitor the transit network in real-time from a centralized location, enabling the rapid deployment of HOME-STAT outreach teams to stations, trains, and other areas underground within the subway system to address client needs and conditions in real-time.
Unprecedented Investments Show Progress – Since 2014, the City has redoubled outreach efforts, dedicating unprecedented new resources to street outreach programs and providers:
Helping more than 2,200 individuals off the streets, including more than 600 individuals out of the subways, and into transitional and permanent settings since the launch of HOME-STAT in April 2016.
More than doubling the City's investment in street homeless programs, increasing by more than from approximately $45M in 2013 to approximately $126M today.
More than doubling the number of outreach staff canvassing the streets and subways engaging New Yorkers 24/7/365 since 2014, from 191 to nearly 400, with those dedicated staff spending months building relationships by making regular contact with street homeless New Yorkers to build trust and encourage them to accept services and transition off the streets.
On our way to tripling the number of emergency 'safe haven' and 'stabilization' beds dedicated to serving street homeless New Yorkers citywide since 2014, with hundreds of beds opened during this Administration and hundreds more set to open in the coming years, ultimately increasing the operating total from roughly 600 beds to nearly 1,800 beds. Taken together with additional roughly 350 respite beds, there will be 2,100 beds dedicated to serving street homeless individuals available to HOME-STAT outreach teams citywide.
Building the City's first-ever by-name list of individuals known to be homeless and residing on the streets and in the subways to improve delivery of services, with outreach teams now knowing approximately 1,700 street homeless individuals by name and actively engaging another 2,200 individuals encountered on the streets to determine whether they are homeless.
joint outreach operations to engage more New Yorkers and offer more supports, including expanding joint outreach operations with NYPD in Midtown, Manhattan to seven days per week, and enhancing coordination with the NYPD and MTA on the subways to provide alternative pathways to permanence.
Building Trust, Person by Person – HOME-STAT outreach teams remain focused on persistent, proactive, positive engagement, offering services and supports to New Yorkers in need 24/7/365. Accepting outreach efforts, including services that will help homeless New Yorkers transition indoors from the streets or subways, is voluntary—and, in accordance with NYS Mental Hygiene Law, street homeless New Yorkers cannot be involuntarily removed from the streets unless they are posing a danger to themselves or others. Unsheltered individuals residing underground often face complex, layered challenges, and may be resistant to accepting services, but our teams remain undeterred in their efforts to help them transition off the subways. To that end, HOME-STAT outreach teams have access to:
licensed clinicians who work with clients on the streets, provide on-going case management, and assess each individual for immediate risk/crisis during each encounter
psychiatrists who perform psychiatric evaluations on the streets, as needed, helping understand and better meet the individual needs of each street homeless New Yorker
substance use resources, including ability to immediately connect individuals to detox and other rehabilitation programs—and are trained in naloxone administration
Homelessness is not a crime and New Yorkers who are not violating subway rules cannot be ejected from the system for simply experiencing homelessness. A person who looks like they may be experiencing homelessness and/or in need cannot be assumed to be so, as that makes several problematic and prejudicial socio-economic assumptions based on profiling. Homelessness must be confirmed by the individual (that they have no place to sleep), which is why HOME-STAT outreach teams engage individuals person by person, to understand their living situations and asses their needs.
---