---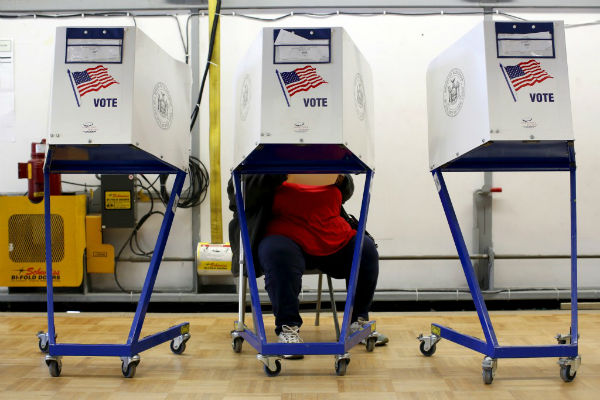 The de Blasio Administration and DemocracyNYC today announced the beginning of early voting in New York City, after the passage of the State Legislature this year. For the upcoming General Election and every election moving forward, New Yorkers will have nine (9) extra days to cast their ballot before Election Day. New Yorkers may also choose to vote on Election Day.
"Voting is essential to our democracy," said Mayor de Blasio. "I encourage all New Yorkers to take advantage of these nine extra days – get out and make your voice heard."
"Early voting will help those who have traditionally struggled to get to the polls on Election Day," said J. Phillip Thompson, Deputy Mayor for Strategic Policy Initiatives. "From now on, all New Yorkers – including seniors, people with disabilities, parents and people who have a difficult work schedule – will have the time they need to be able to participate in our democracy and make their voices heard through the power of their vote."
"DemocracyNYC works to give every New Yorker a voice and we are thrilled that early voting has finally come to our city. Now our elections can better meet the needs of busy New Yorkers adding the flexibility to vote at different times on nine separate days — including four weekend days — and providing more opportunity for civic participation and engagement for all of our diverse communities," said NYC Chief Democracy Officer Rini Fonseca-Sabune. "I invite all registered New Yorkers to make history by voting early on whatever day works best for them."
The Board of Elections designated 33 public schools for early voting citywide this year. The Administration is working across city agencies to ensure all 33 school sites are safe and secure, and there is minimal disruption to the school day. Schools will continue to serve free breakfast and lunch to all students every day, and the Department of Education (DOE) is guaranteeing a hot lunch throughout the early voting period.
DOE's safety and facilities directors will visit each school every day, and every building will receive additional staffing including NYPD officers, BOE Monitors, and custodial staff. Information about each site has been sent home to families, and the DOE will remain in close contact with principals.
Families or staff members with any questions or concerns can reach out via email: earlyvoting@schools.nyc.gov.
"At a time when voting rights are under assault, we must fight for our democracy because there's nothing more important than the right to vote," said Senate Deputy Leader Michael Gianaris. "Our new Senate Majority made voter registration easier and access to the ballot box fairer. I encourage everyone to exercise their right to vote by using the new laws we enacted this year," said DeputyMajority Leader State Senator Michael Gianaris.
"Voting is the right that protects all other rights. Yet despite New York's progressive reputation, we have historically been ranked among the worst in the country in voter turnout. One of the reasons for that low turnout is that many New Yorkers struggle to get to the ballot box because of family and work responsibilities or other barriers. With Early Voting, we're putting New York on the path from worst to first by giving people the opportunity to vote when they have the most time," said Senator Zellnor Y. Myrie, who introduced the Early Voting bill in the state legislature this year.
"We enacted legislation this year to transform virtually every aspect of our election laws and help secure the right to vote for all New Yorkers. Early voting is one of the most immediate changes, a huge step forward as we deliver on our commitment to breaking down barriers and strengthening our democracy. It will allow busy New Yorkers to choose a convenient time to cast their ballots and, in years when turnout is high, it will mean shorter lines and fewer glitches on Election Day. I thank the City for their efforts to ensure that everyone is aware of the opportunity vote early this year," Senator Brian Kavanagh.
"This is a historic moment. New Yorkers will be able to vote early for the first time ever. I encourage everyone to take part in the Democratic process, which is now more convenient than ever. I believe in leading by example so I will be voting early at my polling site in Arverne and I invite my constituents to join me," said State Senator James Sanders Jr.
"Coming off a historic legislative session in Albany, I am so proud of the work we gave to reform our elections. This weekend we will kick off early voting for the first time and we are calling on residents of NYC, to go out and vote early," said NYS Assemblywoman Carmen De La Rosa. "Early voting will make it so much easier for New Yorkers to make a plan and have several days to exercise their right to vote. This is only the first step in guaranteeing all our voices are present in the electoral process that will undoubtedly impact our communities. Today we celebrate and tomorrow we go out and vote!" said Assembly Member Carmen De La Rosa.
"The implementation of early voting in NYS is a pivotal moment for our democracy. The simplest yet most powerful way a person can be civically engaged is by voting, but many fail to exercise this right due to factors out of their control. We've seen in other states that when voting is easier, voters are more empowered knowing they have more time to cast their ballots," said Assembly Member Karines Reyes.
"In a city constantly on the move, finding time to exercise civic rights used to be a challenge for too many New Yorkers who often had to choose between going to work or waiting in long lines at the polls.  Early voting gives New Yorkers the much-needed flexibility they deserve, opening the door for greater civic action, engagement, and participation. Thirty-eight other states have already successfully implemented early voting, it was about time New York got on board," said Assembly Member Al Taylor.
For the 2019 General Election, early voting starts tomorrow Saturday, October 26 and runs until Sunday, November 3. Hours vary by day and include morning, evening, and weekend hours. Registered voters will be assigned to one early voting poll site in the borough in which they reside. In New York City, this fall's ballot includes the race for Public Advocate, amendments to the city charter, and local races across the City.
New Yorkers who prefer to vote on Election Day may do so on Tuesday, November 5 from 6 a.m. to 9 p.m. at their Election Day poll site.
To find Early Voting and Election Day poll sites, operating hours, and what's on the ballot, visit www.voting.nyc or call 311.
---