---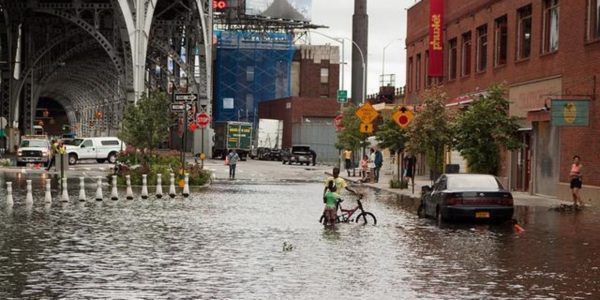 The de Blasio Administration today announced that it will undertake deep energy retrofits in nine City facilities and identify another 28 facilities for future retrofits. Deep energy retrofits take a comprehensive, whole-facility approach to make buildings more energy-efficient. A deep energy retrofit aims to achieve a 50 percent or greater reduction in building energy usage and can reduce carbon emissions 30 percent or more. Deep energy retrofits can include improving building insulation, adopting designs that result in more increased natural daylight and better ventilation, upgrading electric fixtures, and automating control of heating and cooling systems. The retrofitting projects announced today will be completed by 2025.
"As the Federal government abandons the vital fight against global warming, New York City is leading the way," said Mayor de Blasio. "With our Green New Deal we are meeting this crisis head-on. We must act now so that our children and grandchildren can inherit a cleaner, safer and fairer city for all."
"Addressing the climate crisis requires bold and urgent action, and that is why the City of New York is taking aggressive steps to reduce carbon emissions," said Lisette Camilo, Commissioner of the NYC Department of Citywide Administrative Services. "City government will reduce its carbon emissions 80% by 2050, and one of the ways we will get there is by dramatically lowering emissions from City facilities."
"Deep energy retrofits are the next frontier in the fight against climate change," said Mark Chambers, Director of the Mayor's Office of Sustainability. "We're crossing the threshold with these aggressive measures that will slash emissions and save taxpayers money."
"Here in New York City, we recognize our climate crisis for what it is – an emergency – and also that what matters most is not words, but action," said Daniel Zarrilli, NYC's Chief Climate Policy Advisor and OneNYC Director. "By retrofitting City facilities, we are demonstrating to the world the tangible steps that can be taken at the local level to confront our climate crisis. These bold actions announced today show the progress we are making on the commitments laid out in OneNYC 2050 as we continue building a strong and fair city for all New Yorkers."
The City's deep energy retrofits will be guided by audits of City facilities to pinpoint areas of heating, cooling, lighting, and power usage that could be made more efficient. The Department of Citywide Administrative Services (DCAS), which will perform the audits, will then partner with City agencies to plan and implement the energy conservation measures. The first nine facilities where retrofitting will occur are:
DSNY Manhattan Garage 7 (57th Street)
NYPD Building Maintenance Section Facility
DCLA Brooklyn Museum
DHS Harlem 1 Men's Shelter
DHS Keener Assessment Shelter
DHS Bushwick Family Residence
DHS Stockholm Family Residence
DOE PS62 Bronx
DOE PS120 Bronx
In addition to the nine facilities that will soon begin retrofitting work, DCAS will conduct audits of other City buildings, including public schools, courthouses, office buildings, police precincts, and NYC Health + Hospitals facilities to identify the most impactful targets for future deep energy retrofitting.
The retrofits announced today will help the City of New York achieve goals established by Local Law 97 of the Climate Mobilization Act. This law, passed by the New York City Council, will lead the City to reduce emissions from government operations 40% by 2025 and 50% by 2030. This requirement is more aggressive than the standards set for the private sector. Achieving these goals will include retrofitting in every City facility with significant energy use, installing solar panels to generate 100 MW of energy on City property, and adopting other cleaner forms of energy.
This work will also help achieve the City's broader goal of achieving carbon neutrality by 2050 and aligning with the highest goals of the Paris Climate Agreement. Improving building efficiency is key to achieving these goals, as nearly 70% of greenhouse gas emissions in New York City can be attributed to the energy used to power, heat, and cool buildings.
"In New York City, we cannot fight climate change and achieve carbon neutrality without addressing buildings – the #1 source of greenhouse gas pollution citywide," said Julie Tighe, President of the New York League of Conservation Voters. "This year, NYC led by adopting the Climate Mobilization Act, the most aggressive building emissions reduction law in the country. Now, with the actions announced today, Mayor Bill de Blasio and the Department of Citywide Administrative Services are leading by example when it comes to undertaking deep retrofits of city-owned buildings. These comprehensive whole-building energy retrofits prove that the emission reduction goals of the Climate Mobilization Act can be achieved. These power, heating, cooling, and lighting retrofits can serve as a model for other buildings throughout the city and across the nation."
"The City of New York and the Department of Citywide Administrative Services continue to lead by example with deep energy retrofits of City facilities," said Richard Yancey, FAIA, Executive Director of the Building Energy Exchange. "These retrofits will not only significantly reduce the energy use and carbon emissions of the buildings in question, but can serve as direct models for the private sector. Having worked closely with DCAS on deep retrofit training for their staff and several case studies of innovative projects completed in public facilities the Building Energy Exchange looks forward to working with the City to ensure that the critical solutions deployed in these deep energy retrofits are widely shared with all building industry stakeholders."
---