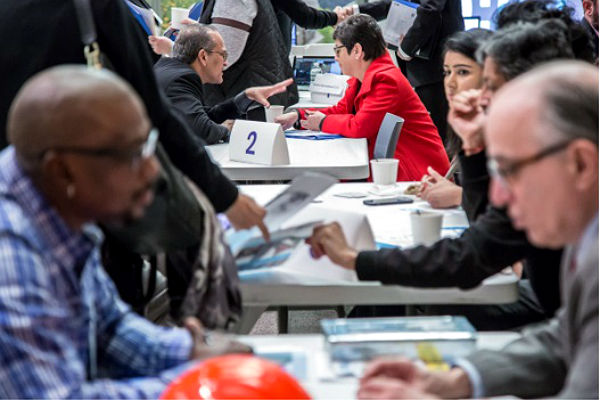 On February 27, 2018, more than 60 representatives from the local construction industry came together at the Queens offices of the NYC Department of Design and Construction (DDC) in the agency's second matchmaking event.
The event was designed to pair general contractors seeking to meet their contractual Minority- or Woman-Owned Business Enterprise (M/WBE) goals with M/WBE subcontractors pursuing contracting opportunities on DDC projects.
"DDC is one of the City's leading agencies in awards to M/WBE firms, and we have a comprehensive outreach and education program to help these firms do business with the City," said DDC Acting Commissioner Ana Barrio. "Bringing companies together not only increases business opportunities for both firms but can also help expand the pool of contractors who have the capacity to bid on DDC projects."
General contractors at the event have been pre-qualified under the rules of the Procurement Policy Board to bid on certain construction projects. To be placed on one of the agency's pre-qualified list (PQL), a contractors can respond to the Request for Qualification (RFQ) and provide a range of information about their company, including financial statements, insurance documentation, hiring plan data and safety certifications. Companies that meet certain standards can then be placed on one of the agency's Pre-qualification Lists (PQL) and become eligible to bid on these projects.
Firms on the DDC's Small and Medium General Construction Pre-qualified List that are not certified M/WBEs are required to subcontract at least 50% of the value of any contract awarded through the PQL process to firms that are certified M/WBEs. Projects with construction cost between $500,000 and $3 million are procured through the Small General Construction PQL. Projects with construction cost between $3 million and $10 million are procured through the Medium General Construction PQL. Today's event, "General Construction PQL Matchmaking," invited these general contractors to meet M/WBE firms seeking to subcontract with them.
Wendy Mendez is a Project Manager for Rombouts Ave. LLC, a certified M/WBE firm located in Harrison, NY. She attended the event to network with general contractors that might need her company's excavation, shoring, rock removal, underpinning and concrete services, as well as other subcontractors from which her firm might be able to purchase supplies and equipment.
"I'm hoping to meet more general contractors or even other subcontractors we can team up with on future projects," said Mendez. "I look forward to more events like this so that when people need an M/WBE they think of us first. I've gone to other construction industry events but never one like this, focusing on women-owned contractors like us."
Anthony Tsaloglou (right) is the Senior Project Manager for Technico Construction Services,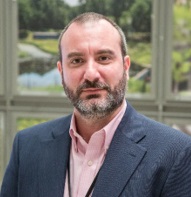 Inc., a general contractor in Long Island City.
"The push to work with minority- and women-owned companies is a huge part of New York's construction industry right now," said Tsaloglou. "The main reason we're here today is to network with people who can help us meet those requirements. The move toward using more M/WBEs is a good one, but general contractors in particular need more subcontractors, more options. It's not that easy to find companies to work with but events like this help. We need all construction services but our biggest volume need right now is for mechanical, electrical and plumbing."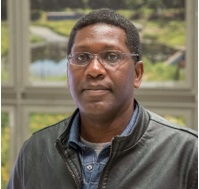 Wayne Hamm (left) is the founder and owner of Electric Fixx Inc., a certified M/WBE electrical contractor since 2011 located on Ralph Avenue in Brooklyn. He was seeking general contractors who could contract for his company's expertise installing wiring, lighting, solar paneling, fire and burglar alarm systems, generators and more.
"We do all aspects of electrical work, with 20 people working at the company," said Hamm. "I want to pick up more projects, quite simply, more work. I'd like to meet with any and all of the people here and give them my card and tell them about my company, and hopefully they'll call us next time they're bidding on a contract. I get a lot more calls since the Mayor announced new goals to award 30% of City contracts to M/WBE contractors."
Janki Thaker (right), Project Engineer, Andy Bhanderi, Assistant Project Manager, and Ketan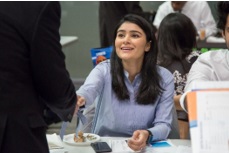 Patel, Project Manager, represented Neelam Construction, a certified M/WBE general contractor from Northvale, NJ that is currently working on DDC's renovation of Glendale Library in Queens.
---
---
"I think we still have an obligation to hire some of the M/WBE subcontractors, even though we are M/WBE ourselves," said Janki Thaker. "It would be good to identify subcontractors today in the trades we need. Right now we could use a good flooring subcontractor, and good masonry and concrete companies. Those can be hard to find."
Under the leadership of DDC's Chief Diversity and Industry Relations Officer Magalie Austin, who heads the DDC Office of Diversity & Industry Relations, DDC is a leading City agency for contract awards to M/WBE firms, helping New York City move closer to Mayor Bill de Blasio's goal of awarding 30% of the value of City contracts by 2021 to M/WBEs. From City Fiscal Year 2015 to Fiscal Year 2017, DDC increased its overall M/WBE utilization rate from 9.7% to 16.8% while awarding over $1.57 billion in contracts to M/WBEs. In addition, over half of all City M/WBE contracts awarded to M/WBEs in Fiscal Year 2017 were through DDC.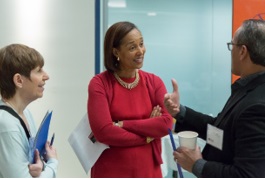 The agency hosts and attends multiple events each year to connect with and inform M/WBEs about contracting opportunities, including two large open houses coming up at DDC in April and June 2018. In October, DDC hosted its 4th Annual Conference on Contract Opportunities. Since 2015, the Office of Diversity & Industry Relations has engaged almost 4,000 M/WBEs, either through direct outreach or at networking events. In that time, DDC has held more than 40 capacity building workshop sessions to help M/WBEs grow their businesses.
For more information, please visit nyc.gov/ddc
Photo credit: 1) General contractors and subcontractors meet to discuss business opportunities at DDC's "General Construction PQL Matchmaking" event in Long Island City, Queens. 2) Wendy Mendez . 3) Anthony Tsaloglou 4) Wayne Hamm. 5) Janki Thaker. 6) DDC Chief Diversity and Industry Relations Officer Magalie Austin at General Construction PQL Matchmaking.
Related Articles
---