---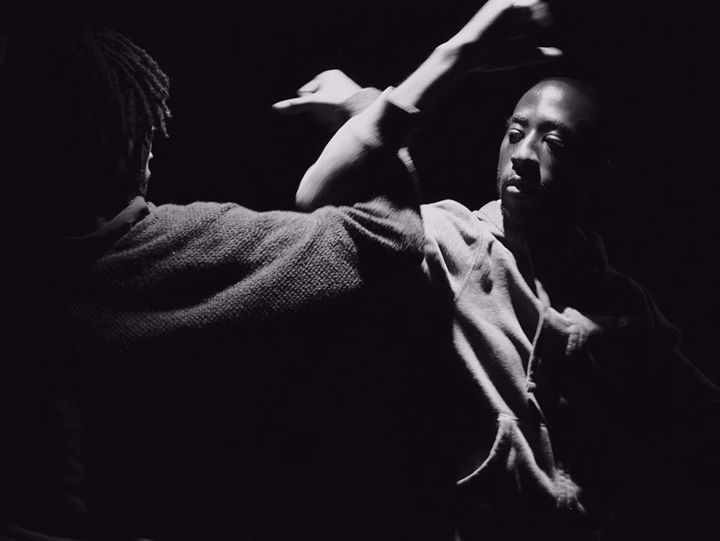 Hailed as "rich in emotional nuance and gestural beauty" and one of the best dance shows of 2015 by the New York Times, Dapline! is a choreographic collaboration between LaMont Hamilton and André M. Zachery stemming from Hamilton's project, Five on the Black Hand Side. Both projects are long form meditations on the ritual handshake, "the DAP", a conduit for black identity and solidarity and easily interpreted as an acronym for dignity and pride. 
The dap as historic symbolic origins to a state of black consciousness of the late 1960s among black G.I.s during the Vietnam War. At a time when the Black Power Movement was burgeoning, racial unrest was prominent across American cities and draft reforms sent tens of thousands of young African Americans into combat, the dap became an important symbol of unity and survival in a racially turbulent America. Through movement, sound and visuals, Dapline! attempts to elicit that space in between, where the dap moves intergenerationally, stirring sensations of love, brotherhood and solidarity. 
Dapline explores the art of black expressive culture, the art of quotidian and interstitial existence of black expressive culture preparing an opening expressive culture preparing an opening for black folks to see themselves as works of art.
@SchomburgLive | #Dapline
Thursday, February 25 and Friday, February 26 at 7:00 PM
Free! 
Schomburg Center for Research in Black Culture, Thursday, February 25, 2016 from 7:00 PM to 9:00 PM, New York, NY
Related Articles
---