---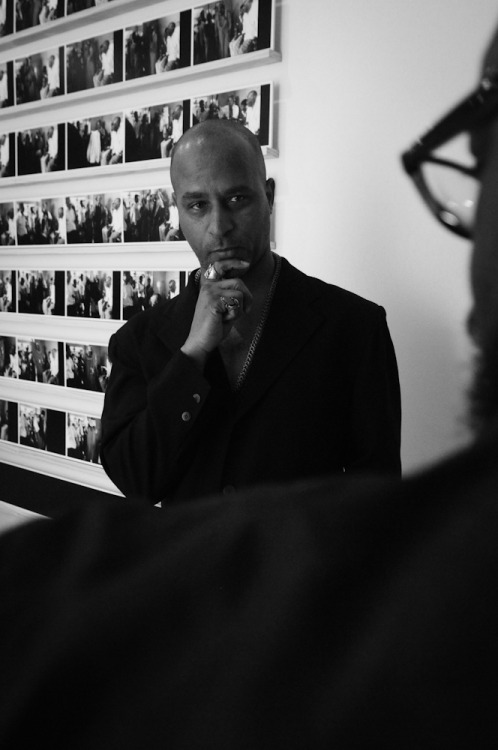 Danny Tisdale's performance installation Transitions Inc., is included in Radical Presence: Black Performance in Contemporary Art a groundbreaking exhibition and the first comprehensive survey of performance art by black artists working from the perspective of the visual arts from the 1960's to the present at the Yerba Buena Center for the Arts (YBCA).
YBCA is opened on June 13 and closes on October 11, 2015 it is the only West Coast venue and the final destination of this highly acclaimed North American tour, which is organized by the Contemporary Arts Museum Houston (CAMH) and curated by Valerie Cassel Oliver, senior curator at CAMH. "I think this is a great venue for my work since I was born in Los Angelels , and that most of my work has been shown on the East coast and internationally" said, Danny Tisdale, visual artists and business owner of Tisdale Studio and Harlem World Magazine.
Radical Presence is all too apt a title for…hard-to-find work that is part of a canonical performance avant-garde.  – New York Observer
While black performance has been largely contextualized as an extension of theater, visual artists have integrated performance into their work for more than five decades, generating a repository of performance work that has gone largely unrecognized until now. Radical Presence, featuring artists of African descent from the United States and the Caribbean, provides a critical framework to discuss the history of black performance traditions within the visual arts beginning with Fluxus and Conceptual art in the 1960s through present practices of contemporary artists. Radical Presence features video and photographic documentation of performances, performance scores and installations, audience interactive works, as well as art works created as a result of performance actions.
"San Francisco has always offered a wide berth for artist experimentation," said Valerie Cassel Oliver. "It's so fitting that an exhibition such as Radical Presence is featured in the city that has given rise to such diverse art forms and practices that shape contemporary art. I could not be more thrilled to see this exhibition framed within such a historical context and at the Yerba Buena Center for the Arts, whose mission is to continually push those forms."
In addition, the exhibition features a live performance series scheduled throughout the run of the exhibition, including performances during the opening weekend (schedule below). The exhibition features work by three generations of artists including Derrick Adams, Terry Adkins, Papo Colo, Jamal Cyrus, Jean-­‐Ulrick Désert, Zachary Fabri, Sherman Fleming, Coco Fusco, Theaster Gates, Girl [Chitra Ganesh + Simone Leigh], David Hammons, Trenton Doyle Hancock, Lyle Ashton Harris, Maren Hassinger, Wayne Hodge, Satch Hoyt, Ulysses S. Jenkins, Shaun Leonardo, Kalup Linzy, Dave McKenzie, Jayson Musson aka Hennessy Youngman, Senga Nengudi, Tameka Norris, Lorraine O'Grady, Clifford Owens, Benjamin Patterson, Adam Pendleton, Pope.L, Rammellzee, Jacolby Satterwhite, Dread Scott, Xaviera Simmons, Sur Rodney (Sur), Danny Tisdale, Transitions Inc., and Carrie Mae Weems.
"YBCA is thrilled to present Radical Presence as the sole West Coast venue and final stop on its critically-acclaimed tour," said Deborah Cullinan, Chief Executive Officer at YBCA. "Given San Francisco's rich history of performance art and the strong California roots so many of these artists have–from Maren Hassinger to David Hammons–YBCA offers the perfect home for a show that defies easy categorization, cuts across so many artistic disciplines, and inspires activation and provocation."
"I feel the timing it perfect for this show, it is coordinated with the theater piece of my new work and first formal staging of 'Transitions, Inc: The Tracey Goodman Story'," in partnership with Hatchfund.org." said artist Danny Tisdale.
June 13–October 11, 2015
Opening Celebration: Saturday, June 13, 2015, Noon-10 p.m.
Please visit http://www.ybca.org/radical-presence
YBCA, 701 Mission Street, San Francisco, Calif. 94103 415.978.2787; www.ybca.org
Related Articles
---