---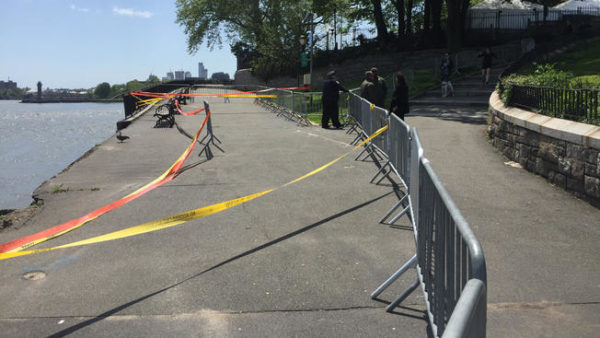 The collapse of a 30-foot chunk of wall into the East River at the Carl Schurz Park on the Upper East Side has New Yorkers worried about what they're walking on above the water.
"A decade later, we are dealing with the same problems, and they've only gotten worse, as you see with the sea wall collapse," said Jennifer Ratner of the advocacy group Friends of the East River Esplanade.
With a span of the railing at Carl Schurz Park gone, temporary barricades were put up and parks workers were staying at the site around the clock until it is fixed. The 14.9-acre park from 84th to 90th streets along the East River is a popular place to take dogs and includes views of Gracie Mansion.
The city blamed the wall collapse on torrential rain but the chief architect for the Parks Department acknowledged Monday that fixing the spot had been on top of its to-do list.
"There's an indication there were problems, but we knew about those and were all set to address them," said Kevin Quinn of the Parks Department.
The city is ready to spend $15 million shoring up the wall, which was built in the 1930s. The renovation project is part of a bigger overhaul of the East Side Greenway from the United Nations all the way to East Harlem. But critics on the City Council say they want much more in the budget.
---