---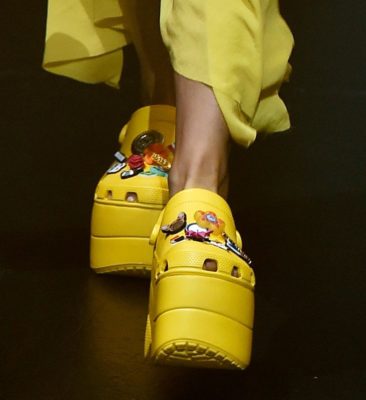 First, in 2016, Harlem World Magazine found a photograph taken by Cristobol Balenciaga finding inspiration in Harlem from the 1940's, then, in May 2017, Balenciaga had copied some of the jacket designs of Harlem man Dapper Dan.
Now, on Sunday at Paris Fashion Week, Balenciaga took Fashion Crocs to new heights with a ten-centimeter (four-inch) platform version called the "Foam," which resembles the styles of Elton John or the Spice Girls.
This is not the first time Crocs have walked the runway. Christopher Kane showed bedazzled Crocs for Spring 2016 and Maison Martin Margiela offered a sturdy, leather take on the shoe that same season. But this is probably the first sky-high Croc the luxury fashion world has seen, certainly with the Balenciaga logo on it.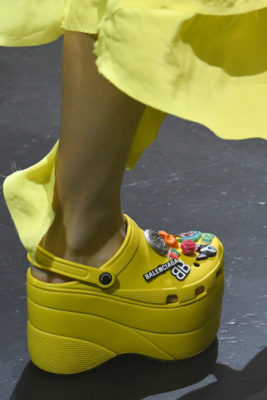 This is good timing for Crocs, as the brand has been fighting for a design patent, only to be denied this August after a five-year legal battle against a competitor. Balenciaga, however, made sure to reach out and collaborate with Crocs in an official capacity, and the "Foam" could boost sales for both sides.
Balenciaga's creative director, Demna Gvasalia, likes to take recognizable products and give them a luxury spin. At his Fall 2016 menswear show, for example, he introduced what people are now calling "ugly sneakers," which are the inevitable brainchild of normcore, dadcore, and now gorpcore. Maybe we can call these "Rave Crocs."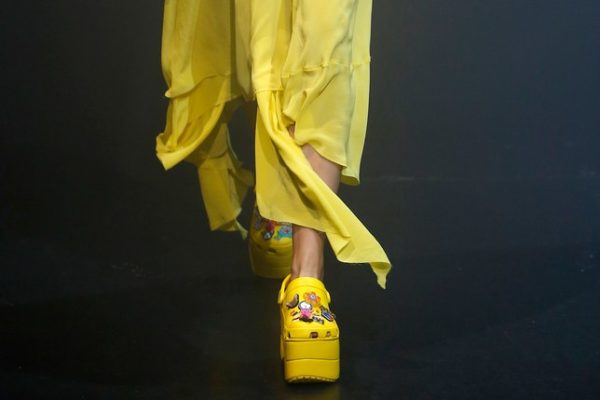 It's unclear yet how much Balenciaga's Croc shoes will cost (and the full range of their colors), but we can imagine they'll sell for more than $34.99. The "Foam" will be available for purchase worldwide this spring.
Via NYMag
Related Articles
---