---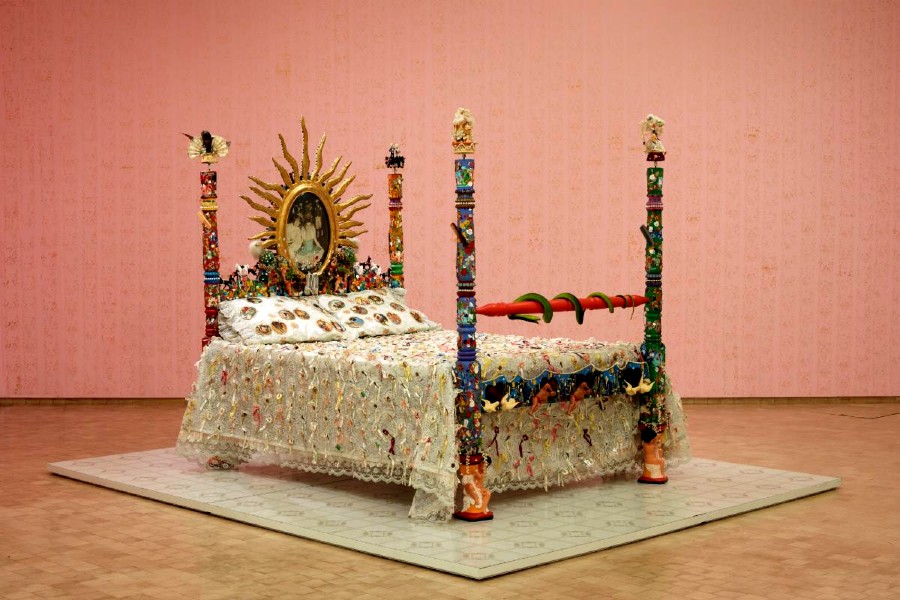 El Museo del Barrio is excited to reveal a new section, 'Craft Crossroads', and a new artist spotlight, 'Pepón Osorio', debuting this week in Something Beautiful: Reframing La Colección.
'Craft Crossroads' includes artworks that reclaim knowledge, labor, and skills that have been historically marginalized to challenge power structures and hegemonic value judgements.
Together, they complicate the distinctions between so-called high art and popular culture, insisting on the centrality of craft.
Pepón Osorio's artistic practice references cultural rituals and the dynamics of public and private spaces that are of special significance to his fellow Puerto Ricans.
In the installation La cama, as seen above, a bedspread is covered with capias, mementos gifted on important occasions such as weddings and baptisms.
This work is a tribute to Juana Hernández, the woman who served as spiritual guide and caretaker to Osorio throughout his childhood.
El Museo del Barrio, 1230 5th Avenue, New York, NY  10029, 212.831.7272, info@elmuseo.org, https://www.elmuseo.org/
---