---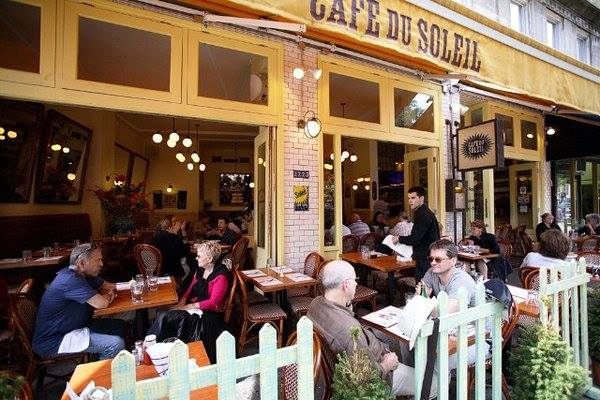 New Yorkers may see more outdoor cafes open in their neighborhoods when restrictions on in-person dining at city restaurants are lifted as the city rebounds from its coronavirus outbreak. The outdoor cafes according to legislation proposed by New York City Council Speaker Corey Johnson and Brooklyn Councilmember Antonio Reynoso Thursday.
The bill will establish a process that allows restaurants to apply for temporary outdoor dining permits issued by the Department of Consumer Affairs to operate on sidewalks and other public spaces identified by the Department of Transportation, Johnson and Reynoso said Thursday. The new process will be cheaper and quicker than the city's current public review process for outdoor cafes, the lawmakers said.
Ceding street space to restaurants will allow beloved small businesses a better change to survive the economic toll of the new coronavirus. Restaurants have been limited to takeout and delivery since March in an effort to curb the spread of the virus by restricting the congregation in enclosed spaces. Making it easier for restaurants to operate outdoors will help businesses expand capacity and should provide a safer experience for diners, Johnson said during a Thursday press conference.
New York City has yet to meet the state's benchmarks to begin reopening economic activity, and restaurants aren't included until the "third phase" of reopening, but the city must be proactive in its approach to help businesses, Johnson said. By introducing this bill now, the council hopes to push Mayor Bill de Blasio to act on the issue.
"If [the administration] is not moving, we want to start the conversation and force their hand because we can't wait," Johnson said. "New York will not be New York if we do not have restaurants and bars and an enlivened streetscape."
The council's bill will require a great deal of cooperation from the administration. The framework requires the Department of Transportation to identify streets and public places where restaurants can open outdoor cafes, the Department of Health to create social distancing and cleaning protocols and the Department of Consumer Affairs to process applications from businesses. Mayor Bill de Blasio said Thursday that he hasn't read over the legislation but supports the idea of outdoor service as "part of the solution for restaurants and bars."
De Blasio was non-committal on whether he believes the city should create a new process to apply for outdoor cafés as the council bill proposes. Instead, the mayor said he will continue to speak with restaurant owners and industry figures until he weighs in on the proposed legislation.
Reynoso — whose council district includes neighborhoods such as Williamsburg, Bushwick and Ridgewood — said Thursday that he personally doesn't have confidence in de Blasio to advocate for creative use of street space.
"I think it's important for [the council] to initiate this conversation and make sure that we impose guidelines by which he would need to start having the conversation in a serious way," Reynoso said Thursday.
Reynoso added that he trusts DOT leadership and Commissioner Polly Trottenberg to identify areas for outdoor cafes and has been pleased with the agency's work on the city's open streets program. The city council and de Blasio came to an agreement on New York's open streets policy after legislation was first proposed in the council.
William Padilla, who owns Mamajuana Cafe The Bronx, said Thursday that outdoor cafes will provide New Yorkers with a great symbol of recovery when restaurants are allowed to resume in-person dining.
"It's a great look to see the city coming back, to see people going back out and eating," Padilla said Thursday.
Restaurants that are hurting due to current restrictions will need all the help they can get, Harlem restaurateur Melba Wilson said.
Restaurants that are hurting due to current restrictions will need all the help they can get, Harlem restaurateur Melba Wilson said. If restaurants are forced to close, it could jeopardize New York's status as the "hospitality capitol of the world," Wilson said.
"We cannot be followers on this front, we have to be leaders. There are so many people following to see 'what are you doing in New York?'" Wilson said. "We have to step and become the leaders that we are in this industry, and we're looking to do it in a way that's safe and affordable."
Johnson and Reynoso said Thursday that the city council will act in an "expedited" manner to pass legislation making it easier for restaurants to operate outdoors. Johnson cited a restaurant relief package that capped third-party delivery fees and prevented commercial landlords from harassing restaurants impacted by the coronavirus as an example of a bill approved by the council about two weeks after it was first proposed.
Read the entire article here.
---