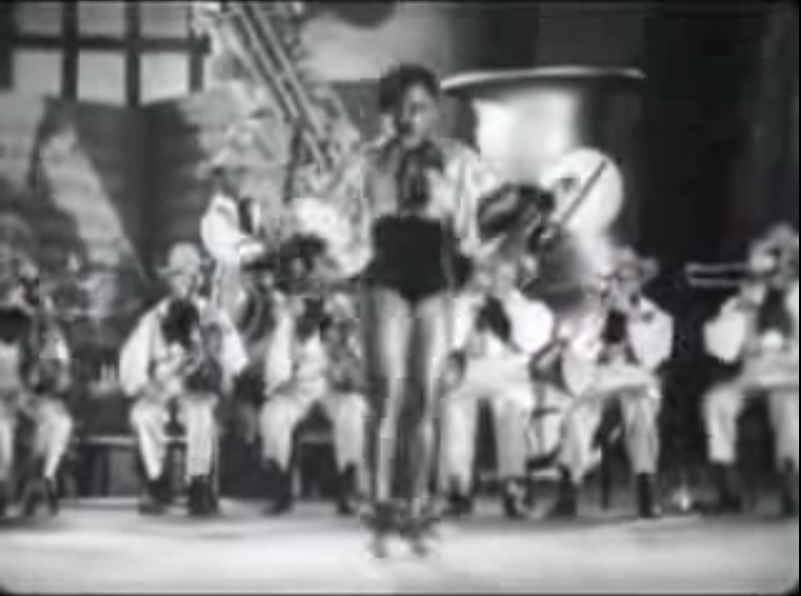 Cora LaRedd, the brilliant Harlem singer and dancer of the 1920s and 1930s, known for her hard-hitting rhythm-tap style, was often announced as the "Terpsichorean riot." The rhythmic brilliance, athleticism, and open sexuality her dancing made her, not only the most noted female soloist at the Cotton Club in the 1920s and 1930s, but also one of the most extraordinary jazz tap dancers in those decades. First recognized as a brilliant Harlem singer and dancer when she became the lead dancer for arranger and bandleader Charlie Dixon (of the Fletcher Henderson band), La Redd received her first Broadway notices in the musical comedy Say When (1928), in which she was singled out as "a sepia-tinted Zora O'Neal who combined limber-legged dancing with wah-wah singing." Another reviewer reported that the one and only highlight of the "intimate musical" was when "a young colored girl called Cora La Redd became galvanized with electricity in full view of the audience, and to the barely concealed chagrin of white actors and actresses who were forced to grin while the Negress bowed."
Here she is at the Cotton Club:
Broadway saw much of LaRedd in the late 1920s. The "all-colored musical novelty," Messin' Around (1929), with music by James P. Johnson, lyrics by Perry Bradford, and dances by Eddie Rector, featured LaRedd in "Tapcopation," "Put Your Mind Right On It," and a Waltz Clog specialty with Charles Johnson. In the all-black musical comedy Change Your Luck (1930), with music and lyrics by J.C. Johnson and dances by Laurence Deas and Speedy Smith, LaRedd excelled in "Can't Be Bothered Now," "My Regular Man," and "Percolatin." Audiences were also dazzled by LaRedd at the Cotton Club, where she was regularly featured as the leading song-and-dance diva. In the Fall 1930 Cotton Club revue "Brown Sugar (Sweet But Unrefined)" LaRedd was a featured soloist on the bill with Wells, Mordecai and Taylor in "Hittin' the Bottle," with the Ebony Steppers and with Jimmy Mordecai; and in the final scene, set in San Francisco's Chinatown, with Mordecai playing "a tap dancing gentleman playing the Easiest trade."
The best example of LaRedd's dancing may be seen in the twelve-minute black-and-white musical short That's the Spirit (1933), regarded as one of the greatest all-black jazz shorts ever made. In it, Mantan Moreland and Flournoy Miller play two watchmen who hear songs performed in a haunted pawn shop. A miniature jazz band comes to life; led by Noble Sissle and featuring clarinetist Buster Bailey, playing red-hot versions of "Tiger Rag" and the "St. Louis Blues." LaRedd sings and dances "Jig Time." Small and compact, the dark-skinned dancer shows a fiery vitality. Wearing a white satin blouse with full-blown sleeves and black shorts (called tap pants), which throw attention to her strong, gleaming legs and feet, she dances at shimmering speed; her low-heeled Mary-Janes frame those fast feet; her triple-time steps and treble-roll steps, which resemble Bill Robinson's steps and style, were never made more up-tempo and swinging.
There is speculation that LaRedd excelled the popular dance, Truckin'. In the July 19, 1935 issue of the Washington Post, Harlemite Ed Sullivan writes in his "Broadway" column: "I like best the 'Truckin' Down' number led by Cora La Redd. 'Truckin', in Harlem, is a description of a peculiar slouchy walk, and the new dance has the same contagion of rhythm that made an instantaneous hit of the Black Bottom when Tom Patricola and Ann Pennington brought it to town. With one shoulder hoisted, the dancers do a spraddle-legged walk that finally gives you a terrific yen to try it yourself."
Bunny Briggs remembered LaRedd vividly, dancing at the Cotton Club: "She'd walk out with a red jacket and white pants and sing, 'Look what the sun, has done, to me,' and she was really black– when I say that, I say that in a lovable way, because she was blacker than me– that kind of black. And when she walked out on the stage and smiled, her teeth were like pearls. And she sang this song, 'You Can't Tell the Difference after Dark,' and then she would tap dance. She would do a time step, that kind of stuff, she was a good one. She could really dance."
Cora La Redd passed away on March 21, 1968.
Via source
Related Articles