---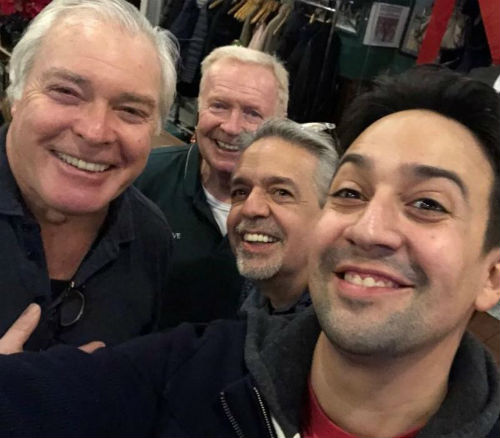 Dear Friends and Neighbors,
I want to congratulate you on a job well done! We received word last night that Coogan's Restaurant has recently signed a new lease to remain open! This is a tremendous win for the entire Northern Manhattan community, who quickly rallied when we all heard this beloved restaurant was facing eviction.
After Coogan's owners announced on January 9th, 2018, that they needed to close because New York-Presbyterian Hospital wanted to increase their rent by an additional $40,000 per month, our Community Board 12 called for a strategy/brainstorming meeting the following day to find a solution. This meeting was attended by Coogan's owners, community members and elected officials, who came to the defense of the uptown mainstay.
Thank you to all Coogan's loyal customers, elected officials, community leaders, and especially to the Miranda Family. Due to your advocacy and support Coogan's has been saved after a agreement has been reached between Coogan's owners and its landlord New York-Presbyterian Hospital. They will continue to be a community staple in Northern Manhattan, where it belongs, to our future generations.
As we know all too well, our small businesses uptown are under threat. Far too often we see locally owned stores that we have known for years, be replaced by corporate chains and banks. That is why this victory is a moment not only to celebrate but to show our strength as a community. It shows that we have committed residents willing to stand up for our mom and pop shops, a deterrent to those who would attempt to push them out.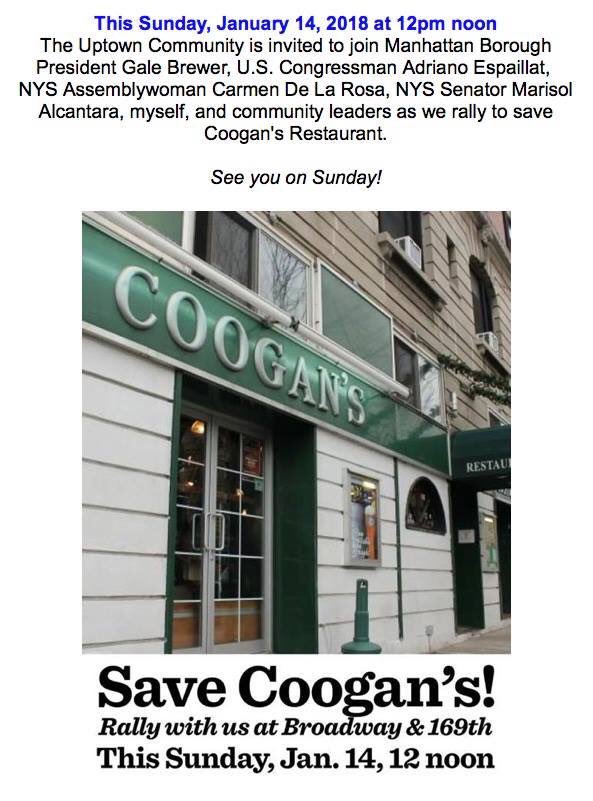 I hope you will join me tomorrow at 12:00PM noon as we gather in front of Coogan's Restaurant, alongside U.S. Congressman Adriano Espaillat, Manhattan Borough President Gale Brewer, NYS Assemblywoman Carmen De La Rosa, NYS Senator Marisol Alcantara, Elected Officials, Manhattan Community Board 12 Chair Shah Ally and community members. All of these partners stood up to save our store and we want you to be a part of the celebration of a successful community effort.
Thank you and I hope to see you there!
Ydanis Rodriguez
NYC Council Member
Washington Heights, Inwood, Marble Hill
Related Articles
---