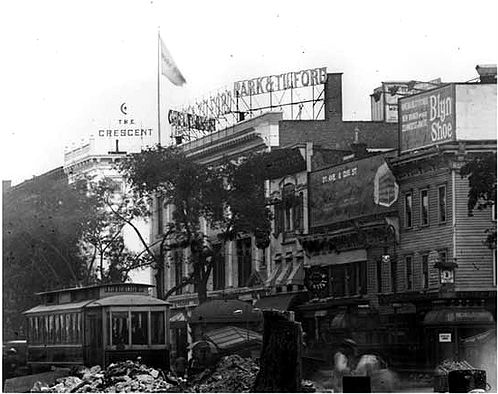 An upclose view of what seems to be mid-day construction work day along Lenox Avenue and 125th Street in Harlem, New York, 1910.
Related: Check out our Harlem History page on Facebook HERE.
Another busy day in Harlem, a crosstown Trolley car comes from the left to right as blurry figured men work in the foreground behind tree stumps with the dome of the subway train as the back drop. Further to the right painted a blazing white sits The Crescent hotel an upscale gem, right across the street crowned with a flag sits the luxury grocery store Park & Tilford. Next door sits one of the remaining wooden houses built pre-20th century on 125th Street.
Via Old NYC Photos
Related Articles
---
VIDEO
---
"Dr. Harry Delany is a renowned Harlem born and raised surgeon, the son of the great jurist and civil rights leader, Hubert Delany...." This monthly post is made in partnership with Harlem Cultural Archives.