---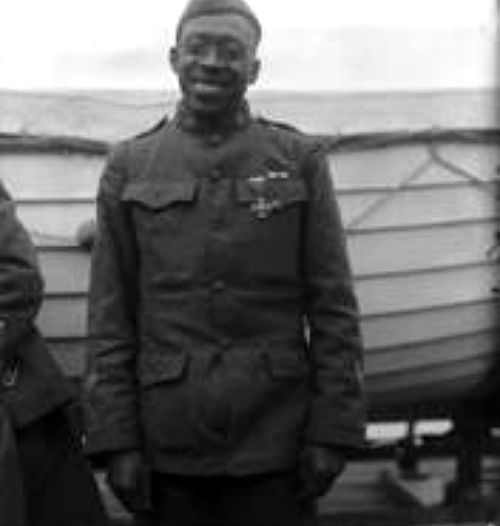 Congressman Charles B. Rangel who represents the 13th Congressional District of New York that includes upper Manhattan and parts of the Bronx submitted the following statement into the congressional record in honor of Sergeant Henry Johnson, who was posthumously awarded the Medal of Honor for his service in World War I by President Barack Obama: 
"Sergeant Henry Johnson epitomizes what it means to be a great American hero and patriot. I thank President Barack Obama for posthumously awarding the Medal of Honor to Sgt. Johnson, a New York native and distinguished member of the 369th Infantry Regiment, popularly known as the 'Harlem Hellfighters.' With our nation's highest honor of valor bestowed upon Sgt. Johnson, his legacy will be enduring and highlighted in the annals of history.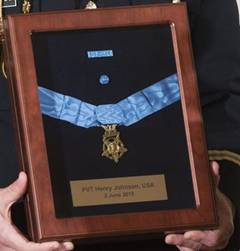 As a black solider living in the first decades of the 20th Century, Sgt. Johnson never saw the accolades he so rightly deserved during his lifetime. He enlisted in the military soon after Congress declared war on Germany in June 1917, and was assigned to Company C, 15th New York (Colored) Infantry Regiment – an all-black National Guard unit, which would later become the 369th Infantry Regiment of the 93rd Division, American Expeditionary Forces. The following year, the 369th deployed to France where Sgt. Johnson fought off advancing German soldiers who were trying to raid his French and American camp. Even as he was wounded 21 times, Sgt. Johnson risked his own life to save a fellow soldier from being captured or killed. Indeed, Sgt. Johnson valiantly held back the enemy force until they retreated.
In addition to earning respect from his fellow American and French soldiers, Sgt. Johnson's remarkable deed of courage inspired other black soldiers like me to salute the flag and serve our country with pride and distinction. As a Korean War Veteran, I learned from Sgt. Johnson and other heroes of the 369th Infantry Regiment who fought in World War I and World War II the true meaning of service and sacrifice for the nation.
Since its inception, the 'Harlem Hellfighters' of the 369th Infantry Regiment have participated in every conflict since World War I, including the battles we fight today. I am honored to belong to the 369th Harlem Hellfighter Veterans' Association based in Harlem of my congressional district. Along with my dear friend Percy Ellis Sutton, Major General Nathaniel James, the first African American Commander of the New York State Guard, Korean War Veteran Donald H. Eaton, Civil Rights Attorney Paul Zuber and William K. Defosset, who served in the U.S. State Department and the New York Police Department were all active members who helped pass my bill in Congress to secure the Federal Charter for the Association. In 2003 when Sgt. Johnson was posthumously awarded the Distinguished Service Cross, we said we would not stop fighting until Sgt. Johnson was awarded the Medal of Honor. The late Filmmaker William Miles who was also a member and documented the history of the Harlem Hellfighters in the film, "Men of Bronze" played a huge role in raising the awareness of Sgt. Johnson's heroism. Today is a victorious day for all of us, the people of Harlem, African Americans, our comrades in arms, friends in Congress and the community, as it marks a significant milestone in American history. We are exceedingly proud to see that Sgt. Henry Johnson has finally received the proper recognition he has duly earned."
Related Articles
---