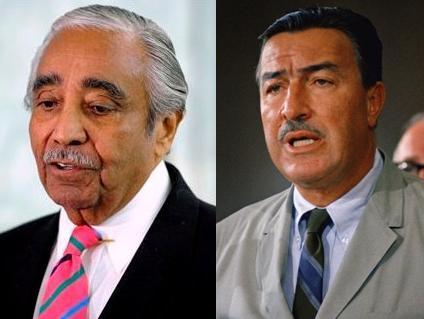 Today, U.S. Congressman Adriano Espaillat (NY-13) released the following statement in recognition of African American political trailblazers, former Congressmen Adam Clayton Powell, Jr. and Charles B. Rangel, of New York's 13th Congressional District:
"During Black History Month, as a representative of New York's 13th district, it is incumbent on me to highlight and celebrate the rich history of my predecessors, Congressman Adam Clayton Powell, Jr. and Congressman Charles B. Rangel," said Rep. Espaillat.  
"First elected in 1944, Congressman Adam Clayton Powell, Jr. was the first African-American to represent any district of New York in the United States Congress and he served the Harlem community for more than two decades.  During his tenure, Congressman Powell worked tirelessly to raise the minimum wage, supported education and training for the hearing impaired, bolstered vocational training and endeavored to provide continued aid to elementary and secondary schools and public libraries.
"Congressman Charles B. Rangel represented Harlem for nearly 50 years beginning in the New York State Legislature and then in the U.S. House of Representatives.  He is a founding member of the Congressional Black Caucus and rose among his peers to chair the powerful House Committee on Ways and Means.  Congressman Rangel's place in African American history transcends Harlem and New York City as he dedicated his career in public service advocating for non-discrimination, developing urban neighborhoods and protecting veterans like himself from disfranchisement in communities across the nation.
"Both Congressman Powell and Congressman Rangel are political giants and trailblazers in American history, and I am honored to follow in their path to represent a district as inclusive and diverse as New York's 13th Congressional District."
---
Become a Harlem insider - Sign-Up for our Newsletter!
---
Visit here to read Congressman Espaillat's full remarks as submitted to the Congressional Record in tribute to the Honorable Adam Clayton Powell, Jr. and the Honorable Charles B. Rangel. 
Related Articles
---
VIDEO
---
"Dr. Harry Delany is a renowned Harlem born and raised surgeon, the son of the great jurist and civil rights leader, Hubert Delany...." This monthly post is made in partnership with Harlem Cultural Archives.