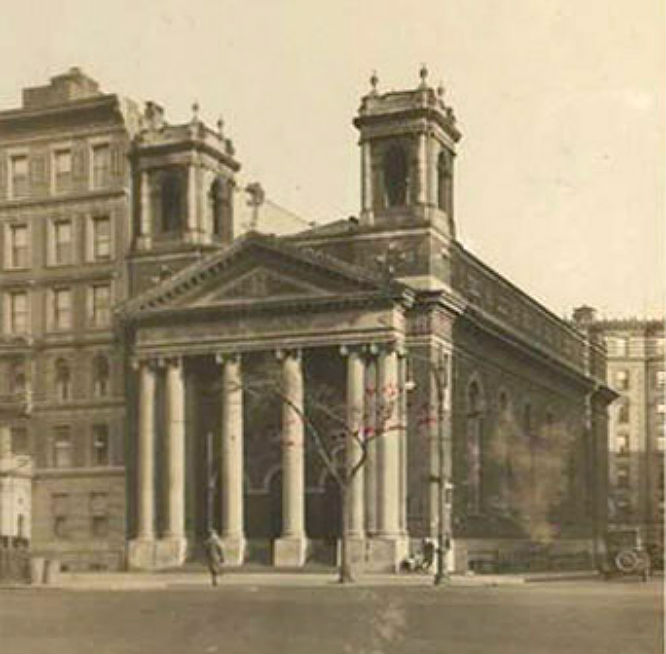 Congregation Ansche Chesed (People of Mercy) was founded in 1876 as a German-speaking synagogue in Yorkville. From about 1877 to 1909 the congregation worshiped at 160 East 112th Street, in a building now used by Christ Apostolic Church of U.S.A.
In 1909, Ansche-Chesed moved to a much grander building costing about $200,00 and located at 1883 Seventh Avenue at West 114th Street in Harlem. The new twin-towered synagogue was designed in the neo-Classical style by architect Edward I. Shire, and was faced with limestone trimmed with Harvard brick. Six tall columns framed the large porch, above which was the pediment with a decalogue representing the two tablets of the Ten Commandments. The large interior could accomodate about 1,200 worshipers, with additional seating for 400 in the school facilities. A special feature of the building was a glass-enclosed roof garden that provided a recreation place for children who attended the school.
By the 1920s, Congregation Ansche Chesed had grown in numbers and needed larger facilities. Concurrently, the demographics of Harlem were changing as the formerly all-white neighborhoods became home to many black and Hispanic residents. Many sacred institutions relocated with their members to other areas of Manhattan or the Bronx.
Ansche Chesed purchased property on West End Avenue at 100th Street on the Upper West Side and, after three years of planning, laid the cornerstone on September 18, 1927, for a new synagogue and adjoining five-story community centre. The old synagogue on Seventh Avenue was sold to the Spanish Vincentians who converted the building into the Roman Catholic Church of Our Lady of the Miraculous Medal (Iglesia de Nuestra Señora de la Milagrosa) to serve the Hispanic population of Harlem. This building was sold in 1980 to Mount Neboh Baptist Church.
The present Ansche Chesed synagogue, like its predecessor on Seventh Avenue, was designed by Edward I. Shire. For this synagogue and community centre complex, built at a cost of $1,300,000, Shires combined Romanesque and Byzantine styles and faced the exterior with deep buff-colored brick and stone. The large barrel-vaulted sanctuary could originally seat about 1,600 persons on the main floor and in three galleries. In the Community House are classrooms, a gymnasium, a social hall seating 500, a small chapel, and a roof garden. The completed synagogue was opened on May 4, 1928 (source).
Related Articles
---