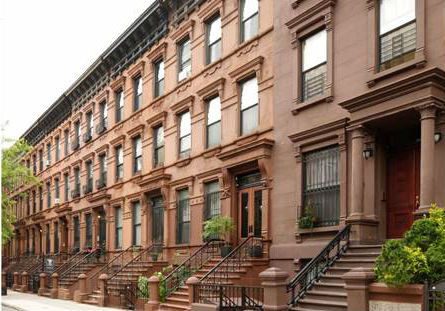 Today, the New York City Landmarks Preservation Commission (LPC) designated the Central Harlem – West 130-132nd Streets Historic District. 
 This mid-block historic district is not only representative of Central Harlem's residential architecture, but the rich social, cultural, and political life of its African American population in the 20th century. To illustrate the significance of this diverse historic district, LPC launched an interactive story map called Explore the Central Harlem – West 130th-132nd Streets Historic District.
"I am thrilled the Commission has designated the Central Harlem – West 130-132nd Streets Historic District," saidLandmarks Preservation Commission Chair Meenakshi Srinivasan. "This district is a remarkable reminder of the significant role the African American community of Harlem played in creating political and social change in New York City and the nation. There is a lot of history tied to these buildings, from the Harlem Renaissance to the civil rights movement."
The Central Harlem – West 130-132nd Streets Historic District is located on the mid-blocks of West 130th, West 131st, and West 132nd streets, between Lenox and Seventh avenues. It consists of approximately 164 properties primarily row houses with a handful of apartment and institutional buildings. Constructed during the speculative building boom that created Central Harlem's row house neighborhoods in the late 19th century, this district contains a notably cohesive and intact collection of late-19th century row house architectural styles, including rows of neo-Grec buildings with their classical ornament and incised details, along with Queen Anne, Renaissance Revival, and Romanesque Revival style buildings.
During the Harlem Renaissance and through the 1960s, many of the district's small, primarily residential buildings were adapted to house a variety of cultural, religious, civic, and political activities that sustained the community, fostered social justice and contributed to the incredible cultural significance of the district. Notable buildings include The New Amsterdam Musical Association (NAMA) headquarters, the oldest African-American musical association in the United States; the home of Scott Joplin, dubbed the "King of Ragtime;" the Friendship Baptist Church, actively involved in the fight for civil rights; the Utopia Neighborhood Club, an African American women's social club that provided children's health and educational services; and the National Headquarters for the March on Washington for Jobs and Freedom, instrumental in spurring the passage of the Civil Rights Act of 1964 and the Voting Rights Act of 1965. 
LPC's story map outlines the architectural and social development of the district, as well as the people and institutions that shaped Harlem's history and culture, and brought social change in the United States. Through text, photographs, maps and video, the public can learn the history behind these buildings.
"This collection of buildings is exactly why we designate historic districts: it's an architecturally distinctive and historically significant set of structures that together tell an essential piece of Central Harlem's story," said Manhattan Borough President Gale A. Brewer. "Future generations of New Yorkers should be able to visit this neighborhood and feel its history for years to come."
"The 100 West 131st Street Block Association is pleased to be a focal point of the new Central Harlem West 130th – 132nd Streets Historic District, approved on today," said Lloyd Williams, President of the 100 West 131st Street Block Association. "The expanding preservation of Harlem's glorious contextual history is important to Harlem's and New York City's future. It is important that the past is prologue, and, we thank the Landmarks Preservation Commission's efforts to do so."
"By recognizing and preserving the political and artistic accomplishments of Harlem's past we ensure it continues to be a source of inspiration for the future," said L. Rachel Lecoq, President of the West 132nd Street Block Association.  "The residents of this district are honored by this designation and commend the efforts of those who have worked tirelessly to make it a reality."
"Save Harlem Now! is pleased that our collaboration with LPC has led to the designation of a new historic district in Harlem," said Valerie Jo Bradley, President of Save Harlem Now!.  "We look forward to continuing to work with the Commission and our local partners to designate even more landmarks that are being proposed throughout Harlem." 
Related Articles