---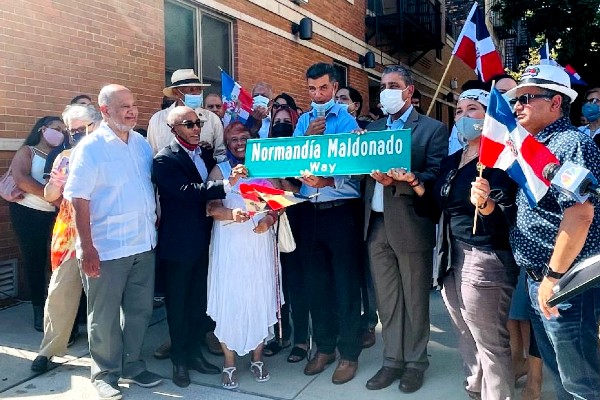 Today, Saturday, September 18th, 2021, Council Member Ydanis Rodriguez was joined by many for the street co-naming ceremony.
Some of those attending Included Congress Member Adriano Espaillat, State Senator Robert Jackson, Assembly Member Carmen De La Rosa, Manhattan Community Board 12, Alianza Dominicana, neighbors, friends, and family members for a street co-naming ceremony to honor and celebrate the life and legacy of Normandía Maldonado.
Ms. Maldonado was a dancer, teacher, and community activist, who dedicated her life to lift the lives of Dominicans in the Diaspora with great compassion and optimism. She was a pioneer in spearheading the advancement and fostering the progress of Dominicans in New York City through community engagement, the arts and the promotion of the rich cultural heritage of the Dominican people. To commemorate her life and legacy, the intersection of Amsterdam Avenue and 167th St. was co-named Normandía Maldonado Way.
Normandía Maldonado founded the Centro Cultural Ballet Quisqueya in 1967. A year prior, she co-founded Club Cívico y Cultural Juan Pablo Duarte, Inc., currently known as the Instituto Duartiano of the United States, Inc., which stands as the second oldest Dominican institution in New York. In 1983, she became a founding member of the committee of the Desfile y Festival Dominicano, Inc., known today as the Dominican Day Parade, Inc.
Ms. Maldonado arrived in the United States in 1960 as a member of the cast of "Busquen A Ese Hombre," a Cuban film produced by the Caribbean Theatrical Alliance. She decided to leave the world of acting upon completing the film, but decided to make the United States her permanent residence beginning work as a seamstress in a clothing factory to make ends meet. It was in New York City where Ms. Maldonado began her career as a dancer, teacher, and community activist.
In 1962, Ms. Maldonado formed the group Mambo Girls together with her sister Marina Maldonado. With Mambo Girls, Ms. Maldonado traveled around the world performing in local and national television stations. During one of her performances with Mambo Girls at Lincoln Center, she met her husband, who was an internationally acclaimed singer. Around this time, Ms. Maldonado also met Juan Paulino and Victor Liriano, two rising community leaders in Washington Heights. Together with Paulino and Liriano, Ms. Maldonado conceived the idea of having a statue of the founding father of the Dominican Republic, Juan Pablo Duarte, erected as a landmark for Dominicans living in New York City, a dream that would be realized 1978, after years of struggle.
Continuing with her passion for dance, she participated in the Desfile de la Hispanidad and in a Santo Domingo Canta y Baila show at the former Teatro San Juan. In 1967, Mambo Girls adopted the name Ballet Quisqueya, later to be known as Centro Cultural Ballet Quisqueya. To this day, the Centro Cultural Ballet Quisqueya has continued to uphold its mission to promote Dominican culture and folkloric music at the international level, bringing attention to such classic dances as Merengue and Mangulina. Centro also works to educate Dominicans, in particular second-generation Dominicans, as well as other nationalities, about the various musical rhythms and the rich cultural heritage of the Dominican people.
In 1982, Ms. Maldonado founded a new entity, the Casandra Damirón Hall of Fame, devoted to the yearly showcasing of prominent Dominicans in the arts and in public life.
Throughout the years, Ms. Maldonado received many awards and recognitions for her hard work in the Washington Heights community from elected officials, including former Manhattan Borough President Ruth Messinger, former New York City Councilman Guillermo Linares, and then New York State Assemblyman, Congressman Adriano Espaillat.
Local organizations and institutions such as Alianza Dominicana, the Dominican Folklore Hall of Fame, and the Dominican Studies Institute at CUNY honored her for her many accomplishments and contributions.
In August this year, the Washington Heights, 165th Street, USPS Audubon Station Post Office was renamed after Normandía Maldonado in a celebration hosted by Congressman Adriano Espaillat, joined by New York State Senate Minority Leader Chuck Schumer and Senator Kristen Gillibrand.
Ms. Maldonado passed away on February 7, 2018. She is survived by her children, sisters, brother, grandchildren, nieces and nephews.
Without a doubt, Normandía Maldonado stands as one of the most accomplished activists and community leaders among the Dominican people in the United States.
Northern Manhattan elected officials gave statements about the Normandía Maldonado.
"This is about paying tribute to the people who have contributed so much to our community. Normandía Maldonado was a dancer, teacher, and community activist, who dedicated her life to lift the lives of Dominicans in the Diaspora with great compassion and optimism," said Council Member Ydanis Rodriguez. "Celebrating the lives of those who have contributed so much to our community is how we immortalize them. It's crucial that we teach the future generations about their history and their culture so that they can feel proud of who they are. I thank my colleagues in government Congress Member Adriano Espaillat, Assembly Member Carmen De La Rosa, and Senator Robert Jackson for joining us today."
---