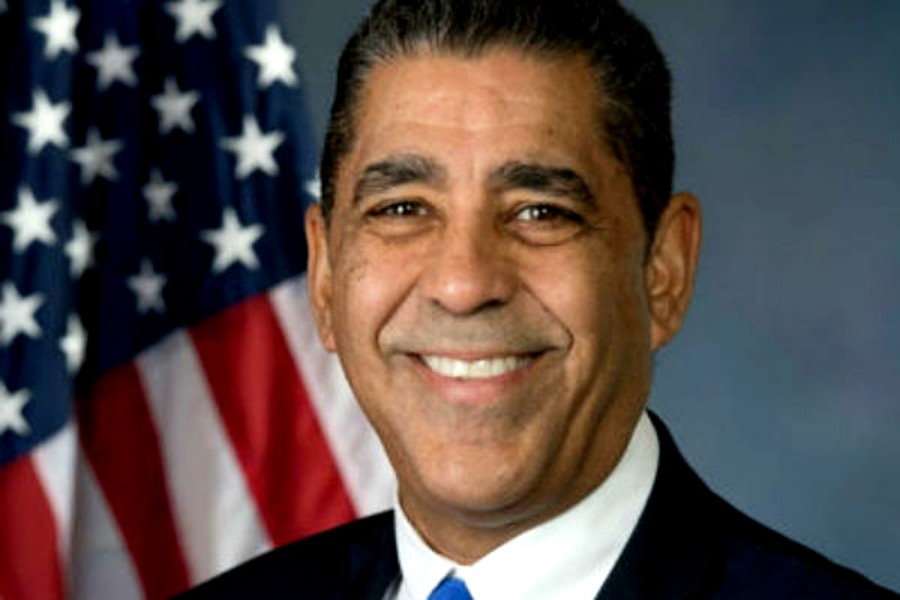 By Congressperson Adriano Espaillat
We recognize Veterans Day to honor the millions of brave men and women who have served and sacrificed to keep Americans safe.
As we commemorate Veterans Day this year, I want to update you on what I am doing to ensure veterans and their families receive the benefits and recognition they have earned.
Espaillat Introduces the Protect Veteran Students, Job Seekers, and Entrepreneurs Housing Act
Currently, residential properties and landlords do not guarantee that educational assistance and benefits provided to veterans through the Department of Veterans Affairs will be accepted as income to help residential leases. Our veterans served our nation, and upon their return home, we have a responsibility to ensure benefits and resources that will help them transition back to civilian life following their service—and my bill aims to do just that.
The Protect Veteran Students, Job Seekers, and Entrepreneurs Housing Act (H.R. 7885 ) proposes a series of amendments to the Servicemembers Civil Relief Act and would require landlords to consider certain educational assistance administered by the Secretary of Veteran Affairs as income as well as require a residential lease period to not exceed the number of months an individual is entitled to educational assistance in order to preserve housing for veterans and their families.
VA Awards More than $130M in New Grant Funding to Assist Homeless Veterans and Families to Secure Stable Housing
Effort builds on VA's goal to house 38,000 homeless Veterans in 2022
This fall, the U.S. Department of Veterans Affairs announced that it awarded $137 million in grants through VA's Supportive Services for Veteran Families Program to help Veterans who are homeless or at risk of becoming homeless and their families.
Supportive Services for Veteran Families (SSVF) provides case management and supportive services to prevent the imminent loss of a Veteran's home or identify a new, more suitable housing situation for the individual and his or her family; or to rapidly re-house Veterans and their families who are homeless and might remain homeless without this assistance. Visit online for more information about services and to access forms . 
The PACT Act
I strongly supported the Honoring our Promise to Address Comprehensive Toxics (PACT) Act, congressional Democrats' sweeping veteran care legislation that became law in August. Named in honor of Sergeant First Class Heath Robinson, a decorated combat medic who died from a rare form of lung cancer, this historic legislation will help deliver more timely benefits and services to more than 5 million veterans—across all generations—who may have been impacted by toxic exposures while serving our country.
---
The law:
Expands the period of time that post-9/11 veterans have to enroll in VA healthcare from 5 to 10 years for veterans discharged or released after October 1, 2013.
Creates a one-year open enrollment period for veterans who already fall outside of the 10-year expanded window (defined as veterans discharged or released before October 1, 2013) from October 1, 2022 to October 1, 2023
Authorizes 31 new VA medical and research centers in 19 states
Allows veterans and their family members to file lawsuits against the federal government to obtain appropriate relief for harm caused by exposure to contaminated drinking water at Camp LeJeune.
VA's Veterans Crisis Line
If you're a veteran and facing mental health challenges, you can get support by contacting the VA's Veterans Crisis Line, open 24 hours a day. You can also text 838255 or go to veteranscrisisline.net.
Women Veterans' Access to Reproductive Healthcare
I, along with my congressional colleagues, urged the U.S. Department of Veterans Affairs to improve care for women veterans and to further the VA's ongoing efforts to build trust with women veterans, who for decades have had to independently find, coordinate, and finance life-saving medical care that should have been
provided by VA.
Our letter reiterates a staff report on women veterans' access to reproductive healthcare that summarizes key findings from the House Veterans Affairs Committee's reproductive healthcare oversight initiative and presents recommendations to inform the ongoing efforts of VA leaders and policymakers to expand and strengthen veterans' access to this healthcare. 
Upcoming Events & Recognitions
Happy Birthday to the United States Marine Corps, celebrating 247 years of dedicated service to God, country and corps. From its founding at Tun Tavern on November 10, 1775, to becoming our nation's 21st century Expeditionary Force in Readiness, we salute the United States Marine Corps for your service, leadership and dedication!
Congressional Applications to U.S. Military Service Academies for District Students
Members of Congress can nominate candidates for appointment to four of the five U.S. service academies: U.S. Military Academy (USMA), West Point, NY; the U.S. Naval Academy (USNA), Annapolis, MD; the U.S. Air Force Academy (USAFA), Colorado Springs, CO; and the U.S. Merchant Marine Academy (USMMA), Kings Point, NY. The fifth service academy, the U.S. Coast Guard Academy (USCGA), New London, CT, does not require a congressional nomination for appointment.
The honor of attending a service academy comes with the obligation and commitment to serve in the military for a minimum of five years upon graduation. To request a Military Academy Nomination, please complete the form at Espaillat.house.gov for consideration. The deadline for 2022-2023 applications is Friday, November 18th, 2022.
My Fight Continues to Ensure the Benefits Our Veterans Deserve
These past years have shown us that personal circumstances can change in an instant. We must ensure that servicemembers, veterans, and their families are not immediately cut off from receiving educational assistance, job training, or any other benefits they are entitled to and deserve.
Please contact my office should you ever need assistance. For veteran-related issues and outreach, please email a member of my staff, Marc Carlo, who handles veterans services and can be reached by email at marc.carlo@mail.house.gov for assistance.
Representative Espaillat
Representative Espaillat is the first Dominican American to serve in the U.S. House of Representatives and his congressional district includes Harlem, East Harlem, West Harlem, Hamilton Heights, Washington Heights, Inwood, Marble Hill and the north-west Bronx. First elected to Congress in 2016, Representative Espaillat is serving his third term in Congress. Representative Espaillat currently serves as a member of the influential U.S. House Committee on Appropriations responsible for funding the federal government's vital activities. He is also a member of the House Committee on Education and Labor and the Congressional Hispanic Caucus (CHC), where he serves in a leadership role as the Second Vice Chair and is a member of the Congressional Progressive Caucus, where he serves as Deputy Whip. Representative Espaillat also currently serves as a Senior Whip of the Democratic Caucus. To find out more about Rep. Espaillat, visit online at https://espaillat.house.gov/ .
Related Articles