---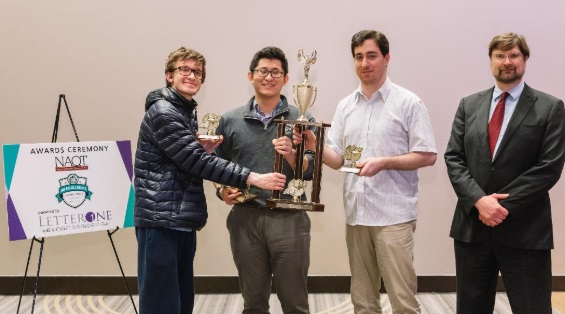 From Columbia University and across North America, some of the smartest, brightest minds of North America went to Chicago for the NAQT 2019 Quiz Bowl Intercollegiate Championship Tournament (ICT).
The event also included the Individual Player National Championship Tournament (IPNCT), on April 6 and 7, 2019. Dozens of Chicago-area middle school, high school, and university students competed in academic competitions that are referred to as the "Super Bowl" of the mind.
Quiz bowl is a Jeopardy!-like game played individually or in teams of four that tests students' knowledge on subjects ranging from sports and pop culture to classic literature and biology. The exciting, fast-paced rounds test brainiacs of all ages – 68 universities from across North America competed in this years ICT and over 150 high school and middle school students descended upon the Chicago area to compete in the IPNCT. This year's tournament was sponsored by LetterOne.
Alumni of quiz bowl included Ken Jennings of Jeopardy! fame. Quiz bowl is one of few national competitions that celebrates students' passion for learning.
This year Columbia University in Harlem came in second place, in 2020, they plan to be in the winner's circle.
---