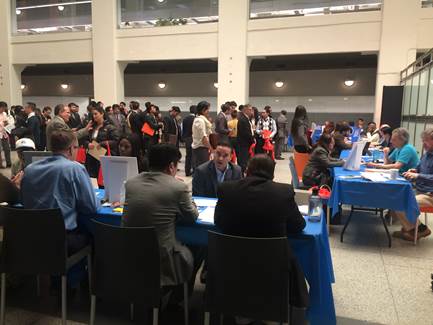 The New York City Department of Design and Construction hosted 307 attendees at a job fair in the atrium of its office on Friday, March 18th. The job fair was geared towards applicants seeking entry-level jobs in the fields of Architecture, Engineering, Construction Management, Sustainability and Building Information Modeling (BIM) as well as others.
With over 50 positions available, DDC targeted applicants with bachelor's or master's degrees. Individuals who will graduate in January or June 2016 were also welcomed.  As the City's primary capital construction project manager, DDC builds the civic facilities New Yorkers use every day, providing communities with new or renovated firehouses, libraries, police precincts, senior centers, parks, plazas, as well as vital roadway, sewer, and water main construction projects in all five boroughs. 
Students from Columbia in Harlem, NYU and CCNY made up a majority of the applicant pool.
Students seemed to be especially interested in the Built-it-Back program, which oversees resilient construction of homes that were destroyed during Hurricane Sandy, as well as the infrastructure division.  Students from Columbia in Harlem, NYU and CCNY made up a majority of the applicant pool. 
"It was great to see so many young people engaging with our staff and interested in civil engineering and architecture. The applicants that showed up today just might be the future of our department and we're happy about that," said DDC Commissioner Feniosky Peña-Mora. 
The number of attendees shot up 55% from a 198 head-count in October of 2015, after which 60 applicants were offered jobs.
Photo credit: Applicants line up in front of a panel of engineers to learn about job details and openings within the NYC DDC.
Related Articles