---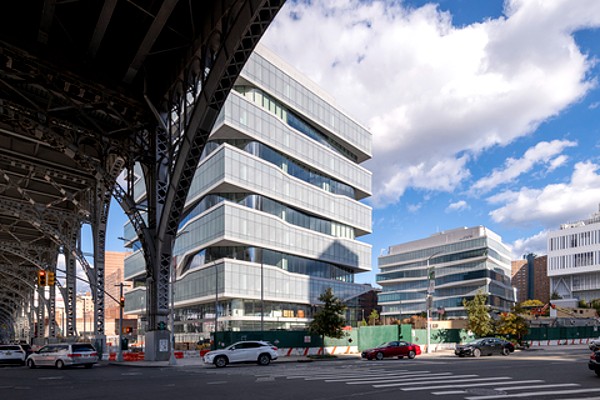 Columbia Business School marks the official move to its new home in Manhattanville as it welcomes students for the spring semester.
The Manhattanville campus represents Columbia University's largest expansion in over 100 years and underscores Columbia Business School's role in reimagining the future of business education.
Designed by world-renowned architecture firm Diller Scofidio + Renfro, in collaboration with FXCollaborative, Henry R. Kravis Hall and David Geffen Hall both feature bold designs that bring the fast-paced, high-tech, and highly social character of 21st-century business to life.
In addition to the new cutting-edge facilities, the campus will also offer the wider community a shared space for civic life.
Pedagogical Impact
With 492,000 square feet of dynamic and flexible space, Columbia Business School's new home is nearly double the size of its previous location.
Its uniquely designed buildings redefine the traditional business education environment, offering increased opportunities for creativity, collaboration, and communication at every turn.
Through technologically advanced classrooms, alternating faculty and student floors, and expanded common areas, the new facilities bolster Columbia Business School's continuously evolving curriculum, which includes an emphasis on digital transformation, entrepreneurship and innovation, 21st century finance, climate change and sustainability, and the interface between business and society.
The new campus will also help to cultivate interdisciplinary relationships for Columbia Business School within Columbia, including with the Lenfest Center for the Arts, the Jerome L. Green Science Center, and the Mortimer B. Zuckerman Mind Brain Behavior Institute.
Community Integration
The Manhattanville campus will further connect Columbia Business School with West Harlem community partners, entrepreneurs, and artists; create additional local business opportunities; and offer expanded space for public life.
The 40,000 square-foot public park, as well as new retail spaces—including a café featuring local products—will unite Columbia Business School more closely with the surrounding neighborhood.
In addition, with its newly dedicated space on the second floor of the Geffen building, the Columbia-Harlem Small Business Development Center will build on its ten-year history of helping local entrepreneurs.
"This is a meaningful moment for our University. The opening of the Business School's new buildings marks the completion of the first phase of a campus plan initiated 20 years ago to create a new future for Columbia," said Columbia University President Lee C. Bollinger. "These masterfully-designed structures will transform the experience of students who come to Columbia Business School, and the presence of Business School students and faculty will, in turn, transform the Manhattanville campus, bringing into sharp focus the vibrant academic community we have long envisioned."
"The opening of our new Manhattanville campus represents a transformative moment in our history as an intellectual center for discourse, discussion, and debate about business and society," says Costis Maglaras, Dean and David and Lyn Silfen Professor of Business at Columbia Business School. "While the location has changed, our mission remains the same: preparing leaders to face the ever-evolving complexities of the modern business world. Columbia Business School will continue to be a lifelong home for our engaged community of students, faculty, staff, alumni, practitioners, and the broader business community for centuries to come."
Interdisciplinary Education and Collaboration
Other notable building details include the addition of The Hub, which houses a modern-day think tank that will bring academic thought leaders together with business leaders and policymakers to explore today's most pressing issues.
By facilitating research and dialogue among scholars, practitioners, and policymakers, The Hub promotes an ongoing exchange of ideas, helping to equip current and future leaders with the tools necessary to combat critical challenges.
The issues addressed within The Hub will change every two years, with an initial focus on the intersection of business and society.
Sustainability
Columbia University's sustainable design and project plan for Manhattanville has earned the first LEED® ND Platinum certification in New York City, as well as the first Platinum certification for a university campus plan nationally.
Columbia Business School's facilities, which are expected to receive a LEED 3.0 Gold certification, feature industry-leading solutions to curb energy use and reduce overall carbon imprint.
The buildings' designs protect against unwanted glare and solar heat gain, while the cooling and heating systems utilize chilled beam technology for reduced energy consumption and low-velocity underfloor distribution.
Additionally, materials with high percentages of recycled content, wood sourced from sustainably managed forests, and high-efficiency plumbing fixtures all contribute to a more sustainable campus environment reports Business Wire.
Columbia Business School
Columbia Business School is the only world-class, Ivy League business school that delivers a learning experience where academic excellence meets with real-time exposure to the pulse of global business.
The thought leadership of the School's faculty and staff members, combined with the accomplishments of its distinguished alumni and position in the center of global business, underscores the fact that the School's efforts have an immediate, measurable impact on the forces shaping business every day.
To learn more about Columbia Business School's position at the very center of business, please visit www.gsb.columbia.edu.
Photo credit: By CBS Timothy_Schenck
---