---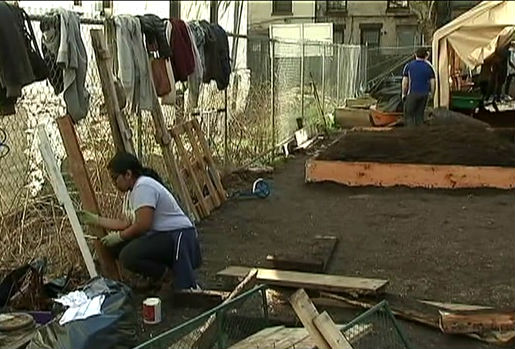 While many of their friends are off at the beach or elsewhere kicking back this week, a group of Cornell University students is spending their spring break sleeping on a church floor, waking up at dawn, and getting their hands dirty. And they're enjoying it.
"This is fun for me, I think being able not only to do things you enjoy doing but helping other people and working alongside the community is what's most important," said Georgia Grzyawacz, a Cornell freshman.
The program is called Alternative Breaks, and each spring hundreds of Cornell students participate, working on projects all across the country that address issues of social justice.
The students we spoke to are working with nonprofit Harlem Grown to plant and build an urban farm and educational center for children on West 131st Street.
"We're bussed down from Cornell University, upstate New York, and we all stay at West End Presbyterian, on a floor, sleeping bags" said Lavannya Pulluveetil Barrera, a senior and environmental science major who is the trip leader for the Harlem Grown project.  "It's just a big sleepover for everyone. It's a lot of fun."
Pulluveetil Barrera chose the project because it focuses on an issue she is passionate about.
"My last two years of college I really found myself gravitating to the issues of relating to food justice," she said. "So when I saw the opportunity for Harlem Grown, I applied, and really was glad I got the opportunity to come and contribute to this."
For organizations like Harlem Grown that rely heavily on volunteers, having the extra hands for a full week makes a big difference.
"We don't have enough people on staff and even when we have volunteer groups we have eight properties," Harlem Grown farm manager Ciara Sidell said. "We needed a solid group, a solid workforce to just like go for it."
This is the first time that Cornell's Alternative Breaks program and Harlem Grown have worked together but both groups say it won't be the last.
Via source
Related Articles
---