---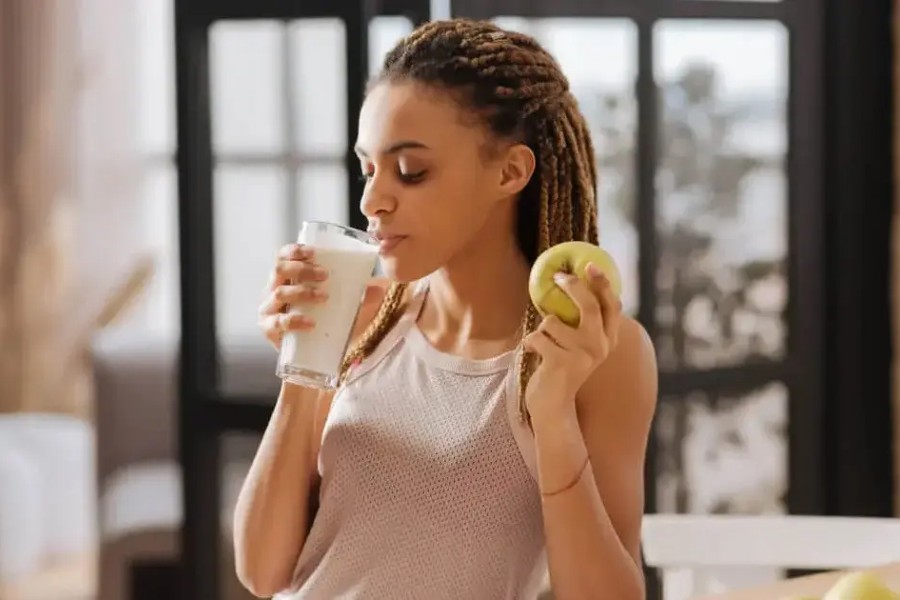 Collagen powder and protein powder are often discussed interchangeably but in fact, each of these powders comes with its own unique benefits and uses.
Both powders are used to enhance wellness, support protein levels, and contain amino acids. Depending on your wellness goals, one may be suitable over the other. Read on to learn the benefits of collagen powder and protein powder to determine which one would be best to add to your diet. 
The Benefits of Collagen Powder
Our bodies naturally produce collagen but, as we age, that production decreases which results in wrinkles and weakened muscles and joints. Adding collagen powder to your daily routine can support the health of bones, joints, skin, and more.
One of the primary amino acids found in collagen is keratin. Keratin is a hardened protein that supports the healthy growth of hair, nails, and skin elasticity. Collagen also features vitamin C which can add firmness to hair, nails, and skin, as well as other connective tissues. This is why collagen is touted as a beauty supplement.
Aside from the benefits to the hair, nails, and skin, collagen can benefit other areas of the body, particularly joints and bones. Joints are supported by cartilage tissues, one of which is collagen. While research is still in the early stages, some studies show that collagen supplements can lead to decreased joint pain. When it comes to bone health, calcium is often touted as a beneficial supplement to strengthen bones. However, collagen can have the same effect as the amino acids in the supplement can support bone repair.
The Benefits of Protein Powder
Protein powder is a popular supplement for individuals who work out frequently or for those looking to increase the protein in their diet. Increasing the body's intake of protein can help build muscle mass which is why fitness lovers tend to add protein to their diet. The amino acids in protein can help boost muscle growth and repair muscular tissue, which is why it is used to help build lean muscle, enhance workout performance, and assist in healthy recovery.
For individuals on a vegan diet, ensuring the body gets enough protein can be a challenge. While it's best to first source protein from foods, many people choose to supplement their diet with a protein powder. There are plenty of plant-based protein powder options for vegans including soy, brown rice, pea, and hemp proteins.
Even for those who don't follow a vegan diet, some choose to include protein powder into their meals or routine to keep them fuller longer. While it is not recommended to use protein powder as a meal replacement, some people will add protein powder to smoothies or meals to deliver a meal that leaves their body fuller for a longer period of time to reduce snacking.
Some studies show that protein powder can help lower blood pressure and reduce inflammation. This is one of the reasons protein powder is beneficial as a recovery supplement for fitness enthusiasts who may experience inflammation post-workout. 
Can you Use both Collagen Powder and Protein Powder?
Both collagen and protein powder have very different benefits for the body, so it depends entirely on what you're looking for in your diet. Collagen powder is an excellent option if you are looking to strengthen your skin, joints, and bones. Protein powder can work for you if you're looking to build muscle or increase protein in your diet.
Because both powders have different benefits, could you include both in your diet? Yes, it is completely safe to mix collagen and protein in your diet. You don't necessarily have to use them at the same time, but you can choose to incorporate them throughout the day. Or, you can use them for the same meal. For example, you can mix half a scoop of collagen with half a scoop of protein in your morning smoothie to enjoy the benefits of each.
Be mindful that if you are on a vegan or vegetarian diet, collagen may not be an option for you. You will want to ensure you're finding a collagen powder that meets your dietary needs should you have them.
Conclusion
Deciding whether you should add collagen powder, protein powder, or both into your diet is just the first step of your journey. Once you've decided which one to start consuming, it's time to shop for the right product for you. Search for a trusted, reputable brand to source your powder from and find a product that will work well for you. It can take some trial and error to discover but in the end, it will be worth it.
---