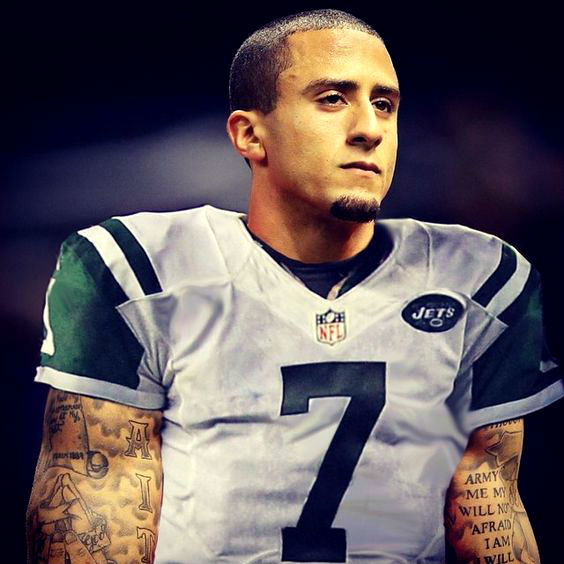 Since San Fransisco 49ers quarterback Colin Kaepernick maybe getting tired of those west coast politics, he could be ready to bring more love to the best coast permanently to New York. We don't think it'll will be with the NY Giants who stood up against his politics, but maybe the NY Jets might be a good fit – they can use a good throwing arm (or two).
We say that because Kaepernick and radio / television personality Nessa Diab are giving back to Harlem, NY schoolchildren.
The two donated $60,000 worth of Nike backpacks to students in Harlem and the South, South Bronx, according to a press release. Diab handed out the backpacks at Harlem RBI's DREAM Charter School and Patterson Family Day in the South Bronx.
"Having a new backpack to start off the new school year helps give each student a fresh start," Diab said in a statement. "When we looked at everything when it comes to supplies, we found backpacks were an investment for most parents. As for the student, we wanted to ensure we found one that could last for more than a year and that was sturdy, durable and versatile for students to use for books, sports equipments or art materials, and traveling."
Kaepernick was unable to help give out the backpacks as he is currently with the 49ers as they prepare for the start of the NFL season.
But even though Kaepernick was not there in person, he video chatted with students at the event, offering them words of encouragement.
"We must invest in our youth because they are the future leaders of our community," said Kaepernick. "I want them to know that we appreciate and care for them. In doing so, we must provide all the necessary tools for them to succeed and I will do whatever I can to ensure we do that as a community."
Recently, Kaepernick has thrust himself into a national conversation by not standing during the national anthem at the beginning of his games. The protest began August 26, 2016 when the 49ers hosted the Green Bay Packers at Levi's Stadium in Santa Clara, California.
When asked why he wasn't standing, Kaepernick said: "I am not going to stand up to show pride in a flag for a country that oppresses black people and people of color."
Kaepernick and Diab have been dating publicly since earlier in the year.
Via source
Related Articles