---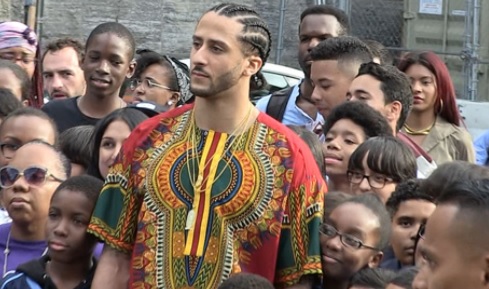 Colin Kaepernick surfaced in the streets of Harlem on Friday — rockin' a dashiki and posing with a group of young people click here to check out TMZ Sports has the video.
Op-Ed: Democracy Abroad, Hypocrisy At Home, Have We Learned Nothing From History? By Michael McQuillan Having spent $4.79 trillion for our "War on Terror" in the wake of the Septe…Aug 27 2017harlemworldmag.com
It was all for a photo shoot that the people behind the production didn't want you to see — despite the fact it all took place on a public street in the middle of the day.
Unclear what the big secret is … but there were people on set with GQ promo materials.
Kaepernick has been spending time in Harlem lately — he recently donated $25k to the local DREAM Charter School as part of his $1 million pledge.
NFL Anthem Protests Evolve Past Kaepernick's Original Intent And Harlem Man Loves ItWhat began more than a year ago with an NFL quarterback protesting police brutality against people o…Sep 26 2017harlemworldmag.com
Related Articles
---