---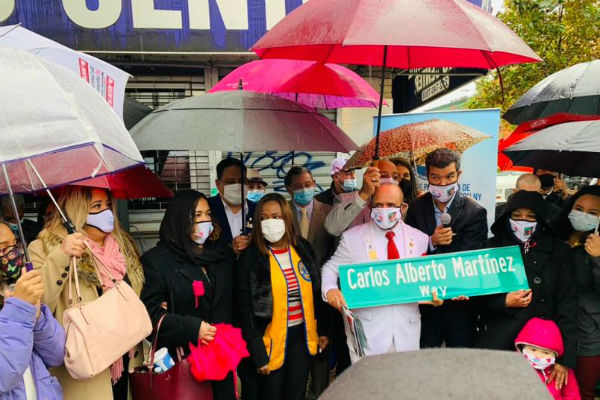 Today, November 1st, 2020, Council Member Ydanis Rodriguez, Congress Member Adriano Espaillat
and the Comité de Prevención de Alcoholismo y Drogadicción, NY Don Carlos A. Martínez hosted a street co-naming ceremony to honor the life and legacy of Don Carlos A. Martínez.
Don Carlos was an empowering community leader and staunch advocate for individuals with substance use disorders in New York City. The southeast corner of West 165th Street and Audubon Avenue will be co-named Carlos Alberto Martínez Way.
In 2002, Don Carlos, joined by others, created the Committee for the Prevention of Alcoholism and Drug Addiction, with the mission of helping alcoholic patients and drug users who needed help but were afraid to seek it because of the stigma linked to mental health and substance abuse.
Don Carlos, among many other achievements, fought to change perceptions and systems that cataloged patients with substance use disorders as psychiatry patients, successfully managing that 8 New York hospitals assigned special facilities and targeted responses to care for substance-dependent patients.
---