---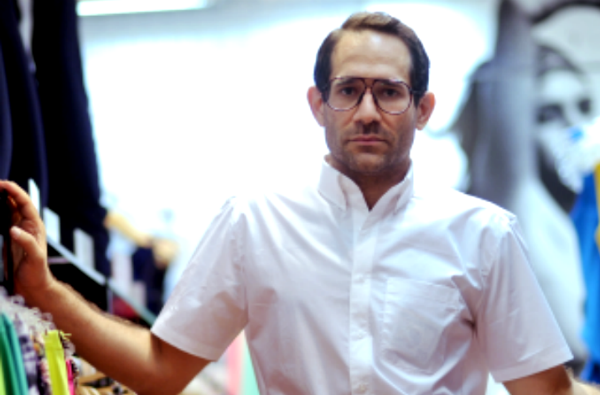 Dov Charney's American Apparel store in Harlem closed their doors on 125th Street back in January 2017, and many Harlemites lost their jobs.
Now, the infamous American Apparel founder is back with a new company, Los Angeles Apparel, and its similarities go way beyond the word "apparel."
Charney was at the center of the American Apparel empire, churning out high quality hipster basics and overtly sexual advertisements—his name and the brand were practically synonymous. He was ultimately ousted from the brand in 2014, after almost a decade of sexual assault allegations levied by former employees, and the company first filed for Chapter 11 bankruptcy a year later under new CEO Paula Schneider. In 2015, the American Apparel board rejected Charney's $300 million takeover offer, and the brand filed for bankruptcy again in 2016. American Apparel's death knell sounded a few months ago, when it shuttered its iconic Los Angeles factory and closed its national fleet of retail stores. But now, Charney is back.
Just like in the early days of American Apparel, Los Angeles Apparel is getting its start by selling to wholesalers. You can currently buy the fledgeling label online at TSC Apparel, where its hoodies and racerback tanks are found nestled between American Apparel tri-blend tees. With classic fits and a focus on fabric, the clothes are basically identical—if you don't glance down at the product names. The similarities go way beyond aesthetics, too. Charney says he's still committed to paying his factory employees a livable wage, many of whom held significant tenures as the old American Apparel factory, RetailDive reports.
Despite the controversy that surrounded American Apparel's ads—and his own predatory reputation—Charney also appears to be mimicking his old brand's marketing tactics: "The workers are part of it, the culture of Los Angeles is part of it. But human sexuality is part of the reason that people wear clothes. You're not going to escape our sexuality from a narrative about a clothing company," he told RetailDive.
With American Apparel's demise still fresh in the fashion world, it's difficult to see how Los Angeles Apparel can achieve success. After all, it shares an almost identical business model, style aesthetic, and founder with the now extinct brand. Are shoppers still looking for sustainably made, sexy advertised basics? Can they stomach the return of an undoubtedly creepy CEO? Charney's counting on it.
Via source
---