---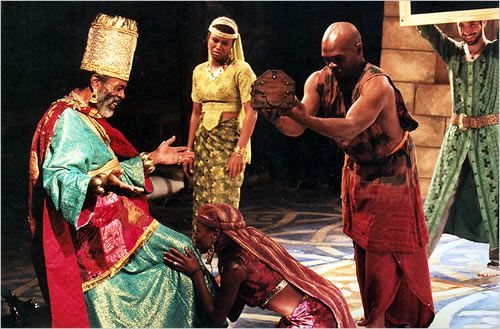 William Shakespeare's famed star-crossed lovers bare their passion Uptown this summer as The Classical Theatre of Harlem (Ty Jones, producing artistic director; David Roberts, managing director) presents Romeo n Juliet at the Richard Rodgers Amphitheater in Marcus Garvey Park. Justin Emeka, who edited and adapted the tragedy to bring the colorful characters of Harlem to life, returns for the second year in a row as director. Performances, which are free and open to the public, run from July 5 through 27.
Romeo n Juliet is also the sophomore effort of Classical Theatre of Harlem (CTH) in presenting free summer programming at the recently renovated amphitheater. CTH again brings together a dynamic cast and creative team of familiar faces from last season's critically acclaimed A Midsummer Night's Dream, along with some talented new additions. The production, which has a multiracial cast, is designed to bring professional entertainment to the local community, while drawing hard-core theater lovers from across the city.
"We are thrilled to blow the dust off this classic to reveal an array of identities within the African Diaspora. Exploring centuries-old themes around love, identity, violence and masculinity through this culturally specific lens is an exceptional and unique offering for the theatrical community," said Jones. "I am proud that we continue to reinvent these timeless works in ways that connect with young, contemporary, multiracial consumers while satisfying the sensibilities of longtime theater patrons."
"At CTH, we believe that the best art does more than put on a great show; it starts conversations, engenders action and engages a community at all levels (from individual residents and government, to local businesses and nonprofits)," said Roberts. "We know that the positive economic impact of events like RnJ have a radiant effect on the local economy, and we're proud to have launched formal partnerships with a number of area small businesses that realize the value that CTH brings not just to their establishments, but to the quality of life of our neighborhood as a whole."
This intense and fiery production continues a movement to reimagine classical theater. RnJ reveals the unpredictable passion of love, barely separated from the unforgiving tragedy of violence. The stage explodes with soulful music, verse and movement, as hip-hop beats and dance-hall rhythms provide the backdrop for a community suffering from internal conflict.
The young lovers, Romeo (Sheldon Best) and Juliet (Natalie Paul), lead the cast, which includes Jamie Rezanour (Nurse), Zainab Jah (Friar/Sister Laurence), Dorcus Sowunmi (Lady Capulet), Jason Delane (Lord Capulet), Jameal Ali (Paris), Emmanuel Brown (Tybalt/Apothecary), Kambi Gathesha (Benvolio), Clark Harris (Montague), Keldrick Crowder (Prince), Ty Jones (Mercutio) and Anthony Lalor (Panther 1/Brother John). Rounding out the ensemble are Levell Franklin, Amara Granderson, Patricia Janvier, Jared Lewis and Djaka Souare.
Scenic design is by Anka Lupes, choreography by Lakai Worell (artistic co-director of the Brooklyn dance company Purelements), lighting design by Paul Hudson, sound design by Eric Sluyter, costume design by Rachel Dozier-Ezell, music direction by Chen Lo (of the Brooklyn-based music production company Soul Science Lab) and fight choreography by Emmanuel Brown (recent Obie-Award winner for Kung-Fu).
The Richard Rodgers Amphitheater is located in Marcus Garvey Park (enter at 124th Street and Fifth Avenue and walk south to the venue). Performances are Tuesday, Wednesday, Thursday, Saturday and Sunday at 7:30 p.m. Friday's curtain is at 8:15 p.m., following Jazzmobile free concerts at 7:00p.m. The venue opens for seating at 7:00 p.m. each night and 6:30 p.m. on Fridays. For more information, visit www.cthnyc.org.
Romeo n Juliet is sponsored by Columbus Foundation, The Ford Foundation, Harlem Community Development Corporation, L & N Andreas Foundation, National Endowment for the Arts, NYC Department of Cultural Affairs, Office of NYC Councilmember Inez Dickens and SHS Foundation. Local business partners and sponsors include Art in FLUX, BLVD Bistro, City College of New York, Harlem Haberdashery, Harlem Park to Park, Harlem Shake, Lido, MIST Harlem and Mount Morris Park Community Improvement Association.
---