---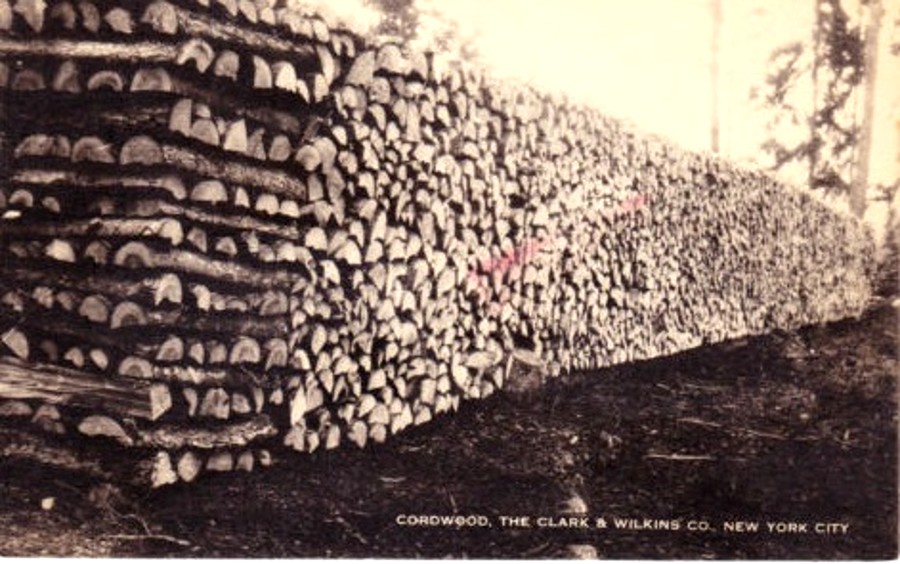 The Clark & Wilkins Company at 306 East 128th Street off Second Avenue at East Harlem River, New York, 1870.
From the beginning, the company shipped wood in by huge barge loads on front of the edge of the water. As the city shifted to coal, the company prospered by selling kindling for starting coal fires. With the demise of coal, Clark & Wilkins began selling wood for fences.
The text at the bottom of the card reads:
Cordwood. The Clark & Wilkins Lumber Co. New York City
An amazing photo documenting the scorched earth policy in East Harlem (above) of the cutting down of all the trees in the area and the flattening of the landscape was the end result.
The layers, layers, and layers of staked wood were ready in preparation for the coming real estate boom of brownstones, horse-drawn carriages, and the Harlem Renaissance after the turn of the century.
From the 1950s.
Almost 50 years later, the second photograph above shows the end result of the industrialization of East Harlem with the Lumber company (in the lower right side) surrounded by railroad cars, train tracks, and warehouses in the background.
In the book, Pieces of the Frame author John McPhee wrote:
…a delivery from Clark & Wilkins Company is rather like getting a delivery from Tiffany…Cadillac limousines often pull up … in the heart of Harlem, a uniformed chauffeur or a woman in fur will step out ….
Clark & Wilkins Company is still in business today at 1871 Park Avenue at 128th Street in East Harlem.
Photo credit: 1) Clark & Wilkins Company at 306 East 128th Street. Via source. 2)
Related Articles
---