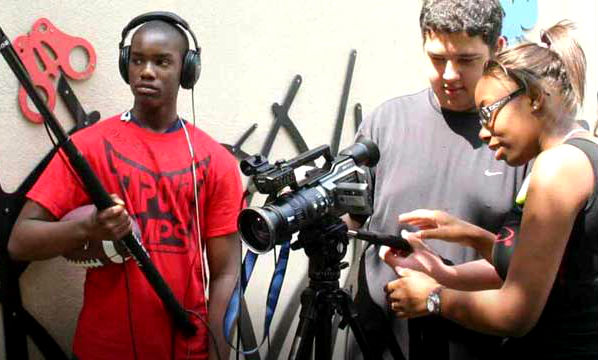 City Parks Foundation (CPF) is excited to announce a new intensive credit-bearing, media arts apprenticeship program for teens ages 15-19.
The CityParks Media Arts Institute is currently accepting applications for the spring program, which will begin February 2, 2016. Participants in the apprenticeship program will learn the skills to capture the landscape, nature, and usage of New York City parklands through photography and videography. Students who successfully complete the apprenticeship will progress to paid internship opportunities with CPF as peer mentors and documentarians.
The apprenticeship program will be offered in Manhattan and Brooklyn with each group meeting once a week through the end of May. The program aims to provide a safe space where teens can discover their unique talents, develop their creativity, explore their parks, and gain valuable technology skills – as well as serve their communities and parks.
Students can apply for the CityParks Media Arts Institute at www.cityparksfoundation.org/education through January 8, 2016.
– In Brooklyn, the program will meet at the Thomas Jefferson Recreation Center on Tuesdays from 4-6:30pm and
– on one Saturday a month at the Dana Discovery Center in Central Park.
For more information, applicants can contact Jesse Heffler at (212) 360-3327 or via email at JHeffler@CityParksFoundation.org.
CityParks Media Arts Institute is generously supported by Brooke Astor Fund for NYC Education, the New York City Department of Youth and Community Development, The Pinkerton Foundation, Verizon Foundation, and the New York City Council under the leadership of Melissa Mark-Viverito.
City Parks Foundation (CPF) is the only independent, nonprofit organization whose mission is to offer programs in parks throughout the five boroughs of New York City. We work in more than 300 parks citywide, presenting a broad range of programs in an effort to promote healthy and vibrant communities. Our programs and community building initiatives reach 425,000 people each year. For more details, please visit www.CityParksFoundation.org.
Related Articles
---